Love Your Skin Without Spending a Dime
Love Your Skin
Without Spending
a Dime

The beauty industry pushes so many anti-aging messages at us—usually with the goal of convincing us to buy expensive, anti-aging products. 
But good skin care isn't about hiding your age—or spending a lot on products. In fact, some of the most effective skin care doesn't cost anything at all.
Today, we share three low-cost or no-cost ways to care for your skin from the inside and outside.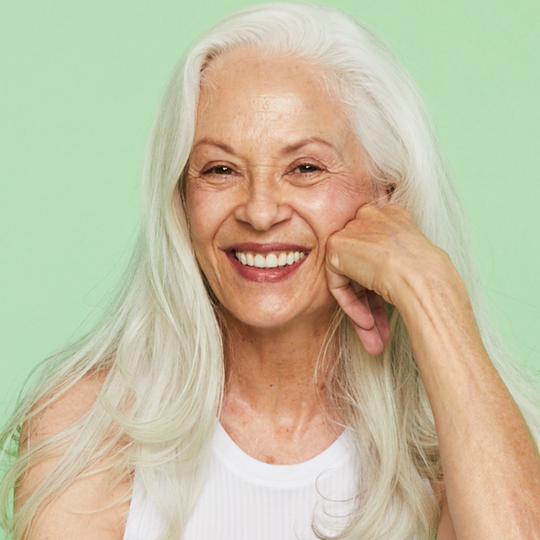 1. Choose foods that help your skin.
The foods you eat play a big role in how your skin looks and feels. 
You probably know that antioxidants are good for you and your skin. But you don't have to put antioxidants ON your skin to get the benefits. 
A diet rich in whole foods, including fresh fruits and vegetables, can give your body a boost in fighting the damaging effects of oxidation. 
Skin-boosting omega-3 and omega-6 fatty acids help moisturize the skin, reduce inflammation and keep your skin supple and soft. 


You can get these from avocados, walnuts and healthy fish like salmon or tuna, among other options. 
During Boom Ladies' Night, Pilar Gerasimo shared how she credits the healthy fats in her diet for her glowing complexion. 

Foods high in beta carotene like carrots, sweet potatoes and spinach may help protect your skin from the sun's damaging effects. Bell peppers contain beta carotene and vitamin C, a powerful antioxidant and an important component of collagen, the protein that makes your skin plump and resilient.
Dark chocolate is another skin-winner. It's a prime source of antioxidants and some studies show it may protect against sun damage and speed circulation.
Other pantry staples can be eaten or applied to your skin for health benefits. 
For example, dietary extra virgin olive oil is linked to heart and circulatory health. But you can also use extra virgin olive oil for skin cleansing, like Boom Ambassador Mireya. She massages this healthy oil into her face at night to remove dirt and makeup.
Extra virgin olive oil's anti-inflammatory and antibacterial properties help protect your skin, while the omega-3 fatty acids moisturize your skin. (That's also why olive oil is an ingredient in Boomsilk, Boomstick Glo and Boom Calm.)

Green tea is another food that's great for your skin on the inside and the outside. Drinking green tea has been linked to many positive health benefits including reducing your risk of heart disease and cancer. It's also packed with antioxidants that help your skin recover from damage.
When you're done with your cup, don't throw those tea bags away. Instead, place them in the refrigerator for an hour, then lie down and place the cold tea bags over your closed eyes. The tannins in green tea can help tighten your skin, while the cold reduces swelling.


2. Try a facial massage.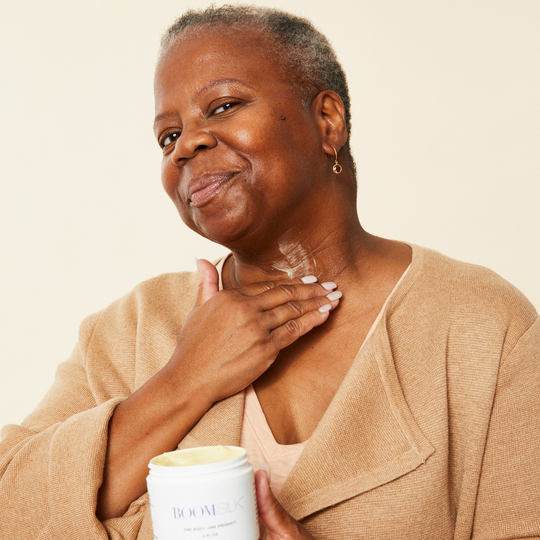 After 50, reduced circulation can lead to slower healing and facial puffiness. 


But a simple facial massage can reduce puffiness and increase circulation in the skin, leading to a brighter complexion. 
Some studies show that facial massage may increase collagen production and even reduce pain from sinusitis or tension headaches. 
You don't need to pay for a masseuse either. You can give yourself a facial massage any time you like.
Start by washing your hands. Then use your fingers to gently massage your face, alternating between clockwise and counterclockwise circles.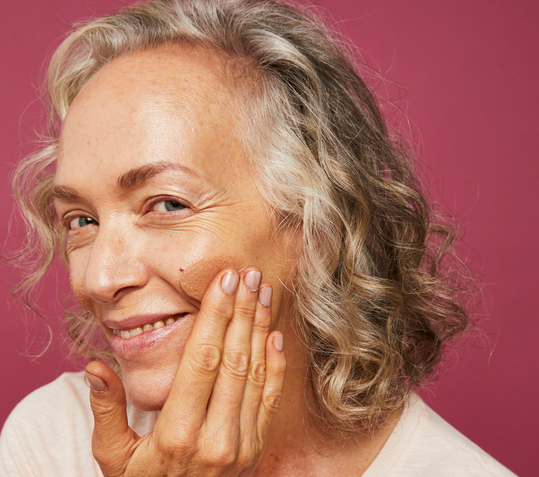 For puffiness around your eyes, apply a cold washcloth to your eyes and gently press. The cold constricts blood vessels to reduce swelling, while the pressure helps move excess fluid out of the eye area.
If you enjoy or see benefits from facial massage, you may want to invest in a jade roller. 
These inexpensive beauty tools are used to massage the face without pulling or tugging. The coolness of the stone may also help to calm inflammation and redness.
3. Reduce your stress
Reducing stress can have myriad benefits for your health and wellness, and your skin is no exception. 
You may already know that stress can negatively affect your body's immune response. Stress can slow your body's healing response and increase inflammatory compounds throughout your body, including those in your skin. 
If you have rosacea, eczema or other skin conditions, stress can exacerbate your symptoms. Cortisol, the stress hormone, can even attack your skin directly, breaking down your skin's vital proteins, including collagen. 
Reducing your stress levels can slow or halt these effects, improving your overall health and your skin's appearance.
Stress relief can come from many sources, including exercise. Regular exercise can greatly reduce the damaging effects of stress on your body. 
Exercise doesn't have to mean hours at the gym or endlessly running on a treadmill—unless you enjoy that. 
If you don't love "working out," try to find something you do love that gets your body moving, like yoga, dance, going for a walk or playing a sport like tennis. 

Another highly effective way to reduce stress is through meditation. Meditation can reduce levels of damaging stress hormones in your body and help you feel calm and peaceful.
There are many types of meditation. If you struggle to quiet your mind, you may find guided meditation helpful. This involves listening to a recorded or spoken meditation that guides you to release stress and tension and slow racing thoughts.
Mindfulness meditation, on the other hand, helps you become more present and aware of your body through silence and inner focus.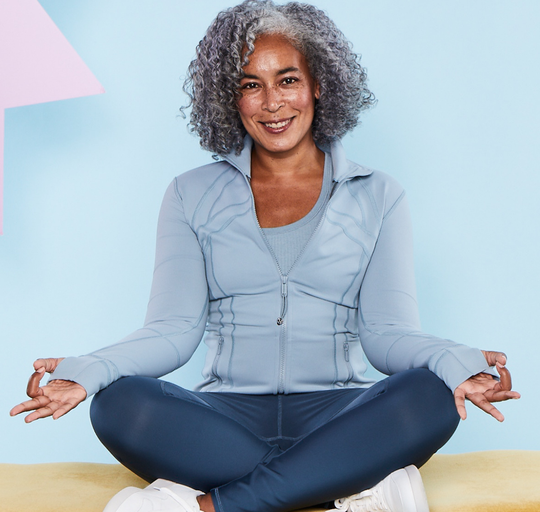 Whatever you do, the more pleasurable you find the activity, the more likely you are to successfully reduce your stress. We suggest choosing stress-reduction techniques you enjoy for maximum benefits. 

These simple skin-care methods can help keep your skin looking and feeling healthy and vibrant throughout all the years of your life. 
What do you think about these low-cost and no-cost skin care techniques? What do you do to keep your skin healthy?
CHECK OUT OUR MOST POPULAR CONTENT