Sharon's 4-Minute Boom Routine for Busy Women
Sharon's 4-Minute Boom
Routine for Busy Women
Sharon Small, 58, is an entrepreneur in Grants Pass, Oregon.
Sharon's hair started turning silver in her 20s… by the time she was 41, she said goodbye to hair dye for good. 
Now she rocks her gorgeous silver hair as the CEO of The Clean Language Institute, where she teaches coaches, HR staff and others "ways of asking questions that minimize unintended influence on [their] clients."
This Boom Ambassador also has a couple of unique tips for using Boom products to create the simple, professional look she prefers. 
Sharon says, "Looking put-together is part of my work… and I love a simple process."
In this video, she shares her quick and easy morning routine using Boomstick Trio™ and Boom Bright™. 
Natural moisture or… 
Like many women over 50, Sharon washes her face once daily, in the evening, to remove makeup, dirt or impurities from the day.
That means in the morning she only needs to ensure her skin is moisturized.
First she splashes her face with some cold water. Then she uses a "trick" she learned from Cindy Joseph—she uses her clean fingertips to spread her skin's natural oils to the dryer parts of her face.
Some days that's not quite enough. Sharon says, "On days where I'm feeling a bit dry, if I've been out in the weather, if I've had too much sun, I use Boom NectarTM."
Boom Nectar is our rich, robust moisturizing serum made with jojoba oil, rosehip oil and camu camu extract, among other all-natural ingredients, for deep, nourishing hydration.
Packed with vitamins, minerals and fatty acids, Boom Nectar gently soothes and softens your most delicate skin.
"But," Sharon adds, "on most days I'm using the Boomstick Trio," including Boomstick GloTM, our all-natural moisturizing stick. 
Made with beeswax with pollen and propolis, honey with naturally occurring royal jelly and organic extra virgin olive oil, this convenient moisturizing stick is perfect for on-the-go touch-ups as well as those who prefer a thicker, occlusive moisturizer.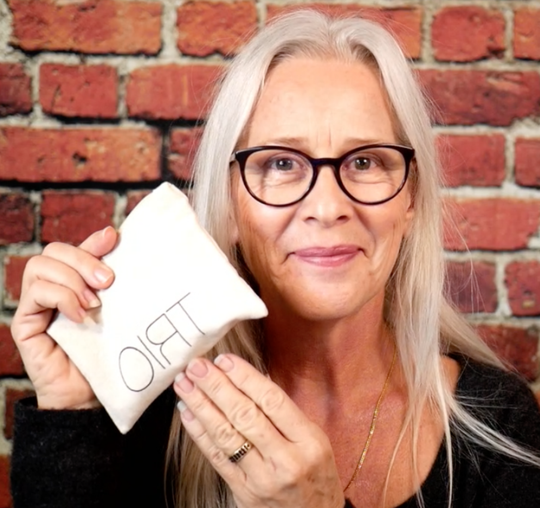 Sharon also has a unique way of using Boomstick Glo we haven't heard before. 
First, Sharon swipes Boomstick Glo onto her forehead, cheeks, around her mouth and on her neck. Then, she warms her fingers in some hot water before massaging it in. (The warmth helps the beeswax in Boomstick Glo melt into your skin.) 
Sharon says, "I love Boomstick Glo rather than a cream because I can actually be very ample with it. And I never, even on the hottest days, have that feeling of it being oily or too much for my skin."
"A lovely rosy color."
Once her skin is feeling moisturized and soft, Sharon reaches for the rest of her Boomstick Trio. 
She begins with Boomstick ColorTM. This multitasking cosmetic stick is a blush, bronzer, lipstick and more.
Boomstick Color comes in a berry tint that flatters every skin tone. We call it "the color of happiness" because the sheer color blends to mimic the glow of a happy blush.
Sharon says, "When I first received it, I thought, 'Ah—this might be too dark for my skin.' What I found is sometimes when I first put it on it looks a little dark, but after about 10 minutes it seems to just blend beautifully into my skin, giving me a lovely rosy color."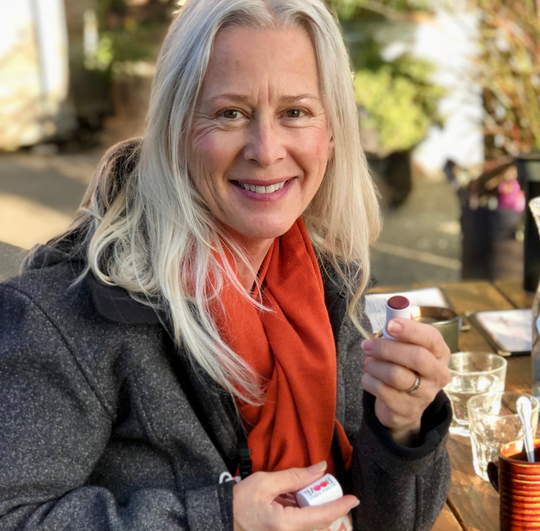 Sharon swipes a bit of Boomstick Color on her cheeks and down each side of her neck and also gently dots it across her forehead. Then, she uses her fingers to blend the creamy color into her skin. 

She also applies it to her lips for the perfect, natural-looking lip color.
"I don't use Boomstick Glo on my lips before Boomstick Color," Sharon says, "simply because I want the Color to be in direct contact with my lips. I find for me and my skin, it tends to last much longer that way."
"Just a little bit of Glimmer…"
Next, Sharon applies Boomstick GlimmerTM, our creamy, pearlescent highlighter
"What's lovely about this," she says, "is it gives just a little bit of glimmer without that 14-year-old disco shine that some products give you."

Sharon applies this cosmetic stick to her collarbones, the very tops of her cheekbones and on her eyelids. Then she blends it in, giving her skin subtle radiance and a hint of shimmer.
She says, "You can see it's not an exact science and what's lovely about this is it totally works without being an exact science. 
"I don't have to get my brushes and my pencils. I get to keep it very simple and still get a little bit of that sheen, that shine and a slight bit of color on my lid."
Boomstick Glimmer can also be used to highlight your decollete in a low-cut top. Some of our Boom Ambassadors even use it to keep their eyebrows in place. 
"...a little bit of lash or a little more lash…"

"If I need to be in a little bit more professional dress or a little more fancy dress, I use the Boom Bright mascara," Sharon says. "Now what I love about this is that you can layer it."
Boom Bright is our mascara formulated especially for women over 50. The water-based formula contains clean, hypoallergenic ingredients and natural emollients to help hydrate and moisturize the thinner, shorter lashes we tend to have after 50.
Boom Bright is also easy to remove, so you won't risk scrubbing your lashes off with it.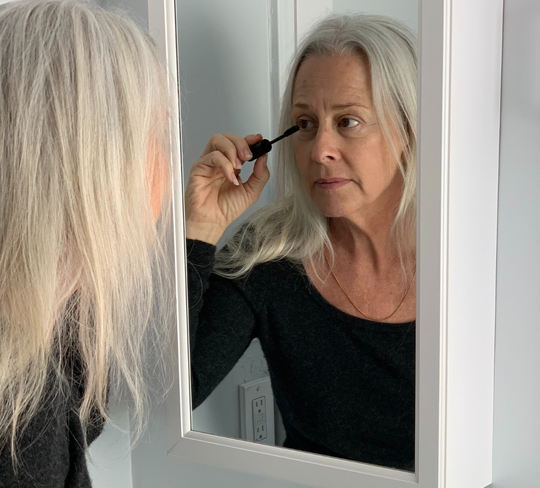 And, as Sharon points out, this mascara is layerable. You can use one layer for a casual daytime look, then add more layers for evenings out, Zoom meetings or events.

"It's a brilliant way of having a little bit of lash or a little more lash depending on how many layers you put on," she says.

Finally, Sharon adds, "That is my, at the most, four to six minute Boom morning. I feel a little brighter, a little more put-together, just a dash more color."
"Simplicity, great quality and complete ease of use. This is what Boom has brought to my daily regime—and some great skin."
What do you think of Sharon's morning routine? What moisturizer do you prefer in the morning? Tell us about it in the comments below.
CHECK OUT OUR MOST POPULAR CONTENT