How Boom Changed Susan's Approach to Makeup and Skin Care

How Boom Changed
Susan's Approach to
Makeup and Skin Care

This radiant 66-year-old Boom Ambassador is Susan Kostrzeba.
Susan is a speech-language-hearing pathologist, a mental health counselor and a naturopathic doctor from Valparaiso, Indiana. 
In addition to all this, she's also an avid nature-lover who takes every available opportunity to get outside. 
About five years ago, Susan discovered Cindy Joseph and BOOM! 
"Boom changed how I approach skin care and makeup," she says.
In this video, Susan shares how she uses Boomstick Trio™ and her favorite Boom skin care to create a vibrant look to match her vibrant life. 
"I love this."
Susan begins by showing you Boomstick Trio,™ our three cosmetic sticks formulated for women over 50. 
The first stick in the Trio is Boomstick Glo,™ an all-natural moisturizer. Susan says, "It's a moisturizer in a little tube that you can take anywhere, and I love this."
Susan glides Boomstick Glo over her face and neck to soften her skin. This moisturizer is made with organic extra virgin olive oil, beeswax with propolis and pollen, and honey with naturally occurring royal jelly.
She calls it the "sister product" to our best-selling Boomsilk ™ moisturizer, pointing out that Boomstick Glo is so convenient for easy, on-the-go touch-ups. 
"Some kind of wonderful."
Next, Susan shows you how she applies Boomstick Color,™ our multitasking cosmetic stick. 
Susan says, "I was using my lipstick as a blush...and when I heard there was a product made for lips and cheeks? I got very excited about that.
"This is some kind of wonderful," she adds.
Susan dabs Boomstick Color onto her cheeks, blends it with her fingers, then adds some to her lips. 
This versatile cosmetic can also be used as a bronzer and contour color. In fact, we call Boomstick Color "the color of happiness" because it was designed to mimic an excited, happy flush. 
The creamy formula blends easily and won't settle into fine lines and creases like powder cosmetics can.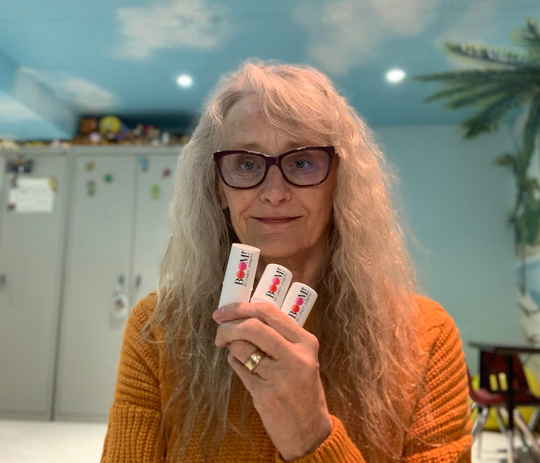 "Add some Glimmer."
The final stick in the Trio is Boomstick Glimmer,™ our pearlescent highlighter. 
Susan dabs Boomstick Glimmer on her lips, under her cheekbones and down her neck. "Wherever it is you want some glimmer," she says.
Boomstick Glimmer's creamy formula makes a beautiful eyeshadow and adds radiance to brow bones, cheekbones and collarbones. 
Susan says, "I really like how Boom doesn't sit and hang on my face in a heavy manner. It's very light, very light."
Skin care + Boom Gold
Susan's love affair with Boom may have started with the Boomstick Trio, but it didn't end there. She soon discovered our line of skin-care products.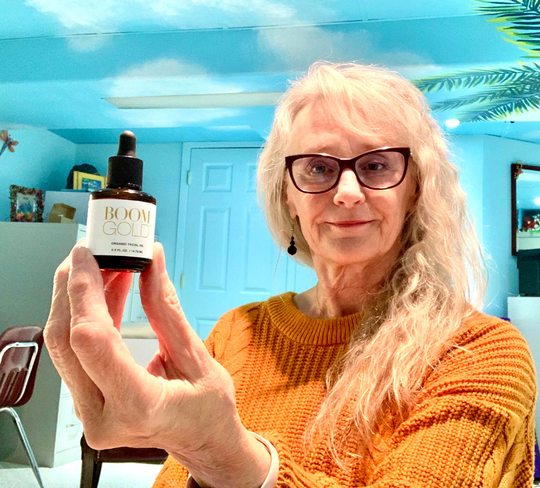 Susan says, "I love Boom's daily cleanser, Boom Clean, for my face and body. I love the Boom Scrub."
Just like our cosmetics, these products are specially formulated for women over 50. 
Boom Clean™ contains three different skin-conditioning agents designed to remove makeup and impurities without drying your skin.
Boom Scrub™ is a refreshing exfoliant and deep-pore cleanser that removes dead, dull cells to reveal your freshest, softest skin. It's also gentle enough to use every day, even on sensitive skin. 
Susan rounds out her skin-care routine with our lightweight facial oil, the luxurious Boom Gold™.
She says, "What I've started to use recently is Boom Gold. And it's heaven, just heaven."

Made with nine organic ingredients, this powerhouse delivers vitamins, minerals, fatty acids and moisture to your skin. 

Boom Gold also absorbs quickly and won't leave a greasy or oily residue.
"I put a little bit on my fingers and rub gently into my neck," Susan says. "I can hear my mother saying, 'Up, go up, go up.' My mother had beautiful skin all 98 years of her life."
We think Susan's is beautiful, too.  
Tell us: What do you think of Susan's look? Have you tried Boom Gold yet? If so, what do you think?
CHECK OUT OUR MOST POPULAR CONTENT