Boomstick Trio: Your Questions Answered!
Today, we're celebrating.
As of this year, over 25,000 Boom customers have given our Boomstick Trio five-star reviews! We can't thank you enough. 
We truly appreciate reading your reviews, hearing your stories, and just knowing that what we do here at BOOM! is making a difference in your lives.
In honor of our amazing customers, we're taking time today to answer customers' questions about our Boomstick Trio—including how to best use our #1 product.
Read on for a closer look at our Boomstick Trio, and the answers to your frequently asked questions about this customer favorite...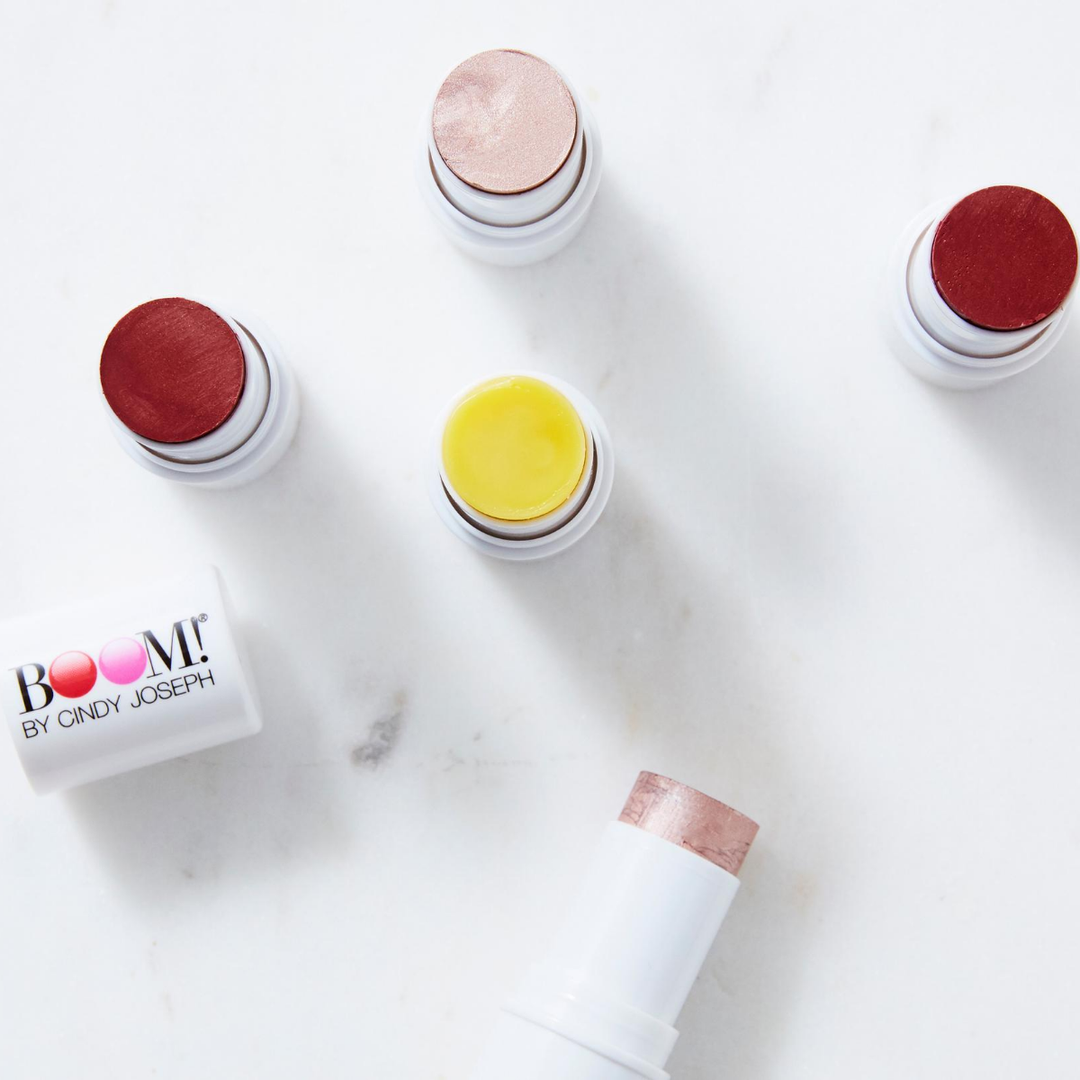 "What's the Trio? How does it work?"


Our Boomstick Trio is many different cosmetics in three simple sticks. Our founder, Cindy Joseph, designed these sticks herself, based on the cosmetics she used as a professional makeup artist for 27 years. These sticks include…

1.  Boomstick Glo: It's a full-body moisturizer in a stick, that you can use to hydrate any part of your skin.
2. Boomstick Color: It's a creamy blush, lipstick, highlighter and bronzer all in the same stick, that you can use to add instant color to your face and neck. 
3.Boomstick Glimmer: It's a shimmering eyeshadow and body luster, that you can use to add a natural sparkle to your skin. 

Cindy designed these sticks to highlight what already makes you beautiful, so you can use them to reveal your natural beauty at every age.

"How do I choose a color to match my skin for the Trio?"

Good news: You don't have to choose a color for the Trio, ever.

All three Boomsticks only come in one color. All three Boomsticks are designed to work with every woman's skin type and color.
1. Boomstick Glo is an all-natural moisturizer that works for every skin type.
Boom customers use this little stick to moisturize even the most sensitive of skin. 
2. Boomstick Color is a soft berry shade that blends to match your skin color.
For that reason, this Boomstick works with any skin tone—whether your skin is chocolate, porcelain or any color in between.
Boomstick Color is designed to match the color your skin gets when your circulation is revved up. We call it the "color of happiness" because this Boomstick makes you look like you're naturally blushing with pleasure. 
3. Boomstick Glimmer comes in a universal shimmering champagne color.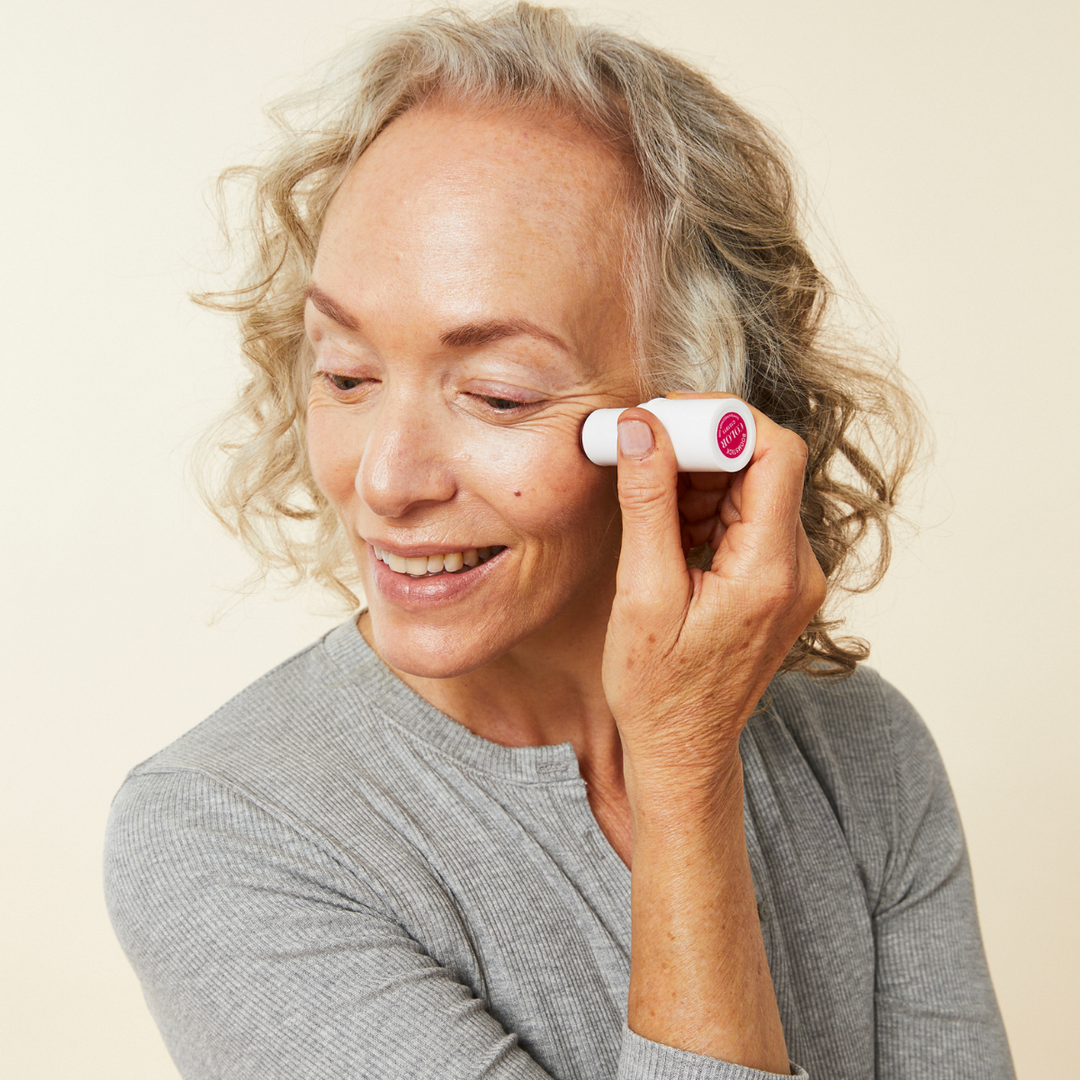 The inspiration for this third shimmering Boomstick came from a newborn's skin. Cindy wanted to create a color that matched the radiant glow you see in an infant's skin. 

For you, this Boomstick blends to match your skin tone, so you can use it to create this subtle, natural-looking radiance for yourself.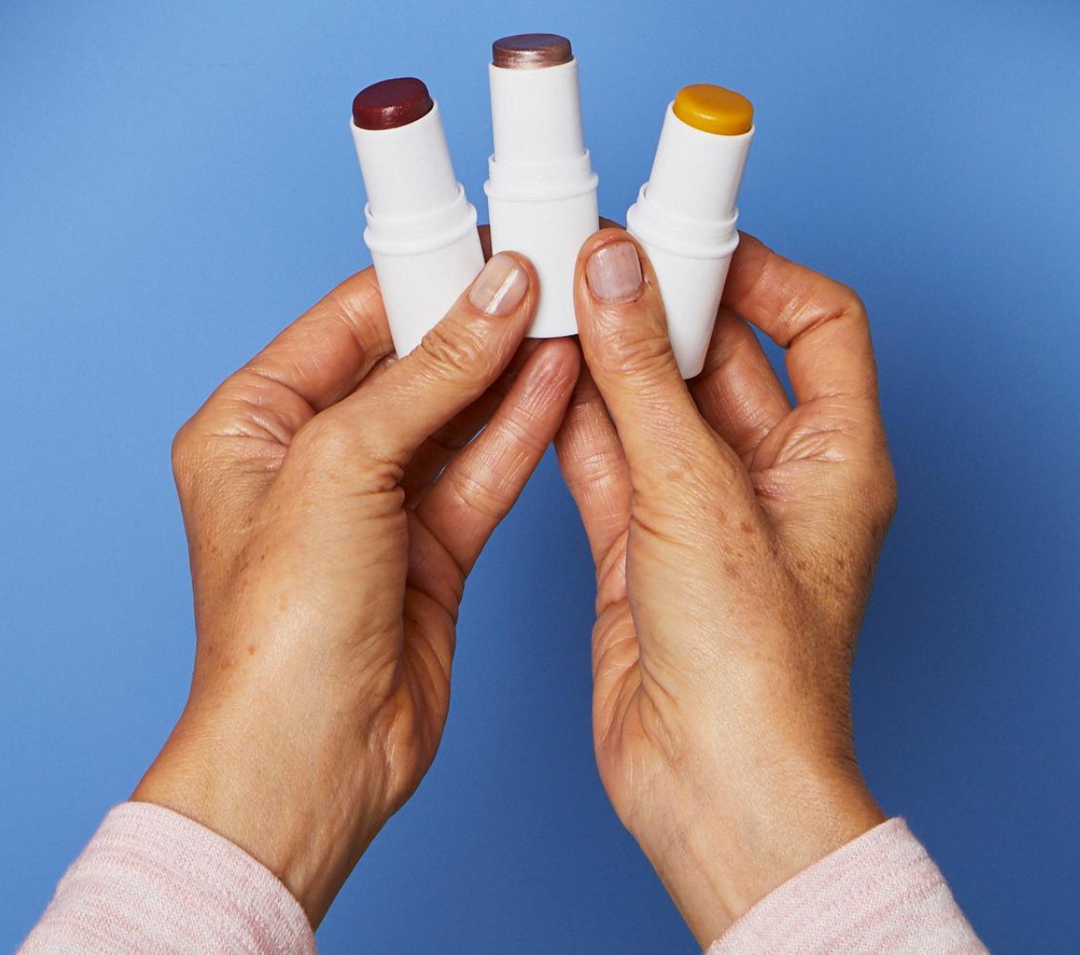 "How do I apply these sticks—and in what order?"
You can use these Boomsticks in many different ways. So we always suggest you experiment and find what works for you.
But for best results, we suggest this order…
Step #1: Start by moisturizing with Boomstick Glo.
We always suggest moisturizing before you apply makeup, so we recommend applying Boomstick Glo first. Start with a clean, dry face. Then spread this Boomstick directly onto your cheeks, T-zone, lips and neck. Wait a few minutes for it to dry before moving on.
Step #2: Add Boomstick Color everywhere you blush.

You blush in more places than just your cheeks, so we suggest dabbing Boomstick Color onto your upper cheekbones, the very top of your forehead, and the sides of your neck. Then blend it in with your fingers until you see the subtle pink color you want.
Step #3: Apply Boomstick Glimmer as an eyeshadow (and…).

We suggest using Boomstick Glimmer as an eyeshadow first. You can dab this Boomstick directly onto your eyelids and sides of your eyes for a natural-looking sparkle.

If you're going out for the evening, you may also want to add Boomstick Glimmer to your clavicles, decollete and shoulders for extra sparkle—especially if you're wearing a dress or blouse with exposed skin.


Step #4: Finish with your lips.


We suggest adding your lip color last. You can dab Boomstick Color onto your lips for a natural-looking color that matches your skin.
That's it! Most customers can apply all three Boomsticks in 10 minutes or less.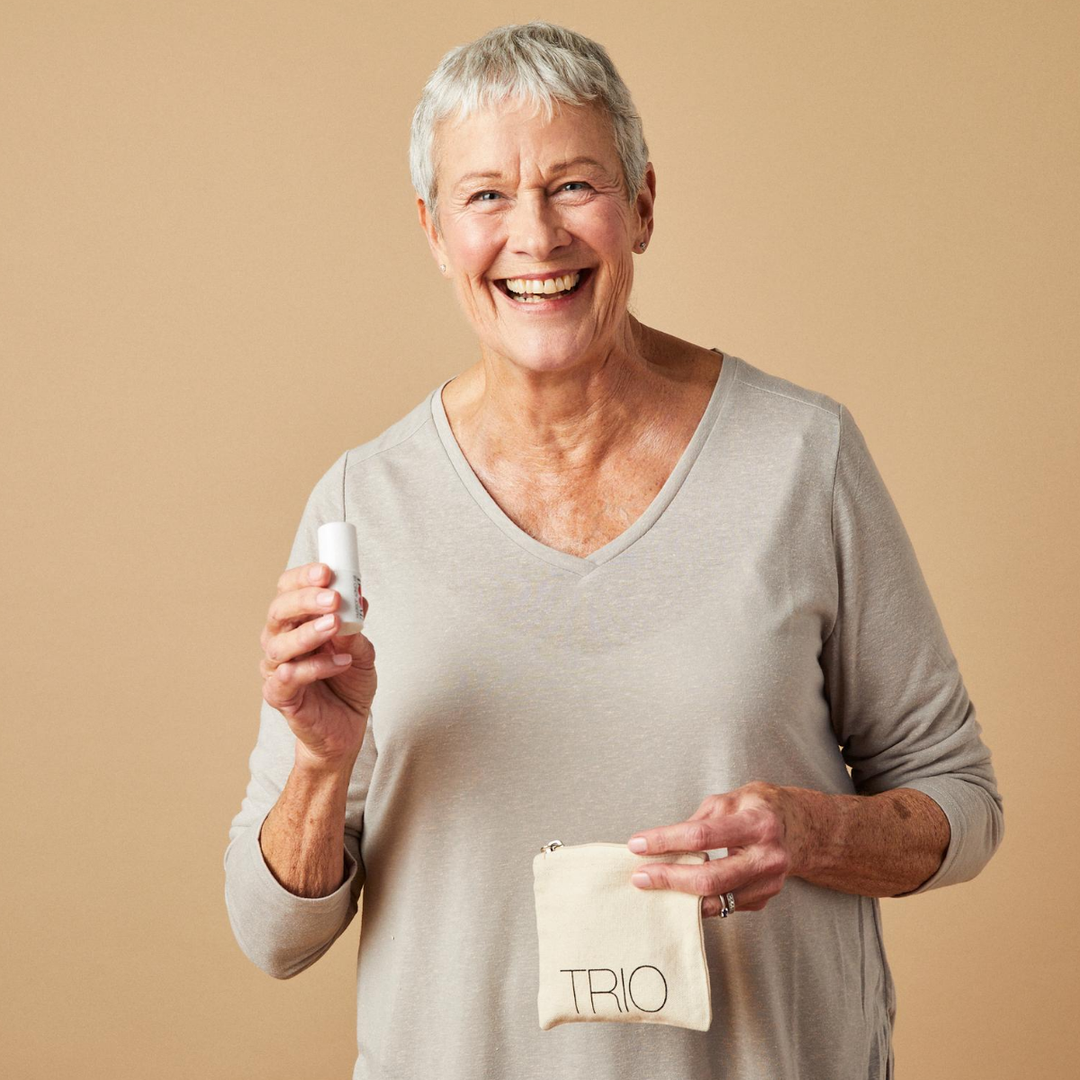 "Do you have to use all three sticks together?"

We get this question all the time!


The short answer is: No, you don't have to use all three sticks.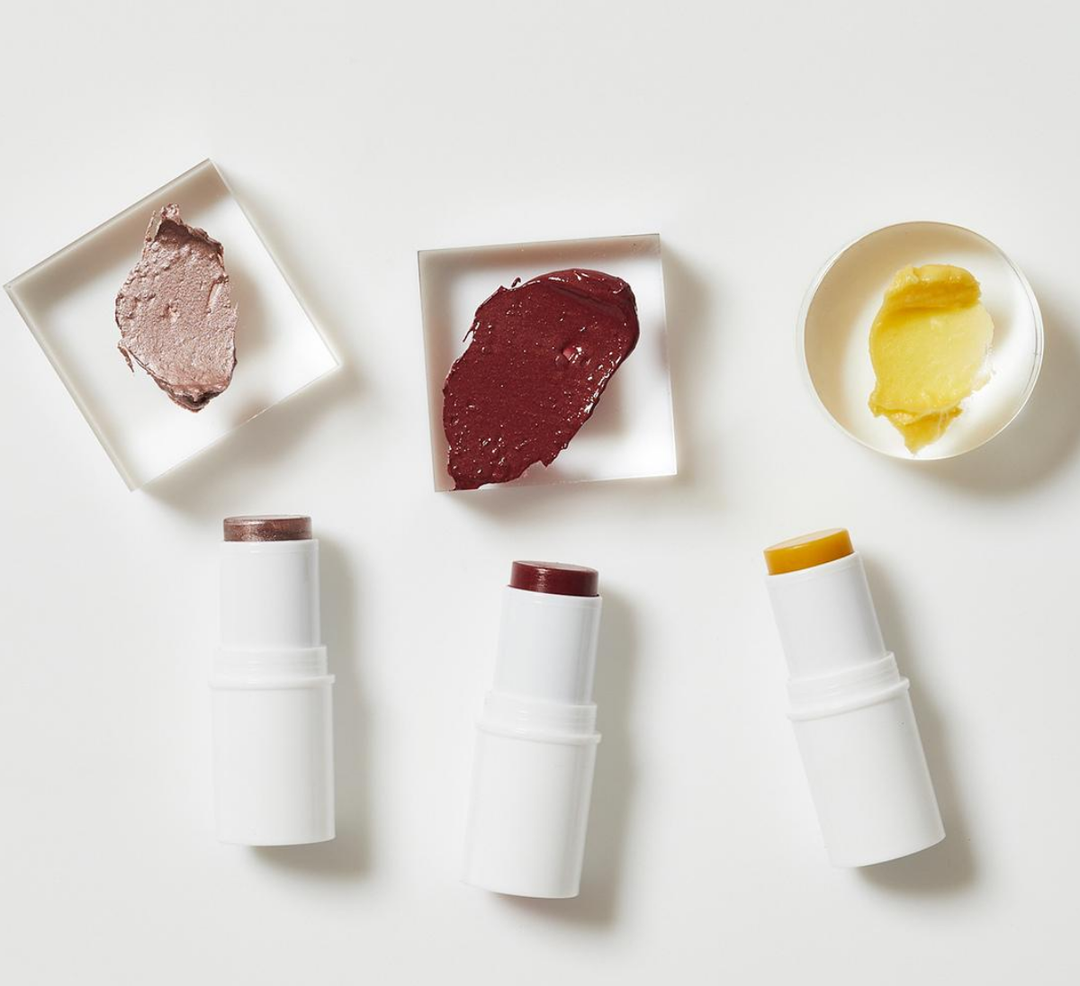 You can use Boomsticks together or individually. It's entirely up to you!

(If you're wondering, all three sticks are sold together in the Boomstick Trio, but you can also order each Boomstick separately if you like.)

"Can I use other products with Boomsticks?"
Absolutely! You can use any products with Boomsticks.


For example, some Boom customers love using a simple mascara or eyeliner with their Boomsticks. If you'd like to try this, we suggest applying Boomsticks first, and mascara or eyeliner second.

Other Boom customers like applying foundation with their Boomsticks. 
If you're interested in trying this, we suggest moisturizing with Boomstick Glo first, and then applying a creamy foundation that matches your skin tone on top of it. After that, you can apply Boomstick Color and Boomstick Glimmer as you like. 
"What do Boomsticks feel like on your skin?"

All three Boomsticks feel soft, creamy and natural on your skin.
Cindy designed these cosmetic sticks to be cream-based, so both Boomstick Color and Boomstick Glimmer sit on top of your skin. 
That's important because traditional powdered cosmetics like blushes, eyeshadows and bronzers can seep into any natural texture in your skin—and actually draw attention to fine lines or wrinkles.
Instead, these creamy, soft Boomsticks highlight your features, rather than fine lines. 
"How long do Boomsticks last?"
Often, customers tell us that Boomsticks last longer than they thought.
Boomstick Color is just 7 grams—about double the size of an average lipstick. According to our customers, Boomstick Color lasts 6-8 months with daily use.
Also at 7 grams, Boomstick Glo generally lasts 2-4 months, depending on how often you use it. (It also fits in even the smallest purse, so you can moisturize on the go.)
Boomstick Glimmer, also at 7 grams, lasts the longest. According to our customers, this sparkling Boomstick lasts 8-12 months.
Again, thank you to our customers…
We just want to say once more how thrilled we are that customers are loving these Boomsticks—and thank you to everyone who has given these sticks a five-star review.
We appreciate all of you! 
As always, we'd love to hear from you. Tell us: Are you already using the Trio? If so, what do you think? 
CHECK OUT OUR MOST POPULAR CONTENT