5 Beauty Products You Probably Don't Need
5 Beauty Products You
Probably Don't Need
If you're like many women, your makeup drawer or cabinet is overflowing with products you don't use very often. 
The beauty business is an almost $50 billion industry… and that's just in the United States. Every day, we're sold dozens of products for every part of our face and body.
Unfortunately, many of the products hailed as indispensable or revolutionary aren't effective, especially for women over 50.
Ditching even a few of the unnecessary and unhelpful products in your beauty drawer can help you use what you keep more efficiently. 
So today, we reveal five products you might have in your collection to which you can cheerfully say goodbye.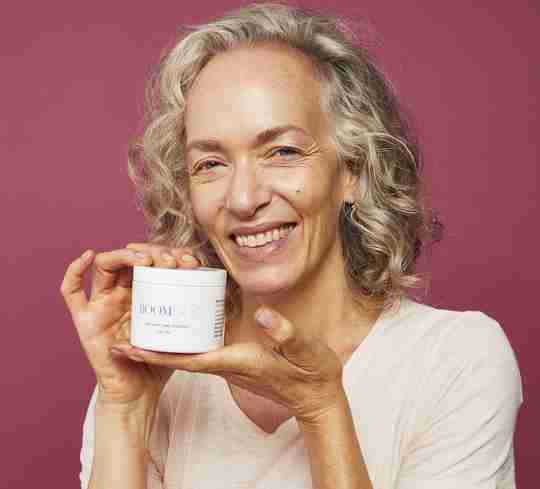 1. A different lotion for every body part
The beauty industry will try to convince you that you need a different product for each part of your body. To hear them tell it, at a minimum you'll need a different cream or lotion for eyes, feet, night, day, body, hands and cuticles.
The truth is, all of these extra products are unnecessary. 
To simplify your routine, choose one moisturizer you can safely use anywhere on your body for effective hydration and lasting moisture. 
We suggest Boomsilk™, our best-selling, all-natural moisturizer. 
Made with organic extra virgin olive oil, honey with naturally occurring royal jelly and beeswax with pollen and propolis, this thick, creamy moisturizer can be used anywhere on your body, at any time, for soft, supple skin. 
2. Heavy eyeliner
Heavy, winged eyeliner is in—again. 
But if you're over 50, you may want to skip this particular trend.
Thick eyeliner can make eyes appear smaller and eyelids heavier. 
Instead, we suggest trading out that eyeliner in favor of a gentle mascara like Boom Bright™. Made especially for women over 50, Boom Bright's soft black color defines your eyes without the harsh look of eyeliner. 
To define your eyes with Boom Bright, swirl the spoolie inside the tube to coat it. Place the wand at the base of your lashes. Then, wiggle the spoolie as you draw it upwards to distribute Boom Bright to your lashes. 
3. Brushes and beauty blenders
At BOOM!, we suggest switching to cream-based makeup after 50—powders can actually accentuate fine lines and creases. 
If you're using cream makeup, it's often best applied and blended with just your fingertips… no makeup brushes and beauty blenders necessary!

Getting rid of these tools isn't just good for simplicity's sake, but may also help avoid acne and inflammation. 
Brushes and beauty blenders must be cleaned regularly to prevent contaminating your skin. Unfortunately, most people don't clean their applicators nearly often enough. One survey found that nearly 40% clean them less than once a month, while another 22% said they never clean their brushes. 
If you've switched to cream-based makeup but are still holding onto brushes and blenders, consider letting them go, applying your makeup with clean fingertips instead.
4. Drying Toners
In addition to a lotion for every body part, you may also have heard that you need to tone your skin after you cleanse. But toners work best for people with large pores and oily skin—and that's not something most women over 50 struggle with.
If your skin tends to be dry, skip the toner and apply a vitamin-rich serum after cleansing. We suggest Boom Nectar™, our robust moisturizing serum.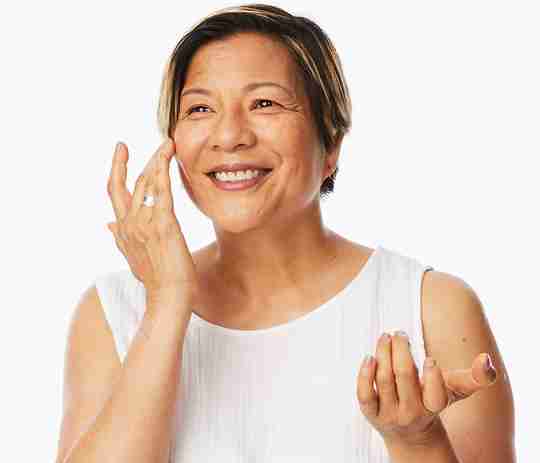 After you wash, apply Boom Nectar to damp skin, then pat gently for hydration right where you need it. 
Boom Nectar's natural emollients moisturize deeply for a radiant, dewy finish.
5. Makeup Primer
Another supposedly "indispensable" beauty product is makeup primer. Primer is meant to blur fine lines, make your makeup easier to apply and last longer. 
If you're using cream makeup or skipping foundation, primer is unnecessary. Cream makeup is easier to apply than powders and isn't prone to flaking.
Instead of applying a primer before your makeup, use a high-quality moisturizer that will help makeup glide across your skin and give you a dewy glow.

We suggest Boom Gold, our lightweight facial oil. This moisturizer contains eight organic oils for fast-absorbing nourishment that makes the perfect base, with or without makeup.
To use Boom Gold™, apply a few drops to your fingertips and pat into your skin, especially around your eyes. This oil absorbs quickly and never leaves your skin greasy. After a moment or two, apply your cream makeup.
Paring down your beauty routine can simplify your life, reduce exposure to chemicals and make it easier to keep up with regimens that really serve your skin. 
What do you think? What tools or products have you dropped from your makeup routine?
CHECK OUT OUR MOST POPULAR CONTENT