The 4-Step Boom Routine for Natural, Sophisticated Makeup
The 4-Step Boom
Routine for Natural,
Sophisticated Makeup
Do you love a simple, sophisticated makeup look? 
Perfect for everything from running errands to a date night, this simple, elegant look is a classic approach that works for every woman to reveal her natural beauty. 
Today, we'll show you how to achieve it in four easy steps. 
This routine enhances your most noticeable features and creates a simple, but sophisticated, put-together look. 
The best part? It takes less than five minutes to achieve. 
Does that sound like the look you've been waiting for? Here's how to do it. 
1. Bright eyes
First, highlight your beautiful eyes with Boom Bright™, our gentle mascara that moisturizes your delicate lashes. 
Every aspect of this mascara was designed for delicate lashes.
Gentle and moisturizing, this mascara lengthens, separates and defines the thinner, shorter lashes we tend to experience as we age. 
Boom Bright resists flaking and clumping, so you can build to the look you want. Want a bolder look? Just apply another layer.
The water-based formula is easy to remove at the end of the day with warm water, moisturizer or a gentle cleanser, so you won't risk your delicate lashes removing it.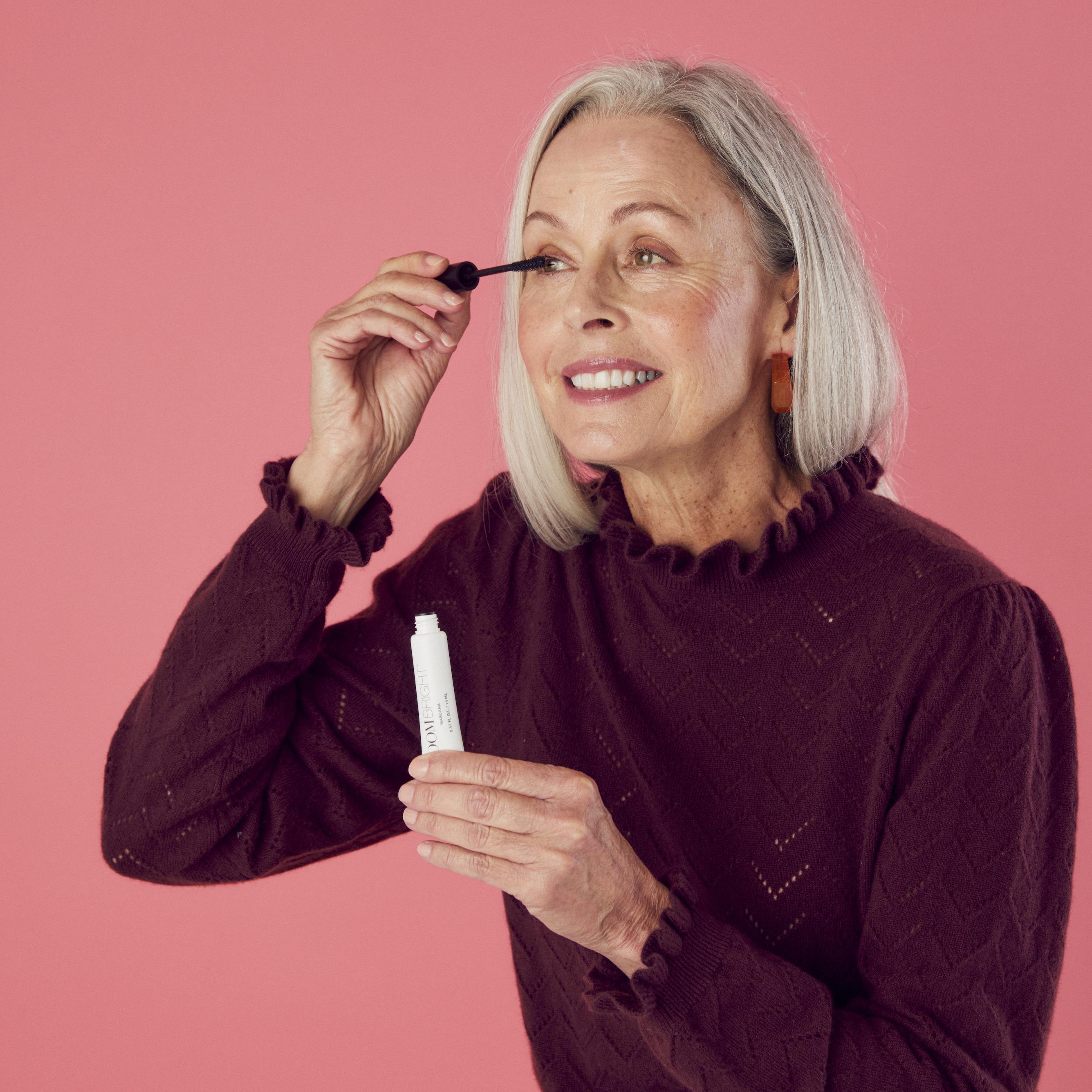 Made with nature-inspired ingredients in a clean-beauty, hypoallergenic formula, you also won't need to worry about what you're putting near your beautiful eyes. 
2. A soft, rosy glow
Next, enhance your natural radiance with soft and rosy Boomstick Rose Nude™.
This creamy Boomstick was designed to create a natural-looking glow in seconds. Just dab Boomstick Rose Nude on your cheeks and blend to add gentle radiance to your skin.
Then, apply a layer of Boomstick Rose Nude to moisturize your lips and add a sophisticated hint of color. 
Made with clean ingredients in a convenient cosmetic you can easily carry in your pocket, purse or bag, Boomstick Rose Nude adds subtle color in moments for a natural-looking glow.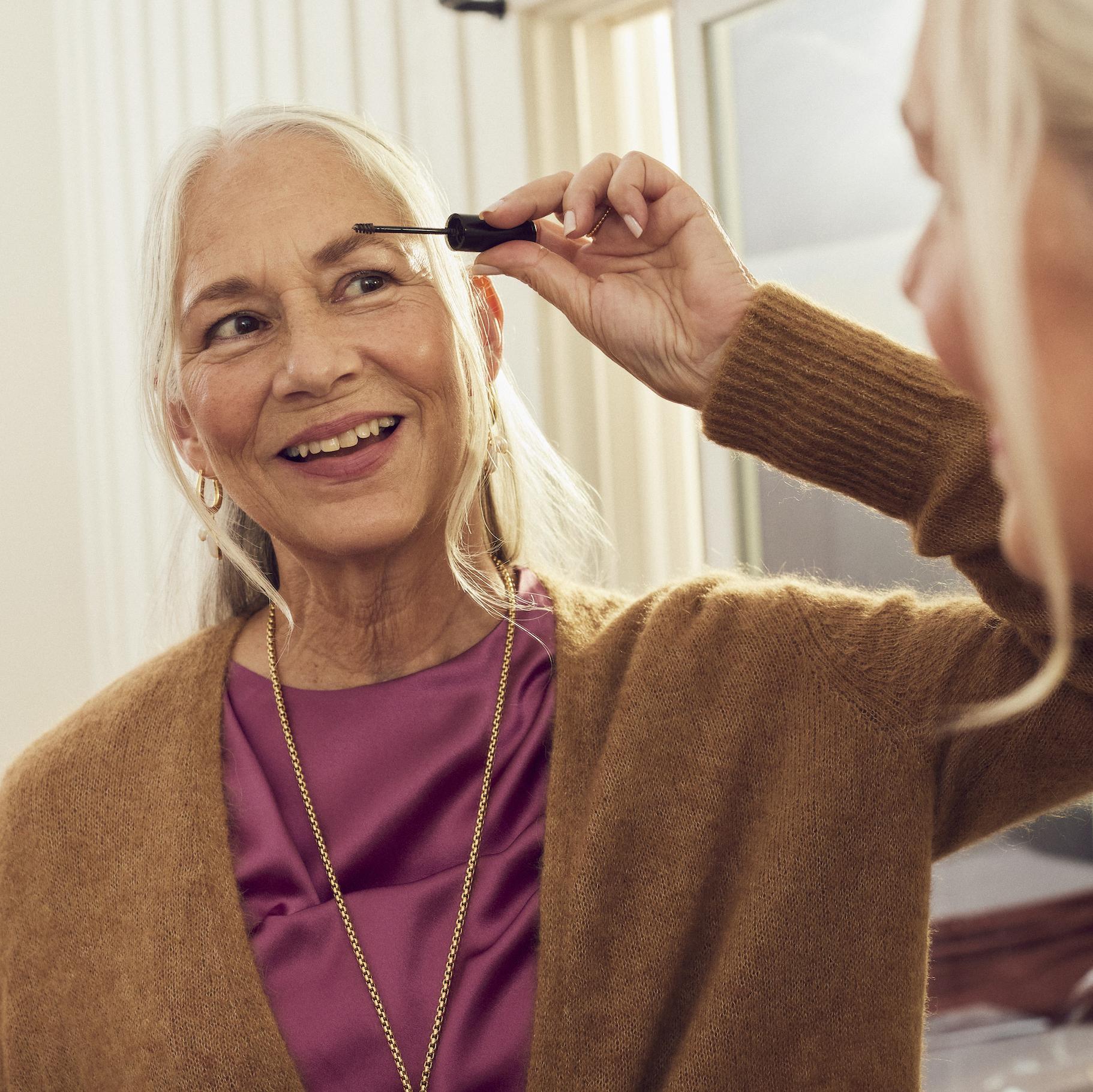 3. Beautiful brows
As we age, our brows tend to thin and lighten, especially at the outer edges. 
Our lightweight brow mousse, Boom Brow™, adds subtle definition, volume, color enhancement and shape to sparse or thinning brows. 
Designed for ease of use, Boom Brow brushes on in moments for beautiful, natural-looking brows every time. 
To apply Boom Brow, simply unscrew the applicator and brush onto your brows in an upward and outward direction.
The lightweight formula clings to your existing brows for natural-looking volume and comfortably holds your brows in place all day. 
Want more color or definition? Just brush on another layer. The non-flaking formula is buildable for a customized look. 
Boom Brow is also available in two versatile colors designed to work for every woman. 
4. Glossy, moisturized lips
Soft, moisturized lips aren't just nice to look at. They also feel better. 
Add a layer of moisturizing gloss as your finishing touch. We suggest Boom Gloss™, our lip gloss designed for pro-age women. 
Unlike gummy glosses you may have tried in the past, Boom Gloss gives your lips a subtle, sophisticated shine without a sticky, tacky finish. 
Made with gentle botanical oils, emollients and humectants, Boom Gloss moisturizes the skin for soft, supple lips and elegant shine.
You can also wear it alone or over your favorite lipstick to lock in color and moisture. 
With this final touch, your sophisticated, natural look is complete. 
What are your go-to cosmetics for a simple, put-together look? Tell us in the comments below.
CHECK OUT OUR MOST POPULAR CONTENT