The Boom Nighttime Routine For Beautiful Skin
The Boom Nighttime
Routine For
Beautiful Skin
Your skin works harder than you might think. 
At only two millimeters thick, your skin protects you from everything the world has to throw at it, including bacteria, viruses, pollution, temperature extremes and water loss. 
Your skin is resilient, strong and beautiful. Taking care of it is an important job. 
That's why we create gentle, easy-to-use skincare that supports your skin's vital functions. 
Made with safe, non-toxic and natural ingredients, Boom skincare is specially designed to nourish and protect your skin at 50, 60, 70 and beyond. 
Following this routine in the evening will help keep your skin soft, strong and ready for whatever the world throws at it.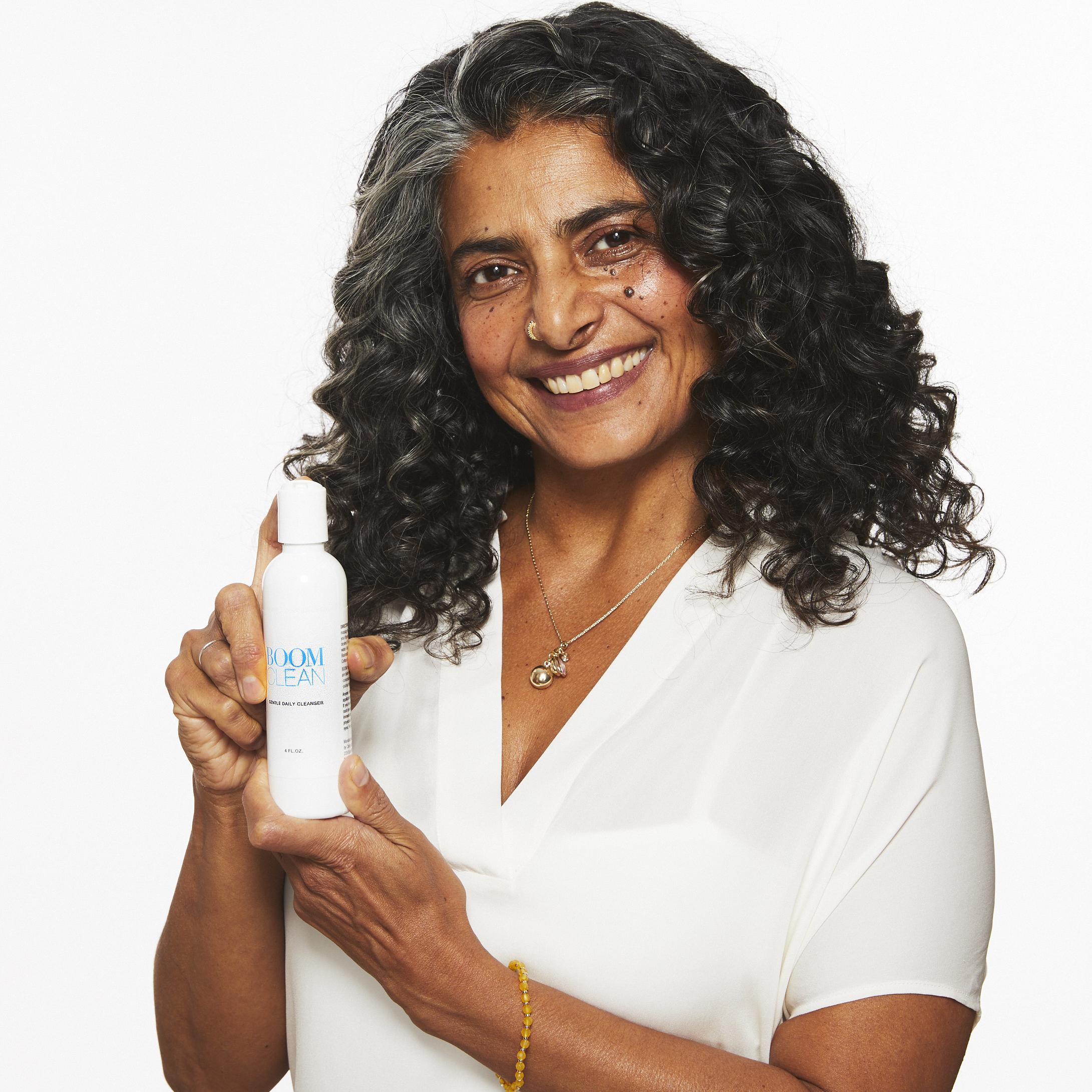 1. Cleanse

Taking good care of your skin begins with keeping it clean. 

All day long, your skin collects impurities—from your makeup to every touch with your hands to debris left by pollution and dry, dead skin cells that naturally shed during the day.

Washing your skin with a gentle cleanser at night before you go to bed helps remove these impurities so your skin can breathe. 

Choose a gentle cleanser designed for sensitive skin. Harsh cleansers can dry your skin, leaving it vulnerable to redness, inflammation and irritation. 
Boom Clean® was designed to cleanse your skin while still protecting its natural barrier. 
Made with gentle botanical extracts and safe, non-toxic ingredients, Boom Clean removes impurities, pollution and makeup without leaving your skin dry or tight. 
In fact, our cleanser contains three different skin conditioners to ensure you'll be left with clean, soft skin—not dry or irritated skin.To wash with Boom Clean, wet your face. Then apply a dime-size drop to your fingertips and massage it into your skin. Finally, rinse your skin clean with warm water. 
Boom Clean is even gentle enough to use around your eyes without irritation. 
2. Exfoliate
Exfoliation helps remove dead, dry skin cells from the surface of your skin to reveal the fresh, new skin beneath. 
Many studies have shown that regular exfoliation helps keep your skin smoother and softer over the long term. 
Boom Scrub™ is an ideal exfoliant for women over 50 because it's gentle and soothing even on sensitive and delicate skin.
Made with oat flour kernels rolled in jojoba esters, Boom Scrub can be used every day without injuring or irritating your skin. It also deep-cleans your pores to free blockages and keep skin clear. 
Each evening, apply a dime-size amount of Boom Scrub to your fingertips and gently massage it into wet skin. Wait five minutes, then rinse clean. 
3. Rehydrate with liquid moisture
Once your skin is clean, it's time to replace some of that lost moisture. We suggest beginning with an antioxidant-rich liquid moisturizer like Boom Nectar®.
Made with all-natural oils, botanical extracts and humectants, Boom Nectar softens and calms your skin while it brightens your complexion. 
Six of Boom Nectar's 16 ingredients are all-natural moisturizers, which nourish and soothe your skin for a luminous glow.
You can use this liquid moisturizer alone or under a thicker moisturizer to rehydrate and revitalize your skin.
4. Add an occlusive barrier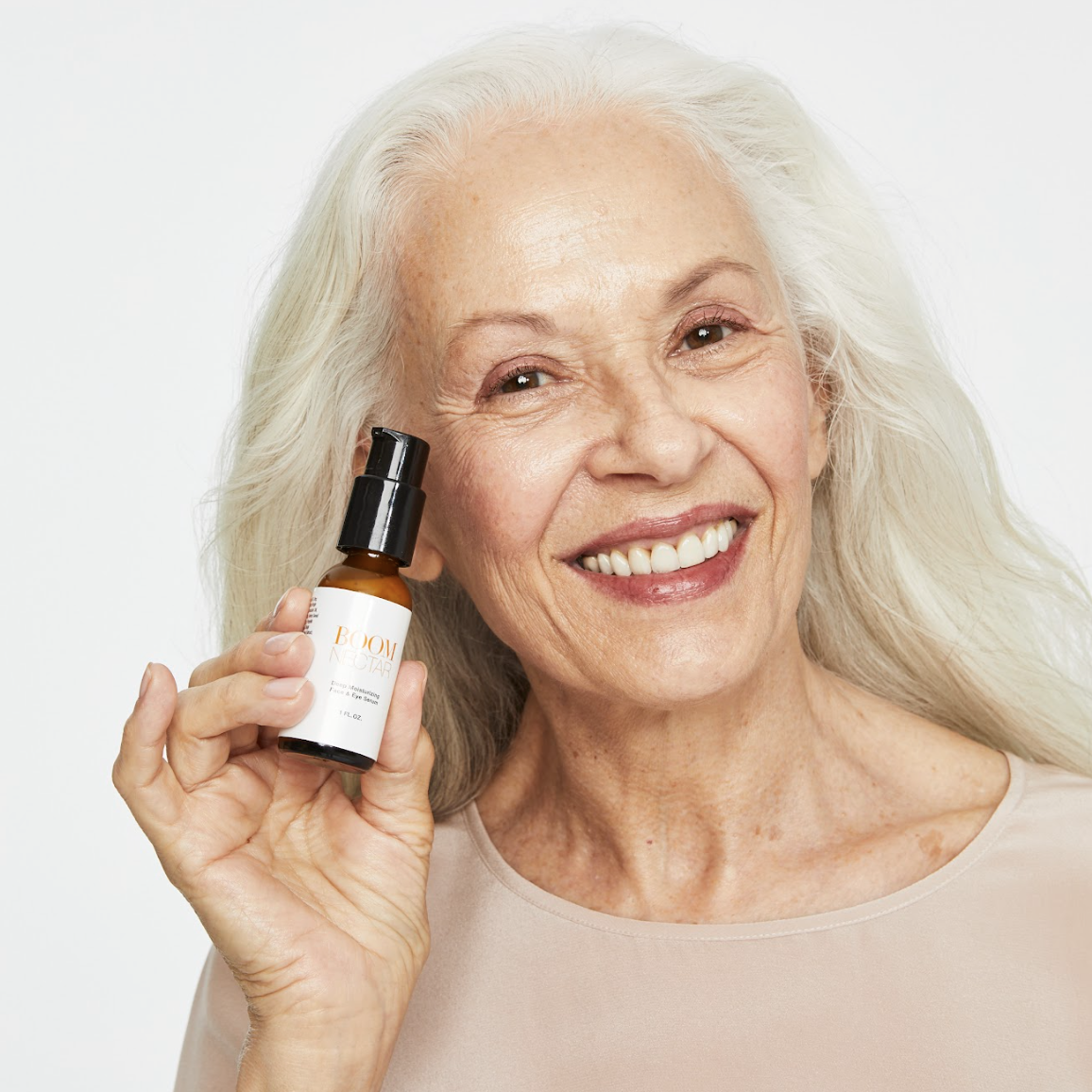 If you live in a dry climate or tend towards dry skin, we suggest one final step. 

Before you head to bed, apply a luxurious moisturizer with a strong occlusive barrier like Boomsilk®, our all-natural moisturizer made with beeswax. 
Beeswax forms a protective barrier on your skin that guards against further moisture loss during the night without clogging your pores. Beeswax is also a natural humectant that helps draw moisture into your skin and retain it. 

Boomsilk's certified organic ingredients nourish your skin all night long for softer, smoother skin in the morning. 
Apply a small dab of Boomsilk—that's all you need—and massage it gently into your skin, particularly around your eyes, mouth or anywhere else that is dry. 
Then, drift off to dreamland knowing that your skin is fully supported to look and feel its best. 
Ending your evening with high-quality skincare ensures a beautiful skin morning. 
Do you have a nighttime skincare routine you love? Tell us how you care for your skin at night in the comments below.
CHECK OUT OUR MOST POPULAR CONTENT