Kim's 4-Step Natural Glow With Boom
Kim's 4-Step Natural
Glow With Boom
At 61, Kim DeLoach says Boom makes her feel like she just discovered makeup. 
That's because, for the first time, she's found makeup that's "user-friendly, face-friendly, skin-friendly and a snap to use."
In the video below, this Georgian shows you how she uses the Boomstick Trio® and Boom Bright™ to create her gorgeous daily look. 
1. Boomstick Glo
is "so easy to use."
Kim begins with Boomstick Glo®, our moisturizing Boomstick. 
As she points out, Boomstick Glo is made with the same ingredients as our best-selling Boomsilk® moisturizer but in different proportions. Kim says, "It kinda stays put wherever you need it to go."
With extra virgin olive oil, honey and beeswax, this all-natural moisturizer soothes and softens skin wherever you need it.  
The compact size also makes it easy to keep in a pocket, purse or bag. Kim says, "I carry it with me. Wherever I go, this little stick goes."
She applies Boomstick Glo under her eyes for a touch of moisture.
2. Boomstick Glimmer for "a real subtle glow."
Next, Kim applies Boomstick Glimmer®, our highlighting Boomstick. This cosmetic adds subtle radiance to your skin wherever you apply it. 
She says, "You don't look as though you've thrown glitter into your face, but you do kinda have a little shine."
Kim applies this Boomstick on her cheekbones and above her eyes to bring light there. She also applies it down her nose and on her cupid's bow and chin.
"You can see," she says, "I haven't even blended these in but they don't look too over-the-top. It's just a real subtle glow."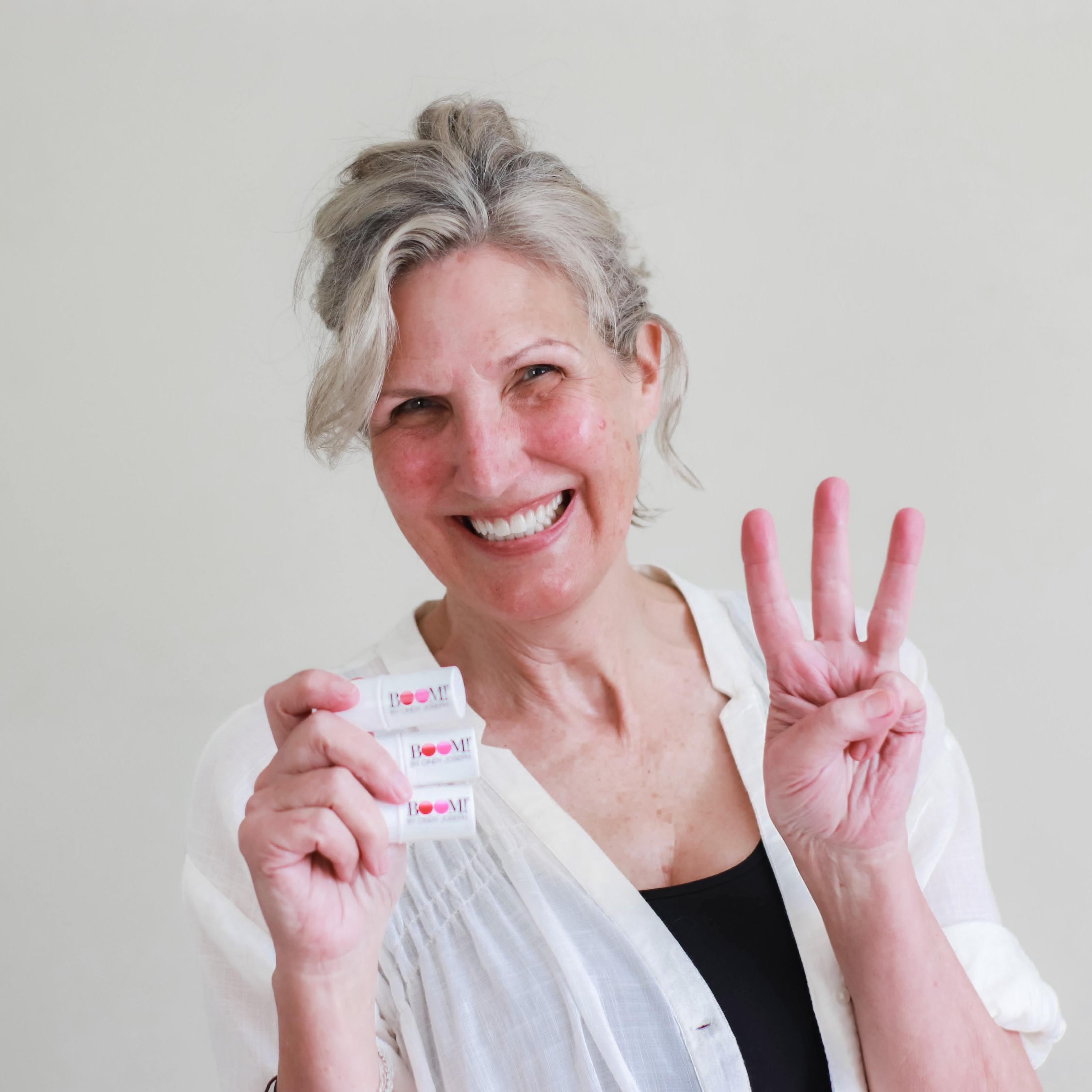 You can also apply Boomstick Glimmer to your collarbones and shoulders when you're wearing a low-cut or off-the-shoulder top for a luminous look.
3. Boomstick Color "is a multitasker."
The last cosmetic in the Boomstick Trio is Boomstick Color®, our blush, lipstick, bronzer and contour all in one. As Kim says, "Wherever you have some skin that needs some color, there you go."
She applies this creamy Boomstick to her lips and cheeks for a natural-looking glow. Then she blends everything in. 
"You just use your fingers," Kim says, "No fancy brushes, sponges… No order, you don't have to follow a recipe. You just layer this on until you get the look that you are comfortable with."
Boomstick Color can also be applied to your forehead, neck and décolletage to create a warm, sun-kissed glow.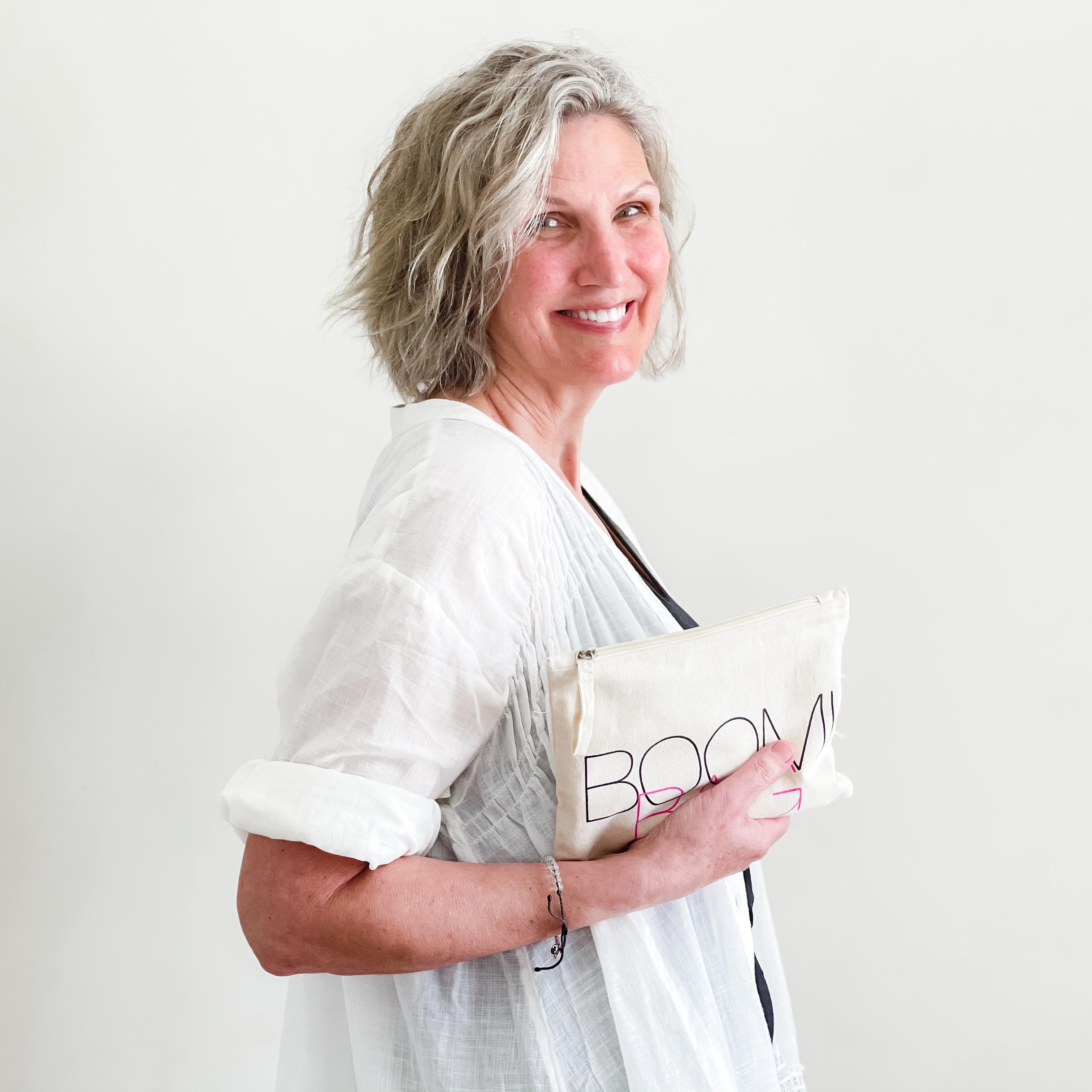 4. Boom Bright "completes the look."
Last, Kim applies Boom Bright mascara to complete her look. She says, "This little tube is made out of sugarcane and it has an upcyclable wand that has bristles on one side and it's sort of flat on the other."
Boom Bright's recyclable sugarcane plastic tube doesn't require fossil fuels like traditional plastic, so it's better for the environment. You can also donate the wand when you're done to help animal rehabilitation centers.
Kim has very short eyelashes that make wearing mascara difficult, but she says, "This little mascara right here does the trick, and I have yet to have it come off until I'm ready for it to come off."
Boom Bright comes in a soft black color that works for everyone and looks particularly stunning with silver hair. The hypoallergenic formula is also gentle on sensitive eyes. 
With that last step, Kim's daily look is complete. 
She says, "I know these products are pro-age but honestly this is all I ever was looking for in makeup. Just something to enhance my face. I still wanted that natural glow."
We love her naturally beautiful look. 
Tell us, what do you think of Kim's daily routine? How long does it take you to put on your makeup in the morning?
CHECK OUT OUR MOST POPULAR CONTENT