Get Kelli's Naturally Beautiful Look in 2 Minutes
Get Kelli's
Naturally Beautiful
Look in 2 Minutes
Looking for a makeup routine that's simple, quick and naturally beautiful? 
Look no further. 
Today, Boom Ambassador Kelli Grant demonstrates her daily cosmetics routine for you.
"I love this routine," Kelli says. "It is so fast. In under two minutes, I'm done with my makeup."
She adds, "All the products by BOOM! feel just wonderful on your face. Very moisturizing and you don't feel or look like you've caked on makeup."
Watch the video below to see this 58-year-old fitness instructor from Texas show you how she gets ready with Boomstick Trio® and Boom Bright™.
1. One color for all skin tones
Kelli has already moisturized her skin, so she jumps in with Boomstick Color®, our multitasking cosmetic stick. 
"I just start by drawing it right on top of my cheekbones," she says. 
Kelli also adds Boomstick Color to her forehead. "Sometimes I do a little Color down my nose," she adds. "And then you put it on your lips. It's amazing how this one color, which I absolutely love, is for all skin tones."
Boomstick Color's sheer berry color blends to match your skin tone and mimics the look of a happy or excited flush.
You can add this Boomstick wherever you naturally blush, including your neck and décolletage. Or dab it just under your cheekbones for subtle definition. Then use your clean fingers to blend it in.
2. Add "a little glow."
Next, Kelli applies Boomstick Glimmer®, our pearlescent highlighting stick. 
She adds this cosmetic to the tops of her cheekbones, her eyelids and brow bones. "It's just a tiny bit of shine. Just kinda makes your eyes pop."
Boomstick Glimmer's creamy formula blends effortlessly into your skin for a natural-looking radiance. As Kelli says, "It gives you just a little shine, a little glow without being frosty or glittery."
You can also apply this Boomstick to your neck and décolletage as well as your collarbones like Kelli does.
3. Boom Bright for the final touch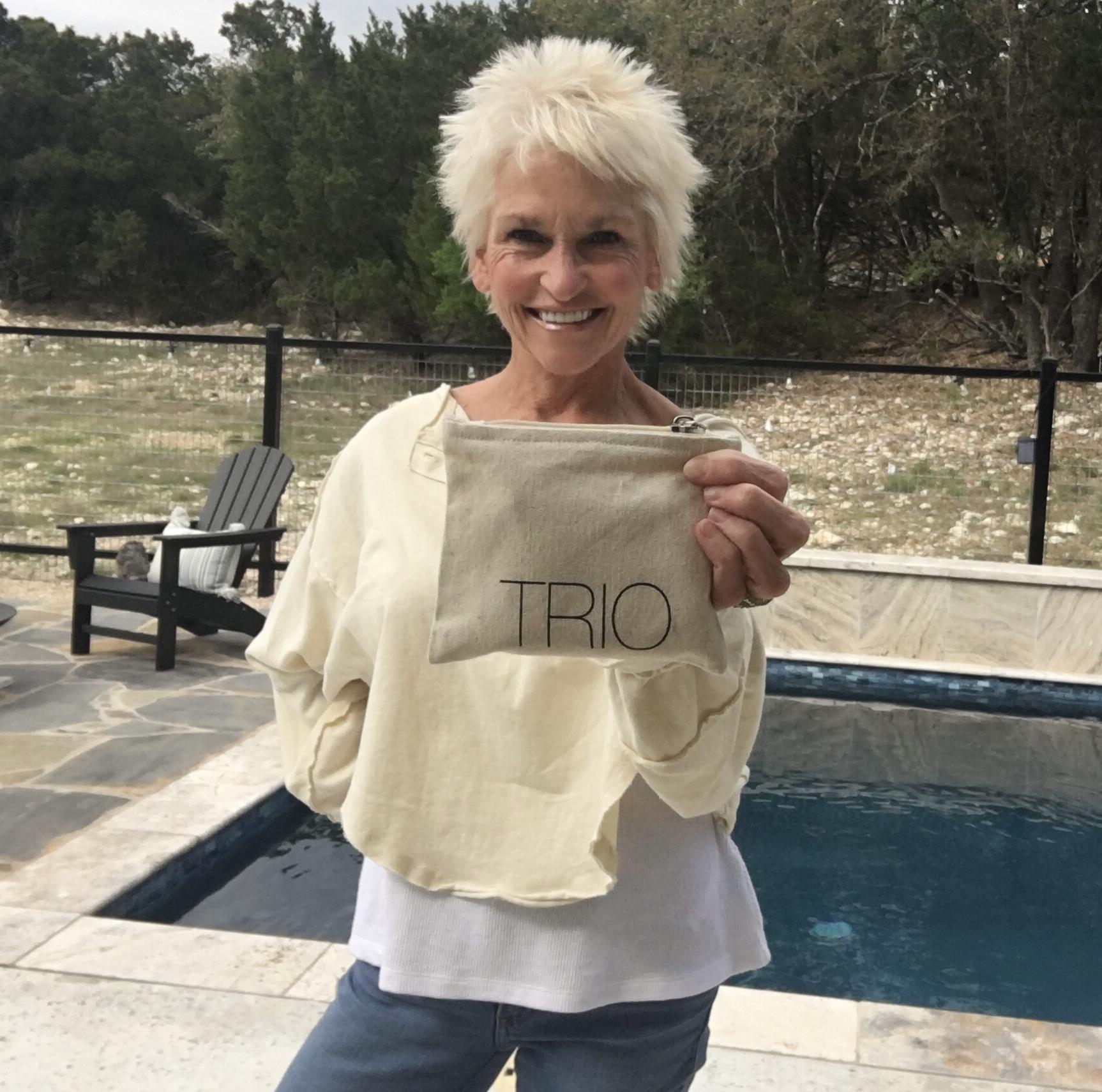 Finally, Kelli reaches for Boom Bright, our mascara made for women over 50.

Boom Bright is a gentle, moisturizing mascara designed to lengthen and define the shorter, finer lashes we tend to have after 50. 
It's water-based rather than waterproof so that it's more gentle for sensitive eyes.
While Boom Bright is formulated to last all day without flaking or smudging, it also removes easily with a bit of warm water, cleanser or moisturizer—so you won't risk your delicate lashes trying to take it off.
The tapered wand helps you coat every lash, no matter how fine, with the hypoallergenic formula. When you're done, you can clean the wand and donate it to a wildlife rehabilitation center.
Of her finished look, Kelli says, "BOOM! just gives you that natural look and just enhances what's there instead of trying to cover it up and end up looking like you've just caked on powders."
We just love Kelli's naturally beautiful look.
What about you? How do you use your Boomstick Trio? Leave your favorite makeup tip in the comments below.
CHECK OUT OUR MOST POPULAR CONTENT