Fantastic: Mandana's Daily Boom Routine for a Dewy Look
Fantastic: Mandana's
Daily Boom Routine
for a Dewy Look
54-year-old Mandana Moshiri struggled with dry, irritated eyelids before discovering the Boomstick Trio®. 
"I was saved by this small trio of sticks," she says.
Not only did our all-natural moisturizing Boomstick help her dry skin, but Mandana also says the rest of the Boomstick Trio leaves her skin feeling "fantastic."
"Feeling good with Boom is the extension of how you want to be and feel at any age… Boom lets you care for yourself and extend that to others," she tells us.
In the video below, Mandana shares her daily makeup routine for soft skin and a beautiful glow.
Moisturize with Boomstick Glo.
Mandana starts her day with Boomstick Glo, our all-natural moisturizing Boomstick. "That's the moisturizer that really helps," she says.
Made with beeswax, honey and extra virgin olive oil, Boomstick Glo® quickly softens and soothes dry skin anywhere on your body. 
The convenient size and shape also make it easy to pop Boomstick Glo into your pocket, purse or carry-on for moisture touch-ups when you need them.
Mandana uses Boomstick Glo on the driest areas of her face first, including her cheeks, eyebrows and eyelids, and smoothes it in.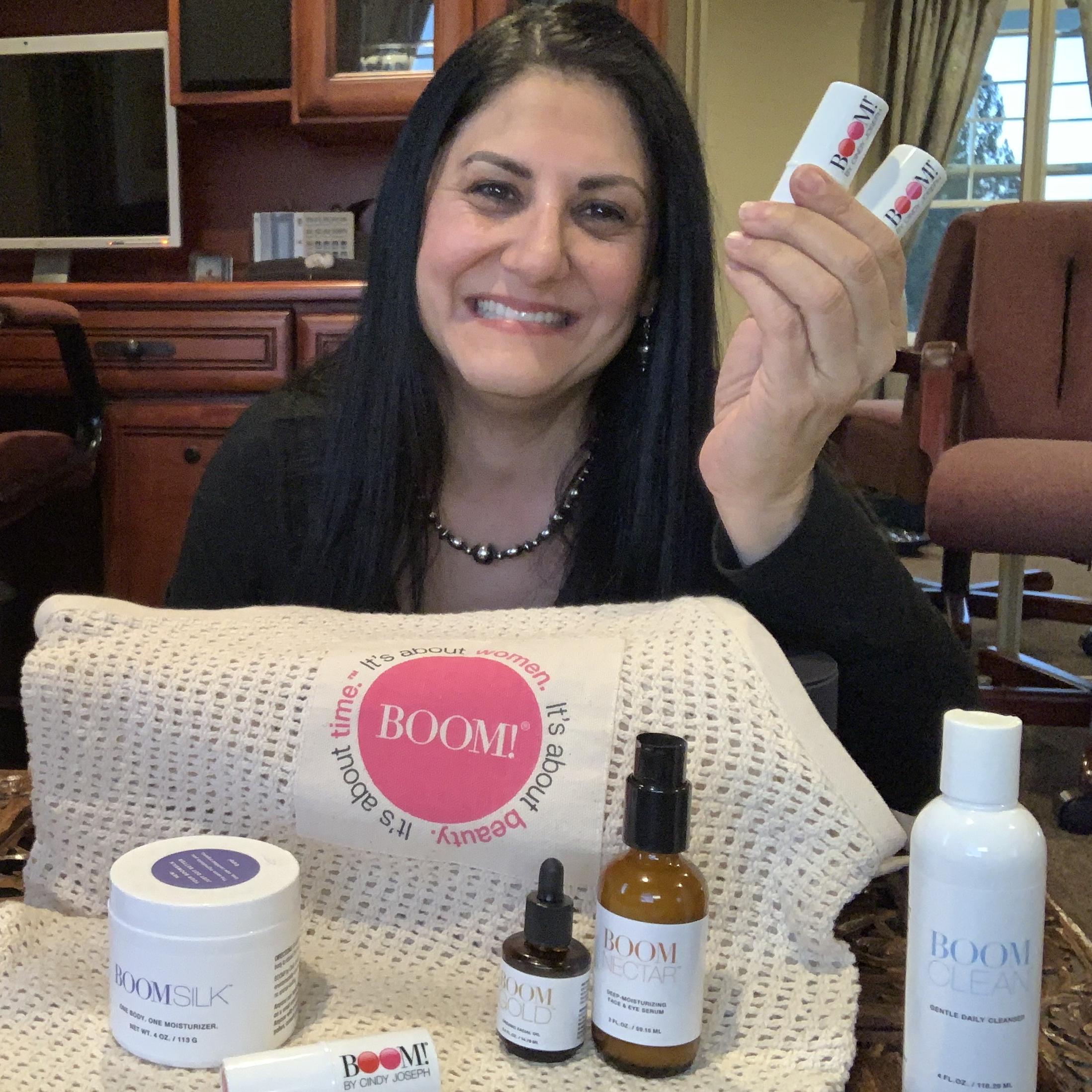 Boomstick Color to "bring the healthy glow out…"
Next, Mandana applies Boomstick Color®, our multitasking lipstick, blush, bronzer and contour. "This is fantastic," she says.
Mandana applies this deep-berry cosmetic to her cheeks, lips and temples for a sun-kissed glow. 
Boomstick Color is made with sheer pigments so it blends to match every skin tone in every season. 
"You can't say that with other types of blush out there," Mandana says. "This will match your natural shade and just bring the natural color and healthy glow out of you."
You can also apply Boomstick Color on your neck and décolletage to bring warmth and color to your skin.
"Some glimmer and shimmer…" with Boomstick Glimmer.
The third Boomstick in the trio is Boomstick Glimmer®, our highlighting cosmetic.
"Boomstick Glimmer is fantastic," Mandana says. "It's moisturizing, just like Boomstick Glo, but it has some glimmer and shimmer in it."
Boomstick Glimmer adds subtle radiance to your skin with just a dab of this creamy cosmetic. Mandana applies it under her brows, on her forehead and on the sides of her neck for a lustrous glow.
You can also apply Boomstick Glimmer to the center of your lips, cupid's bow and eyelids to draw light and attention.
Mandana says, "I'm fine all day with this, my skin feels fantastic."
Boom Bright "really makes a difference."
The last step in Mandana's finished look is Boom Bright, our gentle mascara. 
She says Boom Bright™ is "fantastic" also. 
"I've noticed my eyelashes get a little bit thinner with age," Mandana says, "and that's totally fine, but I want to keep them as healthy as possible. Boom Bright has been really great, it gives your eyelashes great moisture." 
Made with gentle, nourishing ingredients, Boom Bright lengthens, separates and defines the shorter, finer lashes we tend to experience as we age. 
Our water-based formula resists smudging, flaking or smearing but still comes off easily at the end of the day with warm water, cleanser or moisturizer. 
With that last step, Mandana's daily look is complete. We love her dewy glow.
Do you use Boomstick Glo for any particularly dry areas of your skin? Tell us where you use this convenient moisturizing Boomstick in the comments below.
CHECK OUT OUR MOST POPULAR CONTENT