What's inside BOOM! BAG (Cosmetic):
What's inside
BOOM! BAG (Cosmetic):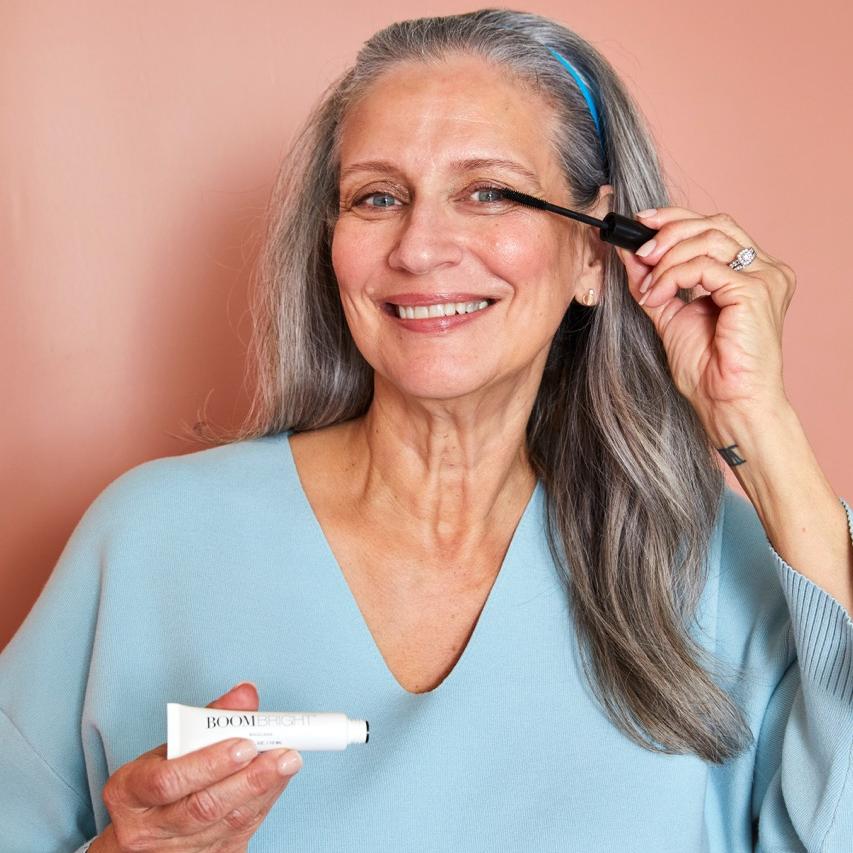 BOOM BRIGHT 
THE PRO-AGE MASCARA MADE FOR DELICATE LASHES. (0.34 FL. OZ. / 10 mL TUBE.)
Made for sensitive eyes, this soft-black, water-based mascara lengthens, separates and moisturizes your lashes for a gorgeous pop of definition that's beautiful at every age.
"I have been a fan of Boom Bright mascara since it launched. Goes on beautifully and lasts all day! I wear contacts and have had no problems with irritation. Perfect each time! Love this product and all my Boom products. Thank you Boom, for helping me look beautiful."
—Rita S.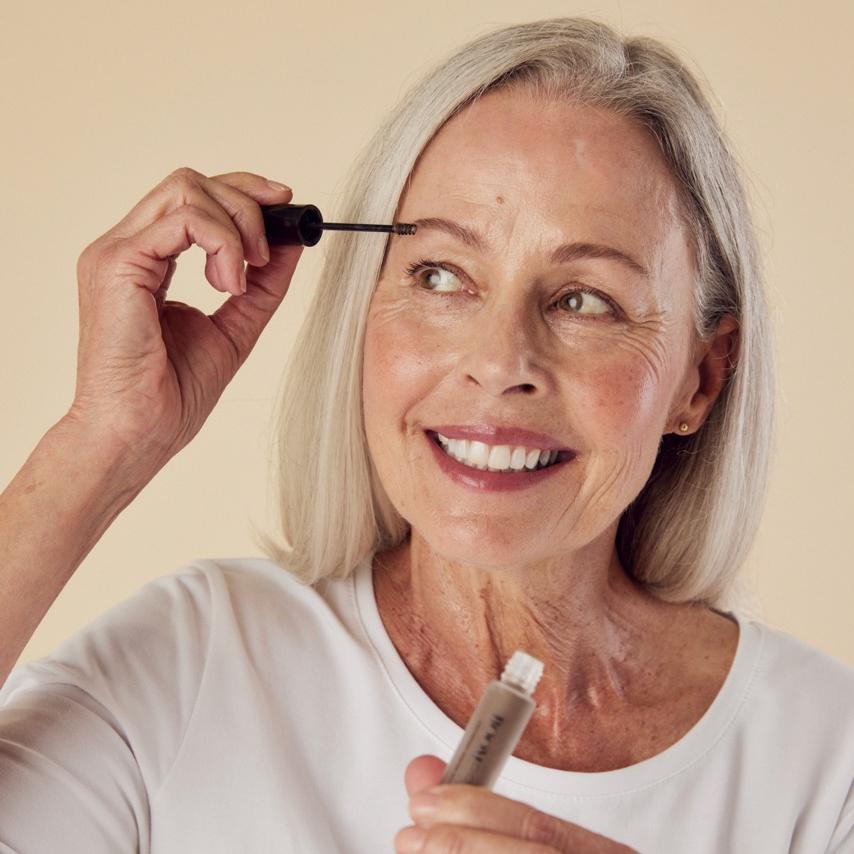 BOOM BROW
SUBTLE DEFINITION, VOLUME, COLOR ENHANCEMENT AND HOLD FOR BROWS. (2 COLORS, EACH IN A 0.18 FL. OZ. / 5.5 mL TUBE.) 
This lightweight shaping mousse delivers naturally beautiful brows in an easy-to-use formula. Just brush it on for subtle definition, volume, color enhancement and comfortable all-day hold. 
Choose between two versatile shades. 
Medium Brown: for medium to dark or black brows.
Taupe: for lighter brows including blonde, red and silver.
"I procrastinated for a long while before ordering Boom Brow—afraid it wouldn't be right for me or I'd order the wrong color, etc. But I love it! So natural-looking and so easy to use (I'm not a makeup wearer). But of course it would be great. I love all the Boom products I use, so clean and nourishing."
—Kate K.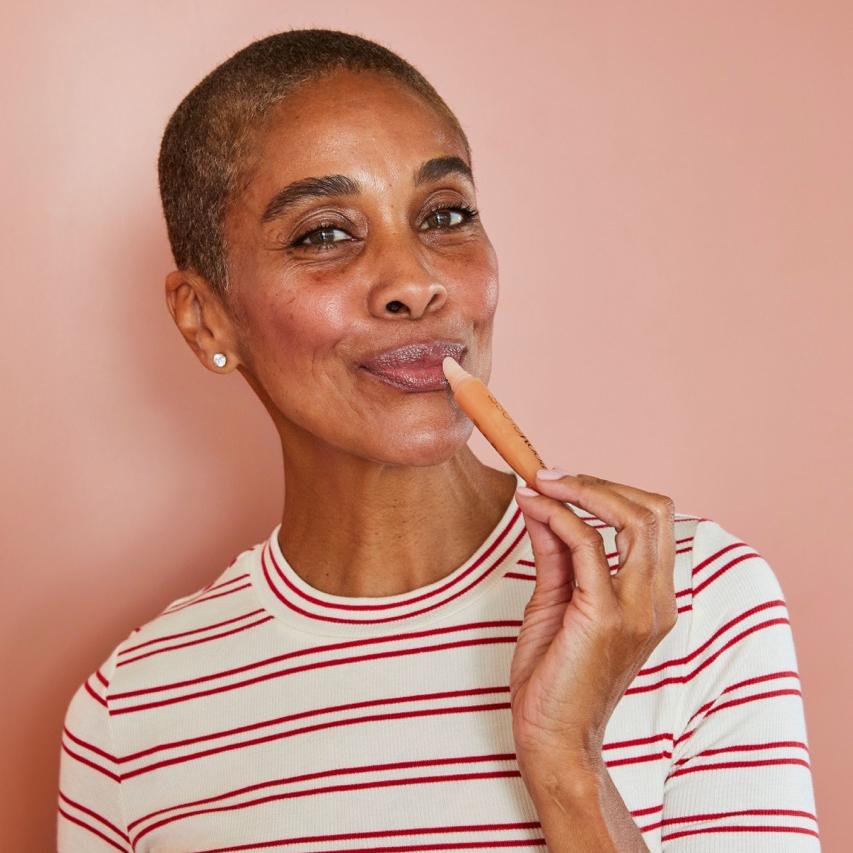 BOOM GLOSS
SOPHISTICATED LIP GLOSS IN A MOISTURIZING FORMULA. (0.47 FL. OZ. / 14 mL TUBE.)
This is lip gloss like you've never seen it. Ultra-moisturizing Boom Gloss offers subtle, sophisticated shine without the sticky, tacky finish of other glosses. It's lip gloss all grown up.
"Boom Gloss is a perfect way to give your lips moisture and softness with a touch of vanilla! I love the way it goes on and the way I immediately feel prettier. I would definitely recommend this product!"
—Meredith C.
Create a Naturally Beautiful "No-makeup" Look with Boom! Bag (Cosmetic).
Create a Naturally Beautiful
"No-makeup" Look
with Boom! Bag (Cosmetic).
Here's how…
The cosmetics in this Boom! Bag were designed for you in your 50s, 60s, 70s, 80s and beyond. Follow the steps below to reveal your own unique, natural beauty at this stage of life. 
Brush Boom Brow into your brows in an upward and outward direction.
Your brows help define your entire face. Add subtle, natural-looking definition with a few strokes of Boom Brow, our easy-to-use, lightweight brow mousse. 
Apply a layer (or two) of Boom Bright to your lashes.
Your eyes are one of your most noticeable features. Gently enhance them with a layer or two of Boom Bright in clump-free, smudge-resistant, soft black. 
Add Boom Gloss to your lips for subtle, sophisticated shine. 
More like a lip oil than typical glosses, Boom Gloss is ultra-moisturizing for soft, supple lips and subtle, sophisticated shine—all without a sticky, tacky finish.
Three of Our Most Popular Cosmetics in One Boom Bag
Three of Our Most Popular
Cosmetics in One Boom Bag
This Boom Bag contains three of our most popular cosmetics: Boom Bright, our gentle mascara; Boom Gloss, our moisturizing lip gloss; and Boom Brow, our lightweight brow mousse.  
Made with clean-beauty formulas that emphasize safe, non-toxic synthetic and natural ingredients, these three cosmetics enhance your natural beauty safely and gently.
We never add parabens, phthalates or any other ingredients that might harm you or our beautiful planet. 
We're also 100% cruelty-free and always have been. 
When you buy all three of these pro-age cosmetics together in a Boom! Bag, you'll not only save 5%, but you'll also receive your products in a Fair Trade Certified and 100% GOTS certified organic cotton bag.
These earth-friendly bags are produced in ways that are easy on the planet and the people who make them. 
Stylish and useful, this bag can be used to keep your Boom organized at home or handy when you travel.
Use Boom! Bag (Cosmetic) to create a complete "no-makeup makeup" look or combine it with the Boomstick Trio® for versatile looks from everyday simple to going-out glamorous.
Frequently Asked Questions