Cynthia Sitcov's Unique Tips for Beautiful Skin and Hair
Cynthia Sitcov's Unique
Tips for Beautiful Skin
and Hair
At 65, Cynthia Sitcov has some unique ways to use Boom. 
Cynthia is a recently retired business-owner-turned-influencer from Virginia.
Cynthia's goal is to help women over 50 feel confident as they age. She believes that "age = wisdom = beauty = power."
One of Cynthia's passions is "slow fashion." On Instagram, she often models her extensive collection of coats and jackets, including a few that are 50 years old. 
This fashionista believes in timeless style, mix-and-match clothing and a "sustainable closet" filled out with well-cared-for vintage pieces and consignment. 
She's also an avid swimmer who visits the pool five to six times a week. That repeatedly exposes her skin and hair to drying pool chemicals. 
In this video, Cynthia shares how she uses Boom to protect her skin and hair. 
Boom Clean + Boom Scrub
After swimming, and before she heads to bed, Cynthia washes with Boom Clean.
Boom Clean is our daily face-and-body wash that's gentle on your skin. Made without soap, perfume, dye or other potential irritants, Boom Clean removes makeup and pollutants without removing your natural moisture. 
It also contains three different skin-conditioning agents to leave your skin feeling soft and refreshed—never dry.
Two or three times a week, Cynthia adds in Boom Scrub, our exfoliating mask.
In just five minutes, the oat kernel flour in Boom Scrub helps remove dead, dry skin cells from your face to reveal your freshest, cleanest skin. This mask also deeply cleans your pores at the same time. 

Cynthia often combines the two in the shower: "A lot of times what I do is I put Boom Scrub and Boom Clean together in my hand and I wash. It feels kind of tingly and nice."

Boom Scrub is gentle enough to use daily, several times a week or weekly without redness or irritation. 

Nourishing Boom Gold
Next, Cynthia replenishes the moisture in her skin with Boom Gold, our lightweight, organic facial oil. 
She says, "A couple of times a week, I use Boom Gold. This stuff smells fantastic."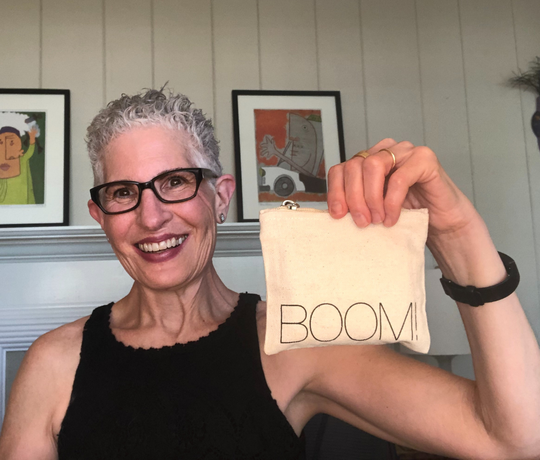 Boom Gold nourishes your skin with eight organic ingredients, including vitamin-packed essential oils and extra virgin olive oil, an important source of fatty acids.

Just apply a drop or two of Boom Gold to your face, neck, hands or anywhere your skin could use extra-loving care.
Cynthia says, "I feel as though my skin is being nourished during the day, and that's a really good feeling for me."
A moisturizer to cherish: Boom Nectar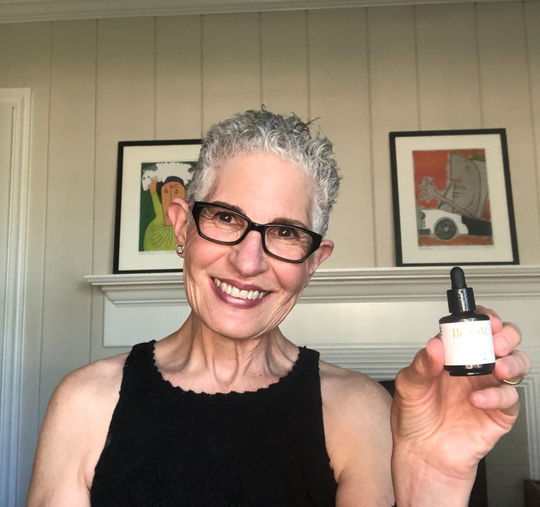 Sometimes, Cynthia layers Boom Gold with Boom Nectar, our more robust, moisturizing serum

Boom Nectar is "a moisturizer that I have come to really cherish," Cynthia says. "This also has just a wonderful smell."
The 16 all-natural ingredients in Boom Nectar include antioxidants like chaga mushroom extract and camu camu extract, which has 30 times the amount of Vitamin C found in oranges.
This serum also contains antimicrobials and antifungals like organic propolis extract and organic rose hydrosol to help protect your skin. Natural moisturizers like organic extra virgin olive oil, organic rosehip oil and avocado oil gently soften and hydrate your skin.
"I might wait three or four minutes before I put on the Nectar, after I put the Gold on my skin, because I like it to sink in a little bit. So, that just feels really great," Cynthia says.
"Boomsilk… My all-over moisturizer."

Cynthia's #1 favorite, however, is Boomsilk, our best-selling, all-in-one moisturizer. 
"I use Boomsilk on 95% of my body," she says. "It's very nourishing, not greasy, moisturizing. And it gives me a dewy look that I have been searching for for a couple of years."

Made with just five all-natural ingredients, Boomsilk can be used from head to toe to soften and protect your skin.

To guard against the damaging effects of pool chemicals, Cynthia uses Boomsilk in a unique way. 
"I use Boomsilk on my arms, on my elbows, on my legs and on my hair before I go in the water. I take about a dime's worth, maybe a little more, rub it together, put it all over my hair. And then I put my swim cap on. So, for 45 minutes or an hour, I'm getting this incredibly deep moisturizing in my hair," Cynthia says.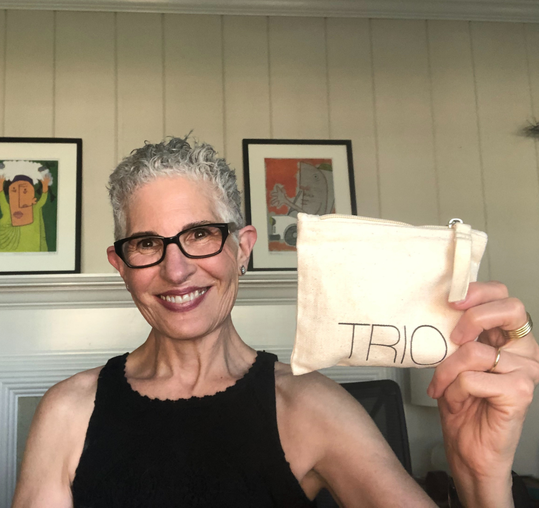 The beeswax in Boomsilk helps form a protective mantle against the elements—including the chemicals found in pools.  
Cynthia's glowing look reflects the care she takes with her skin and hair. 
What do you think about Cynthia's tips? Do you use Boomsilk or any other Boom favorites in unique ways?
CHECK OUT OUR MOST POPULAR CONTENT