Want a Custom Sale? Build a Custom Boom Bag
Want a Custom
Sale? Build a
Custom Boom Bag
Why have over 400,000 women joined our pro-age community? 
One reason might be our versatile and easy-to-use cosmetics and skincare. In fact, they're so simple and easy, you can create an entire skincare and makeup routine that fits in a single bag. 
That's why we created Boom Bags. These curated collections contain everything you need for simple to luxurious makeup and skincare routines. They also save you 5% on everything in the bag every day of the year.
You can choose between Boom! Bag™ (Basic) with our original pro-age cosmetics and best-selling skincare and Boom! Bag™ (Plus), which contains the Boomstick Trio® and a complete head-to-toe skincare routine. 
But if our curated bags don't contain the exact Boom you'd like, you can create your own.
Building a Boom! Bag™ (Custom) gives you the option to add only the Boom you want and still get 5% off every day when you spend at least $150.
Want Boomsilk® in two different sizes, Boomstick Glo® for on-the-go moisture and a Boomstick Trio to keep in your purse or bag? With a custom Boom Bag, you can have it and save 5%. 
The best part is, you'll also receive your custom Boom Bag items in our cotton bag.
Big enough to keep everything organized or carry your favorite Boom with you when you travel, this Fair Trade and GOTS certified organic bag is just one of the ways we thank you for being a part of our Boom community.
Ready to get started? Building a Boom! Bag (Custom) is easy. We'll show you how.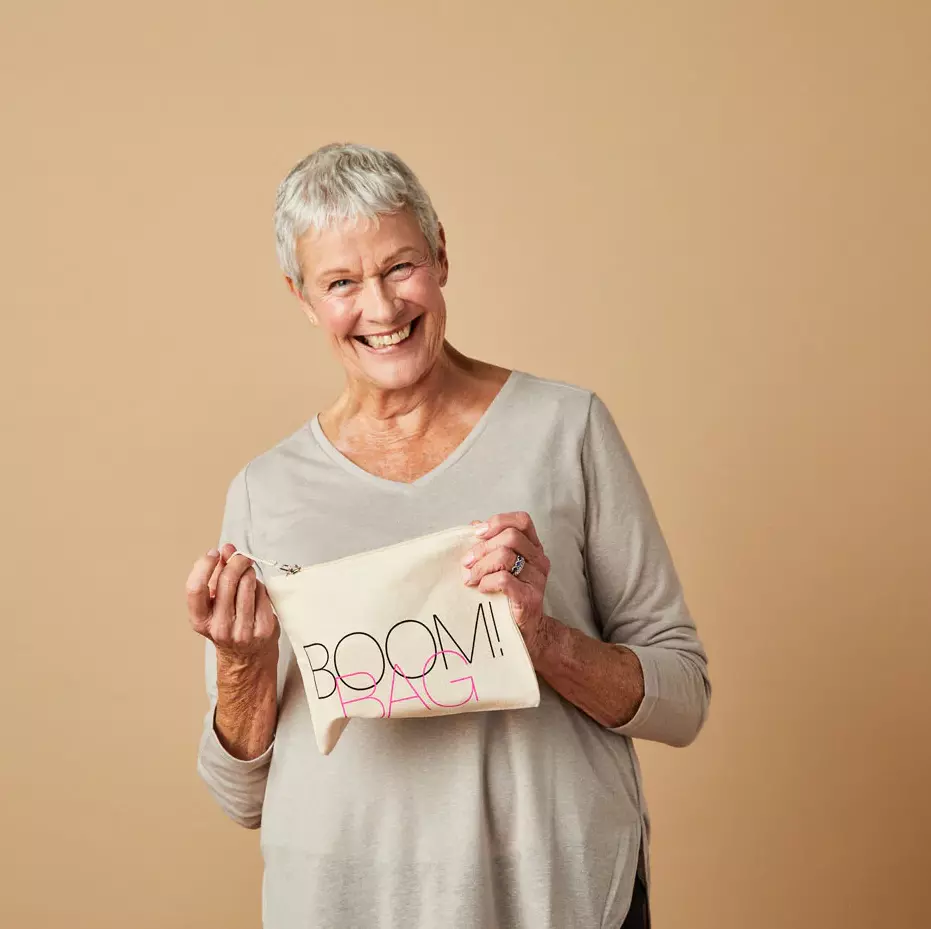 1. Visit the custom Boom Bag builder.
Want to look over some product details before you create your custom bag? First, visit our store page to review all of our products and details. 
Then, when you're ready, click on our easy-to-use bag builder. You'll see all of our amazing Boom products, from pro-age cosmetics to all-natural moisturizers to gentle skincare.
(Products that are out of stock or on pre-order won't be available to add to your bag.)
2. Add your Boom favorites. 
Begin adding your favorite Boom to your bag by clicking the "Add to bag" button beneath each item.
To add two or three of a particular Boom, just click the button again.
3. Spend at least $150 to get the discount.
Want to get our exclusive 5% discount on everything you add to your bag? Spend at least $150 and you will.
You'll see your current total at the top of the page so you can be sure to stay within your budget. You'll also see how much you'll save.
To preview your bag before you check out, just click on "See your bag" to see all the items currently in your custom Boom Bag.
4. Finish checking out—then the fun begins!
When you've added all your Boom favorites to your bag, click "Proceed to checkout" and complete the checkout process. 
After checkout, the fun begins! Your Boom will ship in one to two business days.
In the meantime, whether you're new to Boom or a long-time fan, we invite you to check out our blog for makeup tutorials, skincare tips, videos from our Ambassadors and more. 
Tell us… Have you tried a Boom Bag? If so, what did you think?
CHECK OUT OUR MOST POPULAR CONTENT