These 3 Boom Are Mandana's Favorites for Glowing Skin
These 3 Boom Are
Mandana's Favorites
for Glowing Skin
Mandana Moshiri says she loves all the Boom products—though she has a few particular favorites.
This vibrant 54-year-old also told us our products weren't the only thing she loves about BOOM! 
Mandana appreciates "the culture of acceptance and support of being your best you at any age."
In the video below, she shares a few of her Boom favorites for glowing skin every day.
Boom Nectar for skin that needs TLC
At first, Mandana didn't think she'd ever need anything besides Boomsilk®. She says, "I remember originally thinking, 'Why would I even want to give up Boomsilk?'"
Instead, what she discovered is that some areas of your skin—like around your eyes—can often use extra care and powerful moisture. 
That's why Mandana begins with Boom Nectar®, our rich, moisturizing face and eye serum. 
She uses this liquid moisturizer on skin that's dry from the sun or other exposure to "give it that little boost."
Mandana also uses it on the backs of her hands when they are red or dry from repeated washing. Boom Nectar's all-natural ingredients include oils, emollients and moisturizers to instantly soften and soothe rough, dry skin.
She says, "You don't feel any of that residue and your skin feels automatically supple."
Boom Gold for eyes and dry spots
Next, Mandana shows you Boom Gold™, our luxurious facial oil. 
This all-natural moisturizer is made with organic ingredients like sandalwood and frankincense to create a luscious oil and a luxurious experience.
Mandana uses Boom Gold around her eyes for supple skin. 
She says, "You can use it for other areas as well, like your elbows, anywhere that you find dry spots."
Boom Clean for clean, soft skin
Last, Mandana shows you Boom Clean®.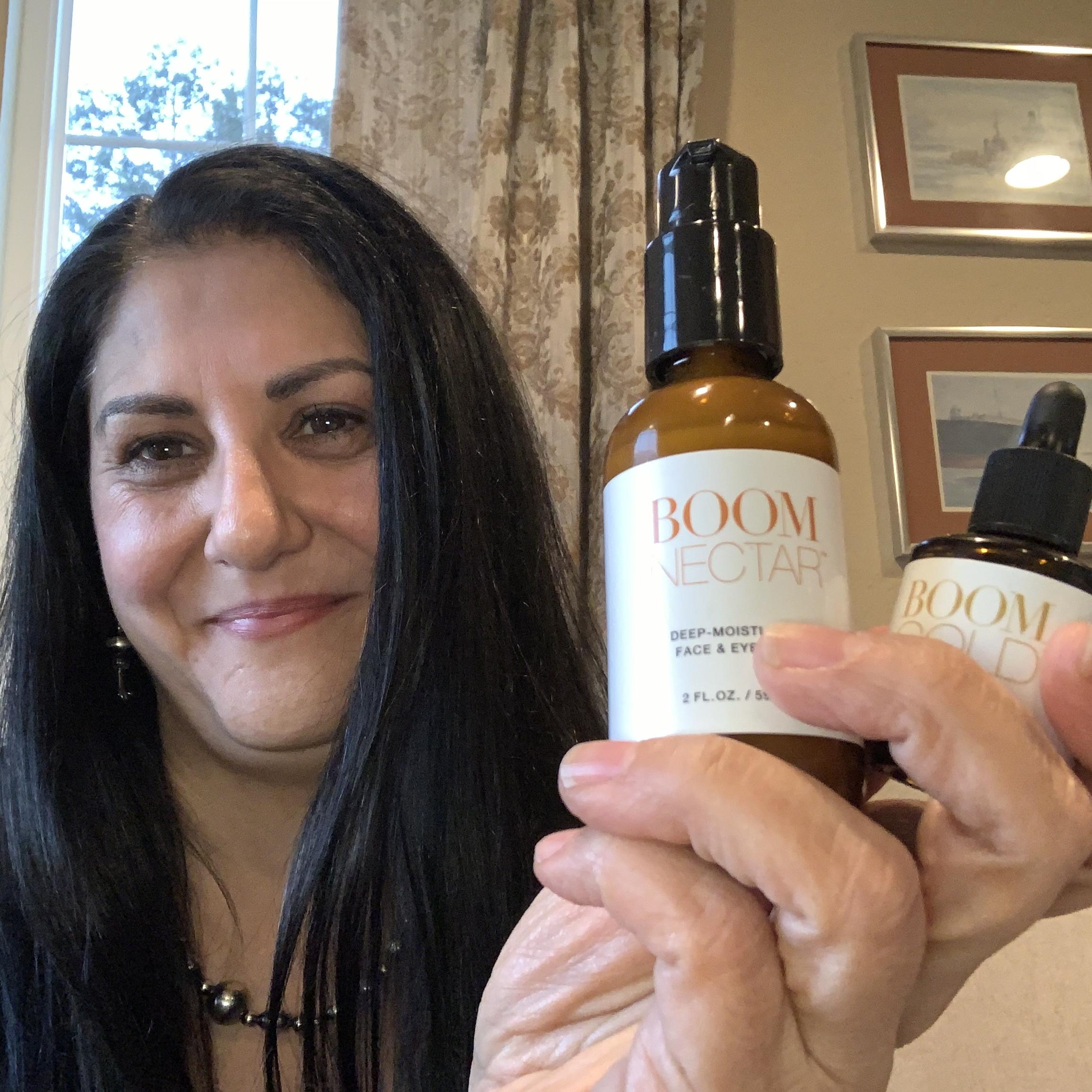 "I swear by this," she says. Boom Clean is our gentle daily cleanser. Made with safe ingredients and without SLS or SLES, Boom Clean removes dirt, makeup and other impurities without drying your skin.
She says, "For me, knowing that when I wash my skin I'm getting all of the impurities of the day and the oils just so that it's clean and it has a nice base and feels fresh—that's what Boom Clean brings to the table for me."
Boom Clean is gentle enough to be used every day, morning and night, to safely cleanse delicate or sensitive skin. "It has the most wonderful citrusy smell as well," she says.
What do you think of Mandana's Boom favorites? Share your Boom favorites in the comments below.
CHECK OUT OUR MOST POPULAR CONTENT