The Evolution of Boom Cotton®

The Evolution of
Boom Cotton®

If you've been following Boom Cotton's story, you know that it's been out of stock for quite some time. What you may not know is this is unprecedented for us at BOOM!
No Boom product has been out of stock for this long in the history of our company, and we miss it as much as our customers do. As you can imagine, our team has been working for months to bring Boom Cotton back.
Now that it is back in stock, we'd love to let you in on some of the behind-the-scenes action.
Whether you've loved it for years or have been waiting to try it for the first time, join us as we look at how Boom Cotton came to be, its challenges, and what's next for this beloved organic moisturizer...in just a moment.

Before that, we want to thank each and every one of you for your kindness, patience and understanding throughout this process. Your interest and excitement have kept us going and inspired the best version of Boom Cotton yet. 
First, a little history...
When BOOM! was founded over a decade ago, our line was very simple. In our store, you'd find our two original pro-age cosmetics, Boomstick Color® and Boomstick Glimmer®, along with two moisturizers, Boomsilk® and Boomstick Glo®. 
Made with the same wonderful natural ingredients, these two moisturizers differ only in ratios: Boomstick Glo contains more beeswax to hold its convenient stick form, while Boomsilk's lotion consistency contains more olive oil.
Used for centuries in skin care like this, many generations have loved olive oil for its beneficial moisturizing properties. This hydrating oil soothes, nourishes and revitalizes skin while leaving it with a radiant, dewy glow—making it an obvious choice for our all-natural moisturizers.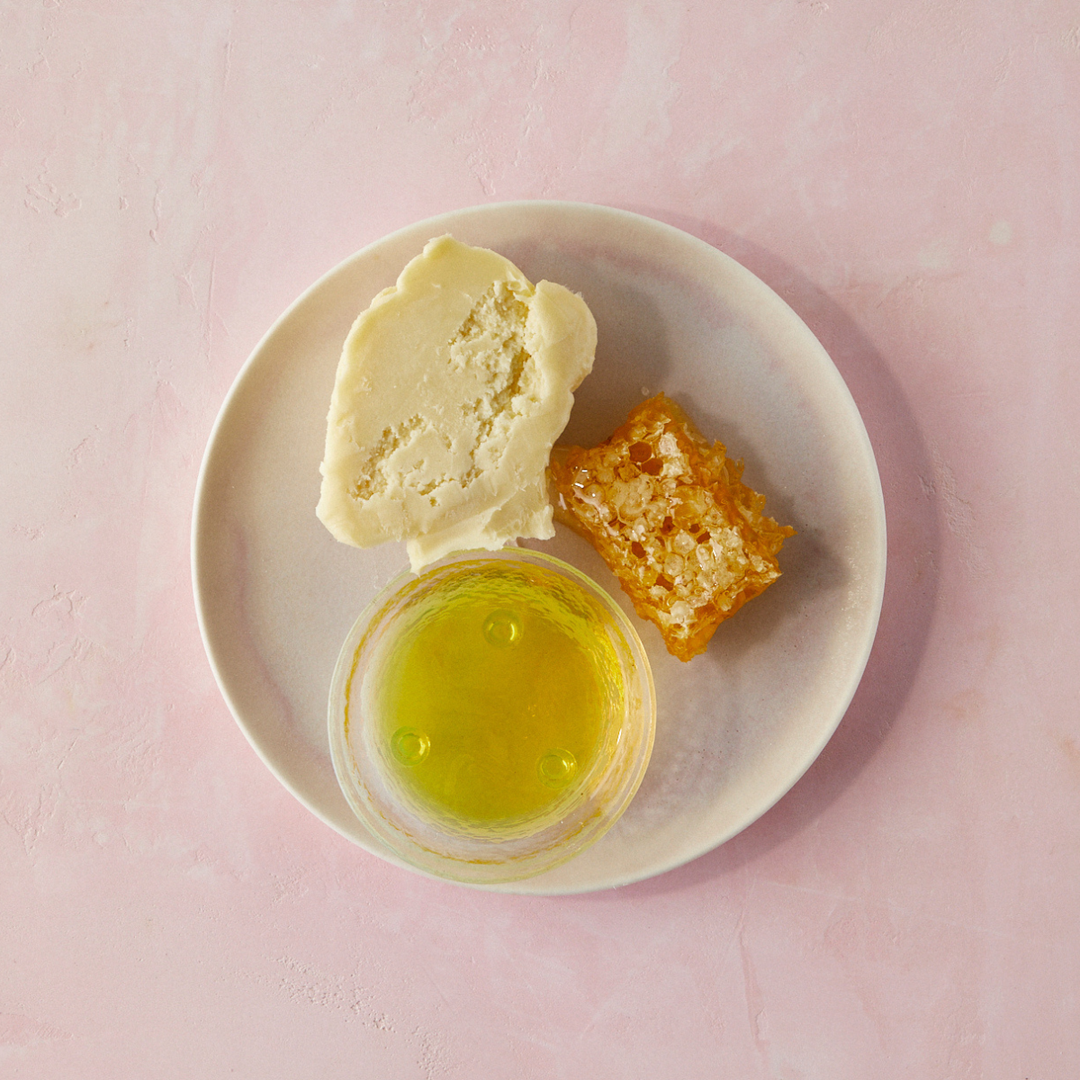 However, it soon became clear that some customers preferred a less dewy look than Boomsilk provided. It's our pleasure to give you different choices, so our team began seeking an alternative ingredient that would provide the hydration and moisture our customers desired but with less shine.

The replacement for olive oil? Shea butter.
We quickly discovered that shea butter offers rich, nourishing moisture without the dewiness of olive oil. We built the formula with other organic ingredients like jojoba oil, witch hazel extract, honey and vitamin E.
The result? A new moisturizer that was much thicker than Boomsilk and achieved the nourishing moisture and shine-free finish we wanted.
Introducing Boom Cotton
You probably know that here at BOOM!, we never test our products on animals—but we do test them on ourselves and willing friends and family. We all loved this new shine-control alternative. When we released Boom Cotton for the first time, we soon learned it was a hit—our customers loved it just as much as we did.

We also learned the different ways customers used Boom Cotton. For instance, many told us that they preferred Boom Cotton during the summer months and Boomsilk in the winter, or vice versa. Some used Boomsilk as a body lotion and preferred Boom Cotton as a facial moisturizer. Others still told us Cotton was now their go-to daytime moisturizer and used Boomsilk as a night cream.
We embraced all feedback, knowing that everyone has their own unique preferences when it comes to skin care.
As time went on, we also received some not-so-positive feedback. Customers reported inconsistencies in Cotton's texture from batch to batch. Sometimes a batch of Boom Cotton had larger beads of jojoba and beeswax that took longer to melt on the skin. While minor variations are to be expected with high-quality natural products and organic ingredients, this was not the user experience we hoped for.
We pulled the product off the shelf and went back to the drawing board to craft a better moisturizer for you.

A smoother, more consistent Cotton

For our second version of Boom Cotton, we decided the best solution was to emulsify the formula further. To do that, we'd simply blend the ingredients more.
At first, this seemed like the ideal solution. However, the additional blending, as well as different cooling and melting points of shea butter, jojoba oil and beeswax, caused a new, unexpected issue. 
Suddenly, the witch hazel extract began to separate in each batch. As a direct result, our sweet-smelling Boom Cotton lost its honey-like scent, replaced with an unpleasant smell that was definitely unsuitable.
Once again, we decided to pull Boom Cotton from our shelves and do better.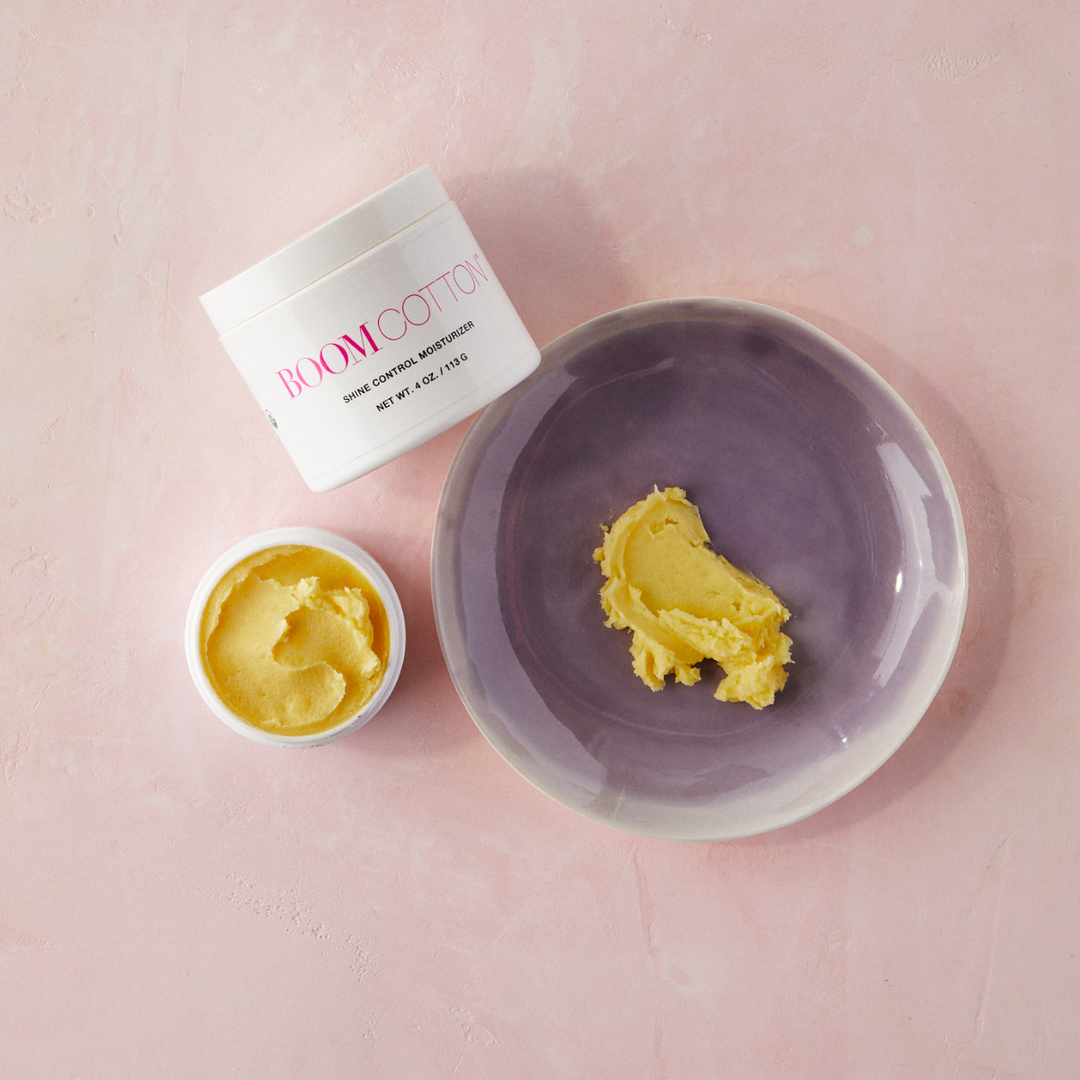 The New Cotton


The very same ingredients that make Boom Cotton such a skin-care favorite also made it challenging to create a consistent product. The time had come to make a very important change. 
Our newest version of Boom Cotton has a completely unprecedented ingredient. Rest assured, we put a lot of thought into this new ingredient, which, like Cotton's other ingredients, is natural and organic—as you've come to expect.   
In this updated formula, we removed witch hazel extract and replaced it with organic sea buckthorn oil. This beneficial and lightweight oil helps balance your skin's natural oils, maintaining hydration without clogging your pores.  
The rest of Boom Cotton's ingredients remain exactly the same, including the star of the formula, shea butter. As previously noted, shea butter helps to leave more of a matte finish upon application as opposed to more shine you may notice when using Boomsilk. Additionally, shea butter is a uniquely beneficial ingredient made up of many skin-nourishing fatty acids. From a formulary standpoint, each fatty acid has a different melting and cooling point. When we create Boom Cotton, we melt the shea to incorporate it into the other ingredients. Once mixed and filled in jars, we cool the formula to cure the product. Due to the rapid cooling process involved and the amount of shea butter used in the formula, it's possible there may still be slight variations from batch to batch. 
Our newest version is different from anything past. While it's taken us some time to develop, we are very proud—and very excited—to re-introduce the very best Boom Cotton yet.
We cannot wait to hear what you think of Boom Cotton!
CHECK OUT OUR MOST POPULAR CONTENT