SWC#73: Hello, I'm Cindy Joseph
***
When we cast Cindy Joseph in our new mailer, we had no idea how truly inspiring she was. The former makeup artist was discovered as a model at 49. A few years later, she founded BOOM, the first "pro-aging" skincare line. We're pleased to have the opportunity to introduce Cindy to you, and let her share her story in her own words.
Cindy wears our Desert Wash Sutton Poncho, Kristi Long Necklace, Kristi Multi-Strand Necklace, So Slimming Brigitte Pants.
Q: How did you get started as a model?

I started modeling 16 years ago. I was on the street talking to a girlfriend in New York City and I was approached by a casting agent. I was 49 at the time. I had been working in fashion studios, as a make-up artist, every day for 25 years, never asked to model, never thought about modeling, and this person walked up to me and said, "Can we take your Polaroid? We're scouting for a Dolce & Gabbana campaign." I thought it was a joke. Long story short, it was the real thing. Ford Models signed me and I have had a fabulous 15-year career.
Q: What was the response?
I began to get approached on the street by women my age, older and younger, and they were very excited to find out that there is now a place for the older woman in the fashion industry. 
What I discovered is that women out there in the world are thrilled to see a silver-haired model with crow's feet representing them and the products they love. And a lot of them walk up to me, and say, "I'm growing my silver hair out because of you."
Cindy wears our Light Textured Nina Pullover, Havana Shores Linen Wide-Leg Pant, Rue Bangles, and Jaci Pendant Necklace.
Q: What gave you the idea to do the makeup line?
Well, it all started when I was a teenager. I grew up in the '60s. I was really into the fake eyelashes, and the white lips and all the makeup– the Twiggy look. I not only did it on myself, I did it on my girlfriends, which eventually turned into a career as a makeup artist.
What inspired me to create a pro-age cosmetic line was realizing that every cosmetic company throughout the world, no matter who they were marketing towards– teenagers, the girl next door, the professional, or the lady who lunches– was promoting anti-age. 
They only offered anti-wrinkle cream, anti-aging cream, and concealers designed to camouflage and cover. I wanted women to understand that the signs of age are something to be celebrated and to wear with pride.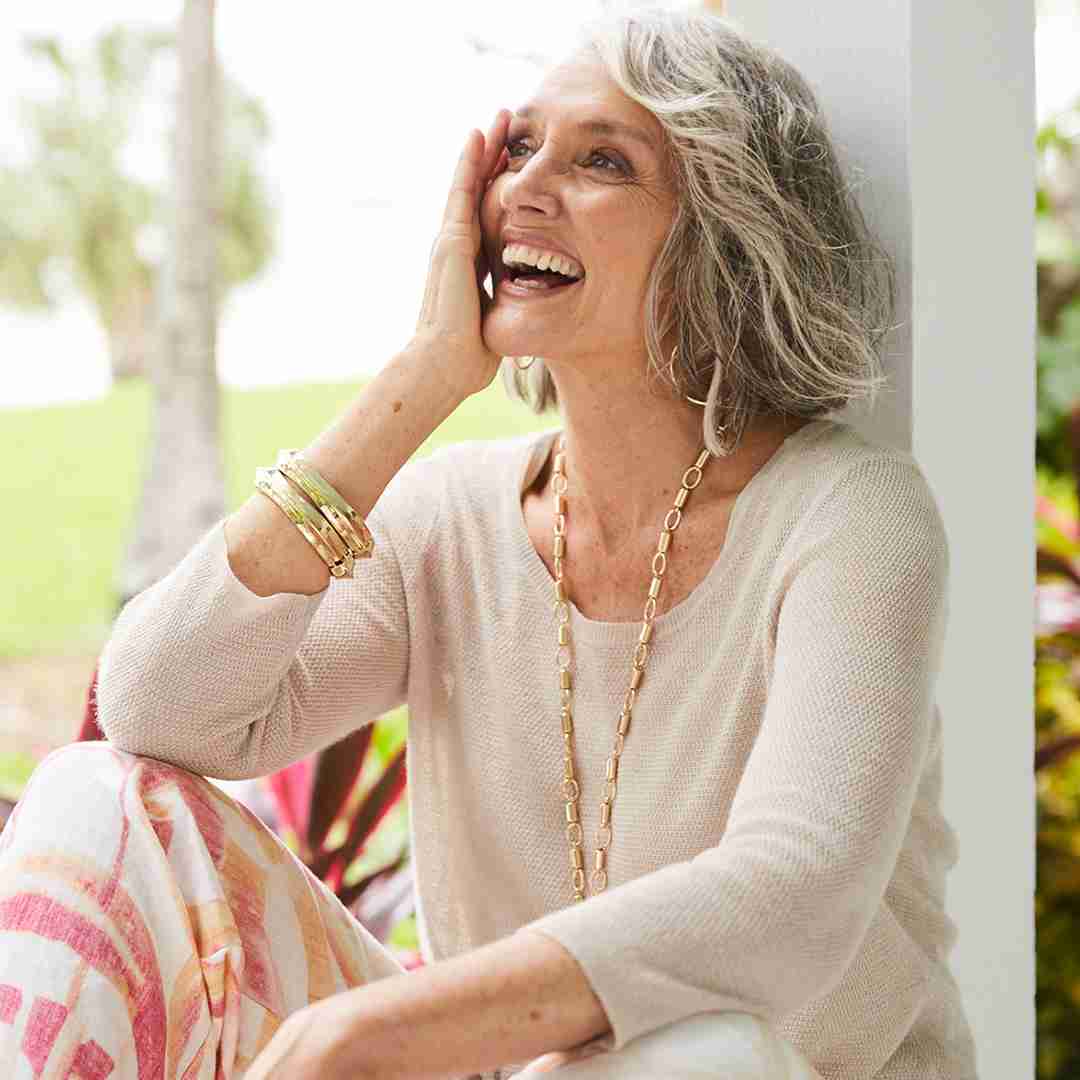 Our crow's feet and our silver hair are the medals of honor that we have earned by living long, rich, and passionate lives.
We're taught that there's a prime of life. I say throw that out the door. Every moment is your prime. There is no peak. It just gets better.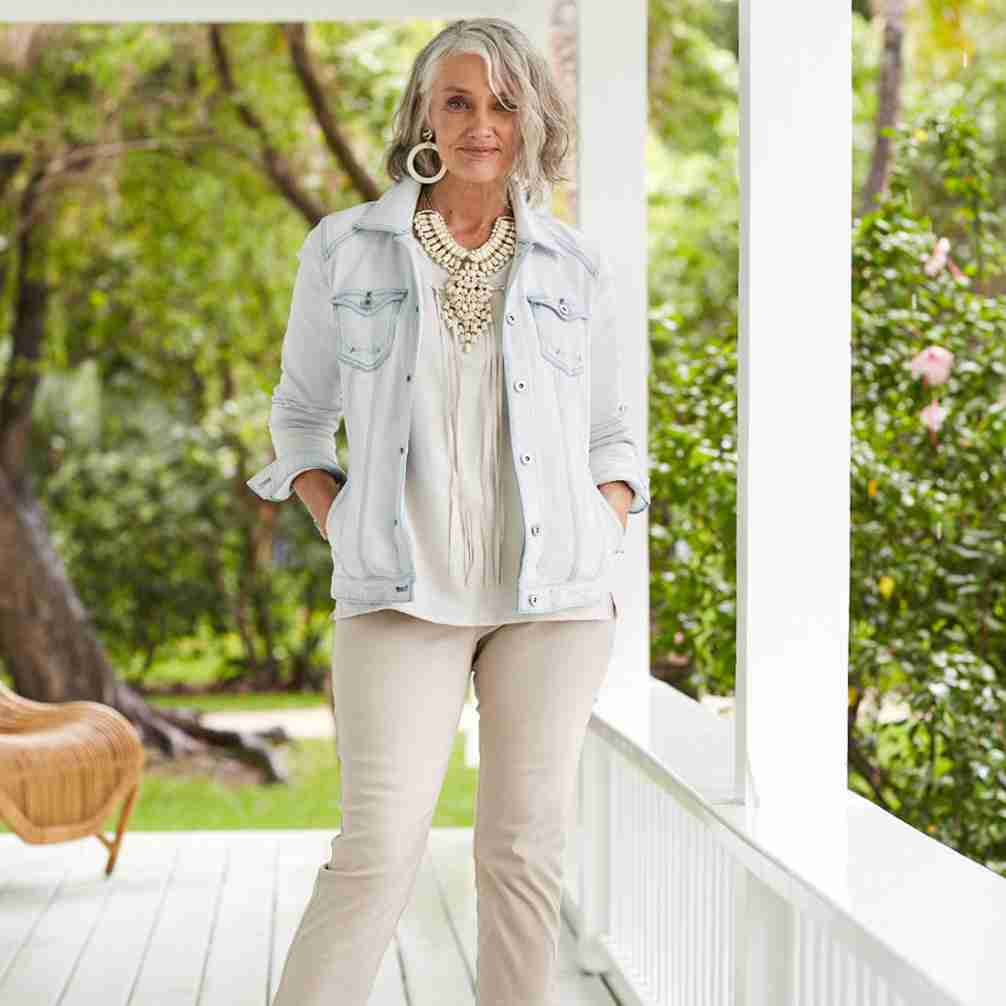 Cindy wears our Light Denim Wash Jacket, Fay Fringe Faux-Suede Top, Sarabi Bib Necklace, and Eman Statement Earrings.

Q: What is your personal style philosophy?
I think it's time for each woman to honor themselves and create their own style. The Pro-age revolution is an inside job. If you choose to dye your hair and smooth your wrinkles, do it with gusto and joy. It is about listening to what feels good to you. I do remind women to check their motivation. What is driving you to make your decisions, fun or fear? Taking joy in life is a woman's best style tool!
Style comes from knowing yourself, feeling sure about who you are and feeling confident in your choices. One of the many wonderful things about getting older is having a deeper understanding of self.
Style is something that develops as you continue living your life. 
It's kind of like going into a candy store. If you've never had candy, you grab every flavor, and you stuff it in your mouth. 

But after you've been eating candy for quite a few years, you zero in on exactly what you like. I want 72 percent cocoa with a little bit of salt and a little bit of caramel. And that's the kind that you know like best. And I think it's true of style.
Q: Any advice for those of us looking to find our best style?

I did it like this: When I traveled I would look in the closet in the hotel room. I noticed I brought what I liked best. That told me something about what I felt comfortable in. Another thing I paid attention to was what I chose to wear when all my clothes were clean and in my closet. The clothes I went to over and over again were the ones that worked for me, the clothes I felt most comfortable in. I started wearing only the fabrics, the colors, the cut and shape that I felt most like me. When you feel good in your clothes, you look best in your clothes.
Let me know what you think in the comments below!
CHECK OUT OUR MOST POPULAR CONTENT