Susan's Boomstick Trio Tips: On the Go

Susan's Boomstick Trio Tips: 

On the Go
Boom Ambassador Susan Esco is an inspiring pro-age advocate.
Susan's been dye-free for six years. Letting her gorgeous silver hair grow out led her to modeling, acting—and a whole community of "silver sisters."
She founded the #DYEfree2BME movement to encourage self-love and self-acceptance at every age. 
Susan loves BOOM! because of our pro-age philosophy. She also appreciates how easy and quick Boom cosmetics are to use. 
Since she's often on the go, she keeps Boomstick Trio™ in her car for easy makeup touch-ups. 
Watch the video below to hear how Boom enhances Susan's life.
1. Boomstick Glo on the go
Susan's on her way to work out, but before she goes in, she takes a few minutes to touch up her face with Boomstick Trio. 
First, Susan applies Boomstick Glo all over her face to soften and hydrate her skin. 
Boomstick Glo™ is made with bee pollen, propolis, beeswax and extra virgin olive oil for silky-smooth skin that's well-protected from the elements. 
She particularly loves that it's all-natural and cruelty-free. 
Use Boomstick Glo anywhere on your body for extra moisture. Many women also love Boomstick Glo for their hands and cuticles. 
2. Boomstick Color—Susan's favorite lipstick 
Next, Susan uses Boomstick Color to give herself a healthy, happy glow.
She uses Boomstick Color™ on her lips, cheekbones, forehead and down her neck. 
Boomstick Color's sheer tint is formulated to flatter every skin tone. You can use it as lipstick, blush, bronzer and more.
Susan particularly loves how this Boomstick adds color to her lips without staining them. In fact, it's her favorite lipstick. 
3. Boomstick Glimmer time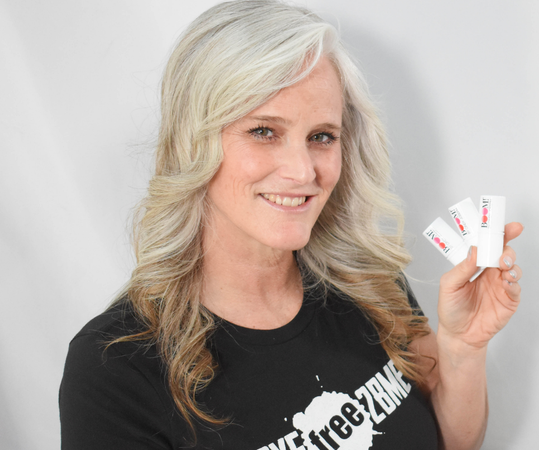 Finally, Susan applies Boomstick Glimmer™ for a little sparkle. This creamy pearlescent stick adds a touch of shimmer and radiance to your skin. 
Susan uses it on her lips, brow bones and cheekbones for subtle, glamorous highlights. 
And that's it! She is ready to go work out, meet friends or head to work. 
What do you think of Susan's look? Do you often apply makeup in the car?
CHECK OUT OUR MOST POPULAR CONTENT