Boom Ambassador Susan Orthlieb's skincare routine gently and thoroughly nourishes her delicate skin.
In fact, her skincare choices support the beauty of her skin at 58 with gentle products that clean, renew and soften year-round. 
In the video below, Susan shows you how she uses Boom every day, night and season for fresh, soft, glowing skin. 
1. Gentle nighttime cleansing
Every night, Susan uses Boom Clean®, our gentle cleanser, to remove makeup, dirt, pollution and other impurities from her skin. 
"It's a wonderfully light and effective and gentle cleansing product," she says.
Boom Clean is formulated without irritating ingredients like soap, SLS, or synthetic fragrances and dyes. 
Instead, this pH-neutral cleanser contains safe, non-toxic and natural ingredients, like witch hazel and grapefruit peel oil, for a gentle clean that won't strip away your skin's natural barrier. 
You can use Boom Clean daily, nightly or twice a day to gently cleanse your skin.
2. Boom Scrub for shower days
Susan uses Boom Scrub™ on "shower days."  
"I love Boom Scrub in my shower," she says. "I keep it there. It's a wonderful exfoliator, it's a wonderful mask."
This gentle scrub deep cleans pores and helps remove dead, dry cells to reveal fresher, softer skin. To use Boom Scrub, apply it as Susan does in the shower, or at the sink, and wait five minutes. Then rinse to reveal clean, refreshed and renewed skin.
Unlike other harsher scrubs, Boom Scrub won't tear, scratch or irritate your skin, even with daily use. 
3. Nourishing, natural moisture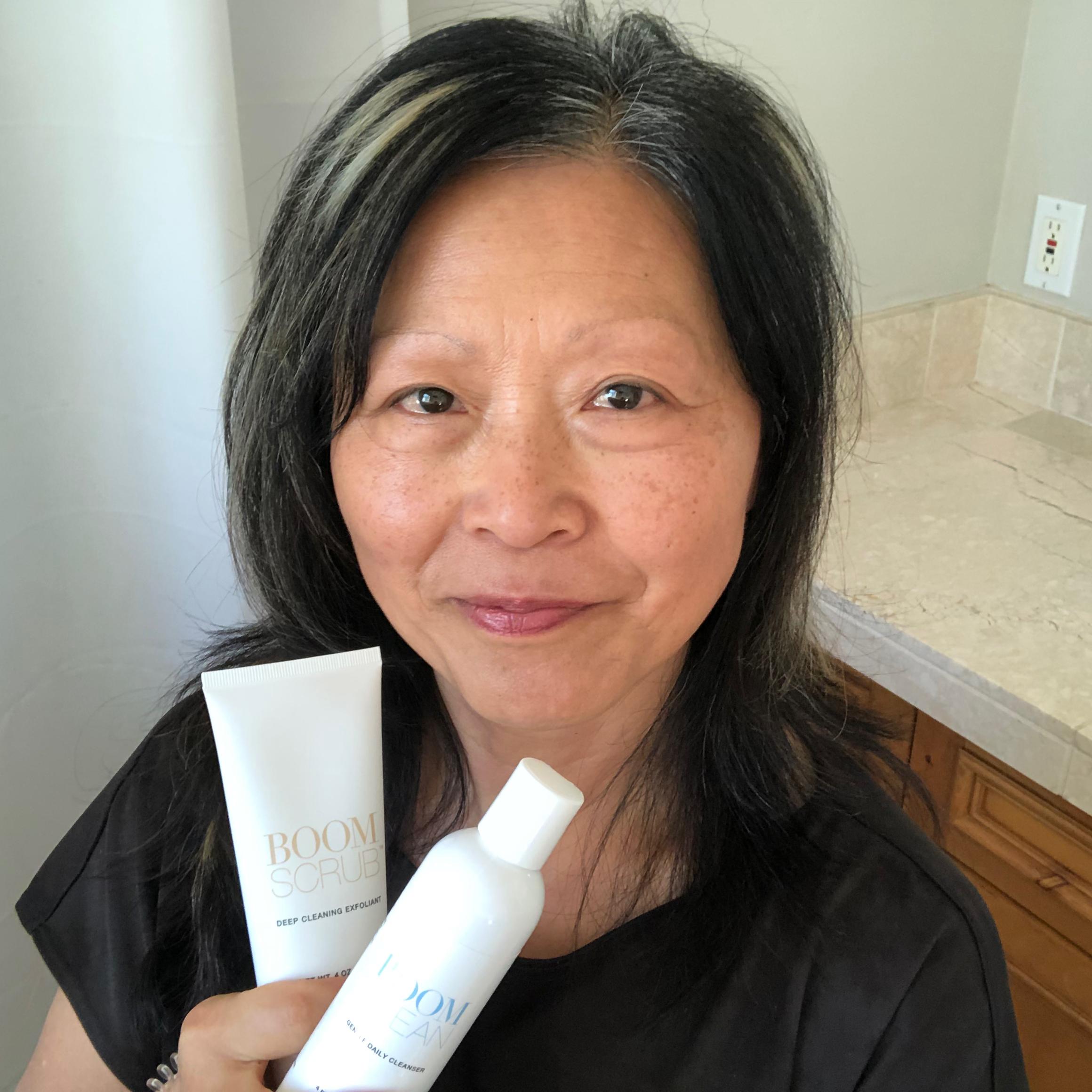 When it's not a shower day, Susan doesn't wash her face in the morning. Instead, she follows a bit of advice from our founder, Cindy Joseph. 
"I remember Cindy Joseph encouraging me to allow and use and remember to use the natural oils of my face. It's a wonderful moisturizer. It's made specifically for me, by me," Susan says.
After Susan refreshes her skin with a little water and her natural oils, she applies additional moisture with Boom Gold™, our luxurious facial oil. 
Made with nine all-natural ingredients, Boom Gold softens and brightens skin for a luminous glow. 
This soothing moisturizer also absorbs quickly so it won't leave a greasy or oily residue on your skin.
"I just smooth that on," she adds, "It's nourishment for my skin."
4. Boomsilk for a dewy glow
The last step in Susan's spring, summer and fall routine is to "go straight to my Boomsilk."
Boomsilk® is our luscious all-in-one moisturizer. 
Made with all-natural ingredients including extra virgin olive oil, honey and beeswax, Boomsilk can be used anywhere on your body for soft, smooth, hydrated skin.
This bestselling moisturizer is ideal for any skin type in any season.  
Susan says, "It's wonderful to be able to have just one cream for my entire body, including my face."
5. A last layer of moisture for the dry season
In the winter, when the air is drier, Susan adds an additional moisturizer to her routine.
She applies Boom Nectar®, our rich, moisturizing face and eye serum. 
Susan says, "Boom Nectar contains 16 wonderful, nourishing ingredients." 
These all-natural ingredients include natural moisturizers, emollients and humectants that provide powerful hydration for softer skin and a brighter complexion.
Susan also loves Boom Nectar's locking pump. When you need to travel with Boom Nectar, whether that's on a plane or to a friend's house, you can lock the pump to prevent spillage. 
This last step completes Susan's year-round skincare routine. We love her glow.
What do you think of Susan's routine? Do you add any extra skincare products in the dry season?
CHECK OUT OUR MOST POPULAR CONTENT