Sue's "Make It a Great Day" Makeup

Sue's "Make It
a Great Day" Makeup

Do you like your makeup quick? Easy? Subtly glamorous? 
That's just what Boom Ambassador Sue is demonstrating today.
As an IT professional, Sue's a busy woman. But she's always taken time to care for her skin. 
Until recently, however, she wore very little makeup—in fact, a little blush was all she added. 
Then she discovered BOOM!
Now, the 59-year-old has discovered just how easy it can be to create a naturally beautiful look in minutes with Boom cosmetics.
Sue says she loves Boom so much, she's even turned her 20-year-old daughter on to Boom cosmetics!
Check out her video or read on to find out how she prepares for a great day with Boomstick Trio® and Boom Bright™.
1. "This is how easy it is."
Sue has already moisturized her skin with Boomsilk® (our bestselling moisturizer) so she begins her makeup with Boomstick Color®, our multitasking blush, bronzer, contour and lipstick. 
"It's really super cool," she says, "because the same color will work on every skin tone."
We call Boomstick Color "the color of happiness" because the berry tint mimics the blush a woman gets when she's excited or happy. The sheer pigments in Boomstick Color allow your natural skin color to shine through, customizing it just for you.
"This is how easy it is," Sue says. "I usually put a little on my cheeks. Then, I rub it in. And I will rub it all the way up to my hairline… Sometimes I'll just do the nose right after."
You can also use Boomstick Color on your forehead, neck and décolletage to add a sun-kissed glow to your skin. 
As you see in Sue's demonstration, Boomstick Color goes on dark but blends beautifully into the skin for a natural-looking warm glow. 
2. "That little extra…"
Next, Sue applies Boomstick Glimmer®. "This is 'the bomb' as far as I'm concerned," she says. "My coup de grâce as they call it."
Boomstick Glimmer is our pearlescent highlighting stick. This creamy cosmetic lends radiance and subtle shimmer to any area of your skin.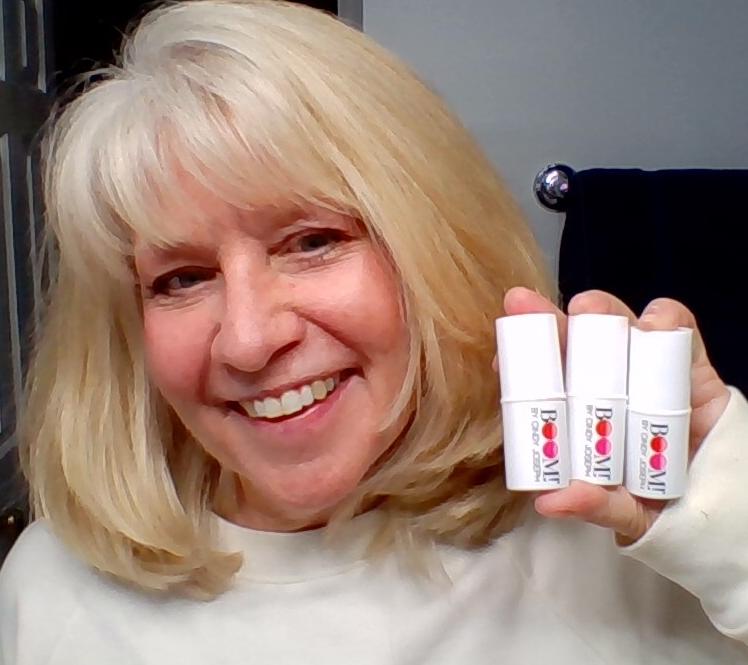 Sue says, "I put a little above the eyeline here and right at the cheekbones. It just puts a little somethin' somethin', right? It's that little extra that people look at you, probably, and go 'What is she doing there, what's different?'" 
We also suggest adding Boomstick Glimmer to your eyelids, the inner corners of your eyes, your cupid's bow, neck and décolletage. 
The subtle shimmer draws light and the eye to your beautiful glow. 
3. "I absolutely love this."
Next up, Sue applies Boom Bright, our mascara made for women over 50.
Wondering what makes Boom Bright special for women over 50?

This soft-black mascara is designed to separate and define the thinner, shorter lashes we tend to have after 50. 
The water-based (not waterproof) formula is also gentle and easy to remove, so you won't risk damaging delicate lashes when taking it off.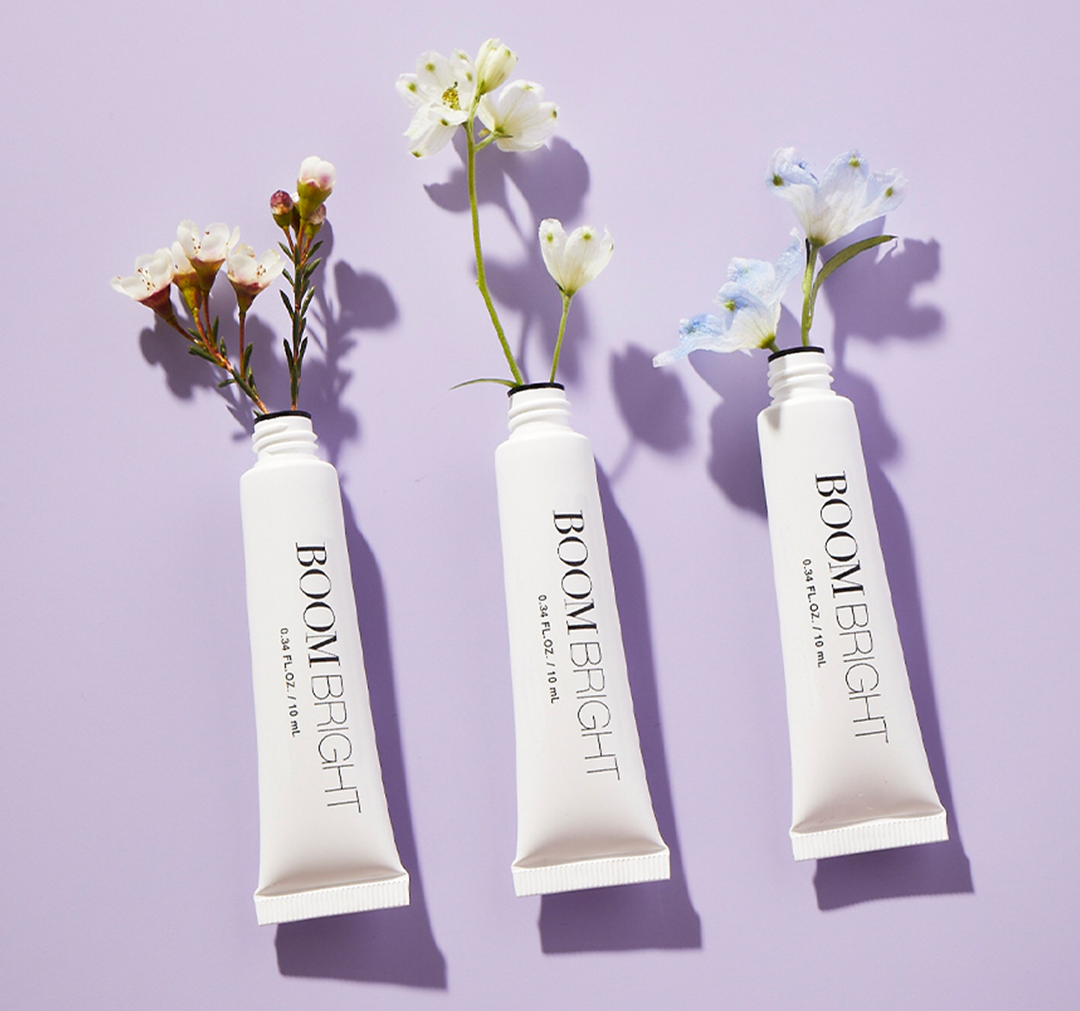 Sue says Boom Bright is "very light, not thick or gloppy or gloopy." 

The non-flaking, no-clump formula means you can apply as many layers as you like for daytime or nighttime. Sue applies a couple of layers to her top and bottom lashes.
Even the wand is specially designed, allowing you to easily reach each lash. Sue says, "Check the applicator out… It's not like a thick brush thing. It's a thinner base, which I absolutely love because it doesn't create my lashes, it just enhances them."
4. "I'm going to make it a great day."
Last, but not least, Sue applies Boomstick Glo®, our convenient moisturizing stick. 
Made with simple, all-natural ingredients, Boomstick Glo is ideal for softening any skin on your body. Sue likes to use it on her lips and hands. 

"I don't know about you guys," she says, "but after I take a shower, after I wash my face, anything—my hands get so dry. So I absolutely love Boomstick Glo for that."
This moisturizing stick is easy to pop into your pocket or purse for dry-skin touch-ups anytime you need them. Weighing in at 7 grams, Boomstick Glo lasts about two to four months, even with daily use. 
With that last step, Sue is ready for anything. She finishes, "I'm going to make it a great day! I hope you do, too."
Thanks, Sue. We will!
Tell us… What do you think of Sue's makeup routine? Have you worn more makeup since you discovered Boom?
CHECK OUT OUR MOST POPULAR CONTENT