Skin Care First Impressions with 

Boom Ambassador LaJuan Carter-Dent
Skin Care First Impressions 
with Boom Ambassador 
LaJuan Carter-Dent
53-year-old LaJuan Carter-Dent is a professional singer-songwriter who has worked with Stevie Wonder, Mary J. Blige and Celine Dion, among others. 
LaJuan is a vocal coach, too. She helps students find and embrace their own unique voices, which she says "is so much more than singing beautiful notes."
She's also a Boom Ambassador.
LaJuan found Boom months ago and fell instantly in love. 
In this video, LaJuan tries out a suite of Boom products for the very first time, including favorites like Boom Scrub™ and Boom Nectar™.
Watch as LaJuan shares her first impressions...
1. Cleanse
First, LaJuan tries out Boom Clean™, our gentle daily cleanser. This cleanser removes dirt, makeup and pollutants without stripping skin of vital nutrients or moisture. 
We make Boom Clean with your skin's health in mind… so it doesn't contain soap, perfume, parabens or phthalates. And like all of our Boom products, it's animal-test-free and cruelty-free. 
Boom Clean also has a subtle, fresh fragrance that women love.
LaJuan says, "Boom Clean feels really nice. It feels light and like it won't bother my eyes."
2. Repair and hydrate
Next, LaJuan tries Boom Nectar for the first time.

From the moment it touches her skin, she's in love. LaJuan says, "Boom Nectar feels lovely. I love Boomsilk, and this might be a close second or maybe even a tie for me."
Boom Nectar is our robust moisturizing serum designed to deliver vitamins, minerals, antioxidants and moisture to your skin.
Made with 16 powerful, all-natural ingredients, it can be used morning or night, alone or with a moisturizer, to soften and nourish your skin.
To use Boom Nectar, apply a few drops with your fingertips and gently massage it in.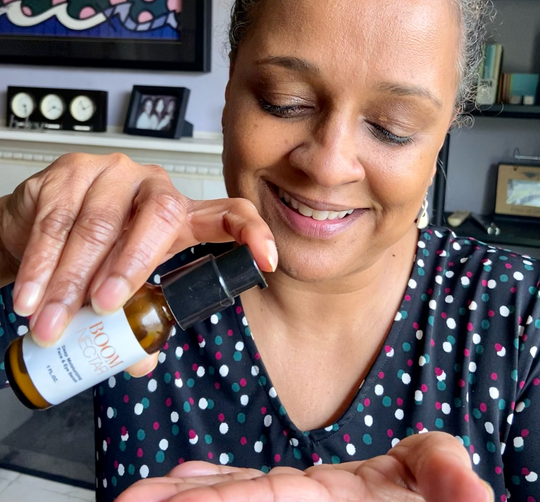 3. Seal it in

LaJuan seals all of that goodness into her skin with Boom Cotton™, our organic moisturizer. She's tried this luxurious moisturizer before and appreciates the shine-control matte finish.

The subtly sweet smell LaJuan enjoys comes from sustainably sourced honey, beeswax, jojoba oil, witch hazel, shea butter and vitamin E. 
You can apply Boom Cotton morning or night to hydrate your skin without looking shiny or greasy.
4. Gentle exfoliation
Before LaJuan goes to bed, she tries out a few additional products.
She starts her evening routine with Boom Scrub, our gentle daily exfoliant.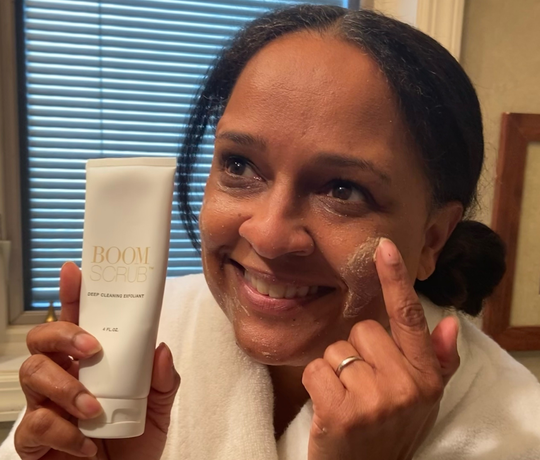 "That feels really good," LaJuan says. "The microbeads are present but they are not super abrasive. I definitely feel like I could use this every day. My pores feel tight, too."
Specially designed for skin after 50, Boom Scrub removes dead skin cells, cleanses dirt and pollutants from pores while remaining mild enough to use every day—even on sensitive skin.

Boom Scrub contains oat kernel flour and jojoba esters to gently exfoliate without causing abrasions or micro-tears.
5. Glowing hydration
LaJuan applies Boom Gold™ next.

Made with organic essential oils, Boom Gold is a lightweight facial oil that deeply hydrates your skin for a luminous, dewy glow.

It's highly concentrated, so you need just a few drops to nourish your skin's deepest layers. LaJuan uses just a drop and says, "Even though it was a little bit... yeah, there we go… it spreads really well." 

"Do I look glowy? I feel glowy," she says.
6. LaJuan's favorite: Boomsilk

Finally, LaJuan applies Boomsilk, her favorite Boom product. 

Boomsilk™ is all-natural, made with sustainably sourced honey, beeswax with propolis and royal jelly, organic extra virgin olive oil and vitamin E.
This bestselling moisturizer can deeply hydrate any skin on your body. 

LaJuan heads to bed with a glowing complexion that's well-nourished and naturally beautiful.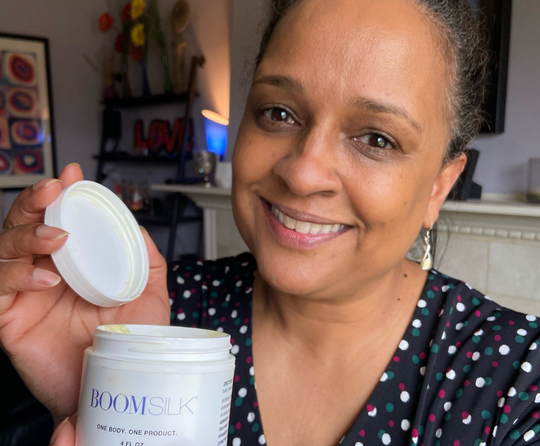 CHECK OUT OUR MOST POPULAR CONTENT