Have you met this Boom Ambassador?
58-year-old Cyndi Schaubert loves music, the outdoors and crafting for friends and family. 
She also loves BOOM!
In fact, Cyndi says, "I'm absolutely in love with my BOOM! by Cindy Joseph."
She even told us her friends call her "Glowy Cyndi" since she discovered Boom skincare.
Today, this silver-haired Ambassador shows you her Boom cosmetics routine. 
Done in less than three minutes, Cyndi's makeup is quick, easy—and beautiful.
1. Start with on-the-go moisture.
Cyndi starts with Boomstick Glo®, our moisturizing Boomstick. 
"I feel like it's the Boomsilk concentrated but it's on the go, tuck it in my purse, ready to go," she says.
Cyndi is exactly right. Boomstick Glo and Boomsilk® have the same all-natural ingredients, just in different proportions to create a convenient on-the-go moisturizing stick. 
Made for quick touch-ups, Boomstick Glo fits perfectly in a pocket, purse or carry-on bag for moisture when you need it.  
2. "This is so versatile."
Next, Cyndi applies Boomstick Color®, our multitasking Boomstick. "This is so versatile," she says. 
This deep-berry Boomstick is lipstick, blush, bronzer and contour all in one easy-to-use cosmetic. You can use it to add a sun-kissed glow any time of the day or night. 
Cyndi adds, "You think Boomstick Color is dark but it isn't. It goes with every skin tone and you can layer it."
Boomstick Color contains sheer pigments that blend effortlessly to match any skin tone. As Cyndi notes, you can add more layers for a deeper or more dramatic look.
She applies it to her lips and cheeks for subtle warmth.
3. "This is amazing stuff."
Last in the Boomstick Trio is Boomstick Glimmer®. This shimmery Boomstick adds subtle radiance to your skin wherever you apply it.
"This is amazing stuff," Cyndi says, "because it is pearlescent but it is not a big glitter or frost, it's so subtle."
Cyndi applies Boomstick Glimmer to the tops of her cheekbones, inner eyelids and her browbones for a beautiful glow.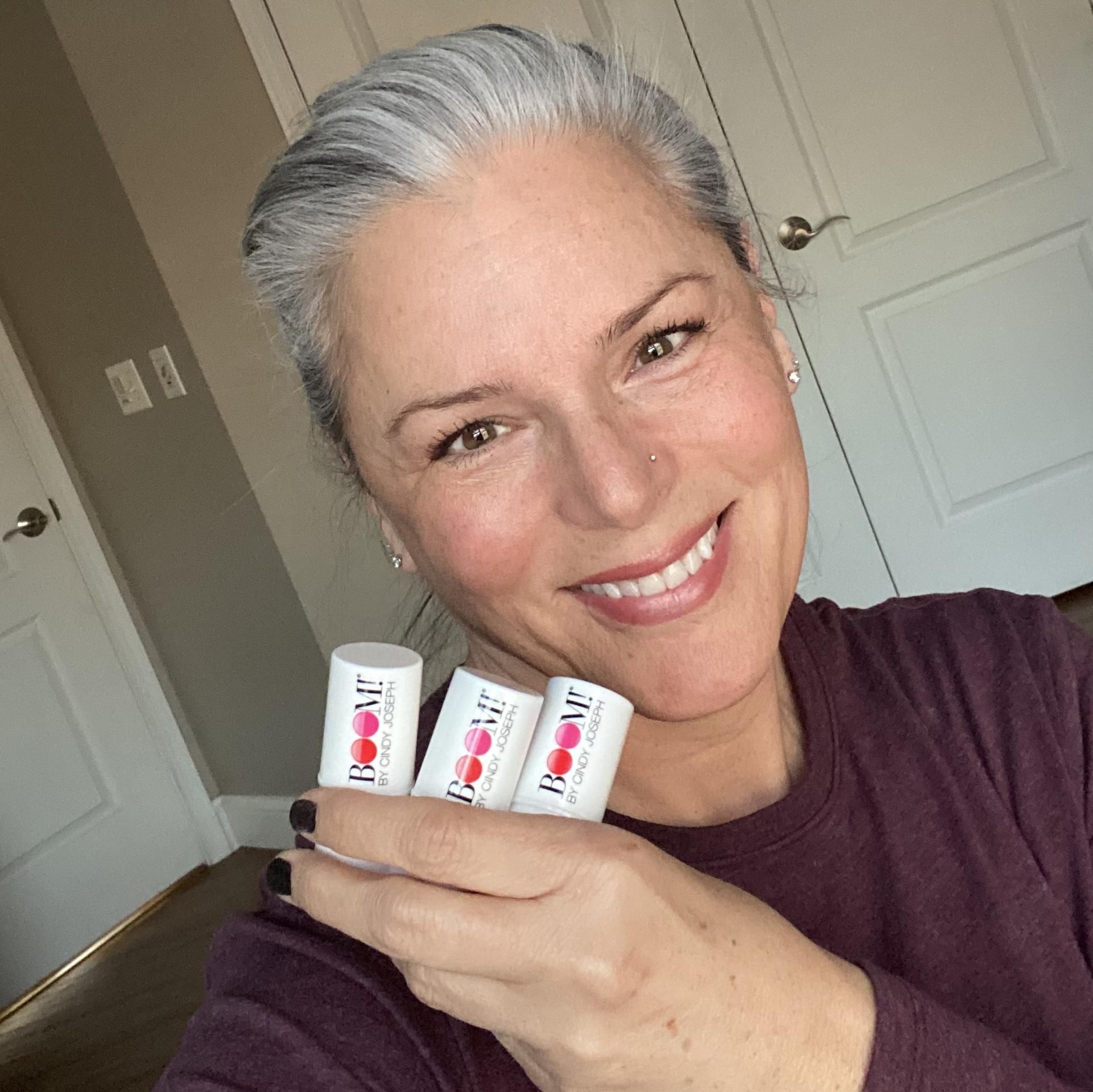 She says, "It just gives you that little…people will see it but it's just like your skin kind of glowing from within. I just love it."
4. "Look—those lashes."
Cyndi could walk out the door right now. But before she does, she applies Boom Bright™, our gentle mascara. 
Designed for sensitive eyes, Boom Bright is made with gentle botanicals and no harsh chemicals. The water-based, hypoallergenic formula goes on easily and comes off with a little water or cleanser—so you won't risk delicate lashes removing it. 
Boom Bright's ergonomic wand is designed to help you coat every lash, no matter how small. 
Cyndi says, "I absolutely love the brush. I don't know if you can see the little teeth but one side has long teeth. It doesn't bother my eyes like some mascaras have and look—those lashes. So easy," she says.
In just three minutes, Cyndi's makeup is done and she looks beautiful. 
"It stays on all day and it lets me shine through," she says. We love her natural glow. 
Tell us, what do you think of Cyndi's glowy daily look?
CHECK OUT OUR MOST POPULAR CONTENT