Sheryl Gardner's 5-Minute "Natural-Yet-Elevated" Makeup

Sheryl Gardner's 5-Minute
"Natural-Yet-Elevated" Makeup

63-year-old Sheryl Gardner is a working actress from Ohio and our Boom Ambassador. 

When Sheryl's five children grew older and she was in her 40s, she returned to a love she'd had in high school—acting. 
She started with local theatre, then began appearing in local and regional TV commercials. 
More recently, she completed work on a role in an upcoming film starring John Schneider. 
Interestingly, Sheryl says her commercial success began to grow again after she embraced her silver hair and a "natural-yet-elevated" look.
She says, "In my late 50s, I was still dyeing my hair golden blond and wearing the makeup that I wore in my 20s. But I started looking in the mirror and thinking things just did not look quite right. It just didn't match my skin as I was aging... and at that time I became aware of Cindy Joseph."
Cindy and BOOM! inspired Sheryl to embrace her silver hair and her age. 
In the video below, Sheryl shows you how she creates her look with Boomstick Trio™ and Boom Bright™.
1. "A nice silky covering."
Sheryl starts with a clean face, except for a bit of eyebrow pencil, then moisturizes her skin with Boomstick Glo™.
Containing organic extra virgin olive oil, honey with naturally occurring royal jelly and beeswax with pollen and propolis, this all-natural moisturizing stick is clean, effective, convenient and simple. 
Sheryl applies Boomstick Glo all over her face. "Just put it wherever you're dry," she says. "A little goes a long way."
Boomstick Glo's compact packaging makes it easy to carry with you for moisturizing touch ups whenever and wherever you need them.
"I keep Boomstick Glo by my bed at night so if I wake up in the night and my lips are dry, I can use it as chapstick. I also like to keep it in my purse for when my lips get dry. It makes a nice silky covering," Sheryl says.
2. "This little thing is magic."
Next, Sheryl says, "If you wear foundation or sunscreen, this is the time to put it on. But I don't personally care for foundation. I don't like the way it makes my skin feel and I would rather show my sun spots, wrinkles and freckles."
Skipping foundation, she applies Boomstick Color™, our original multitasking cosmetic stick.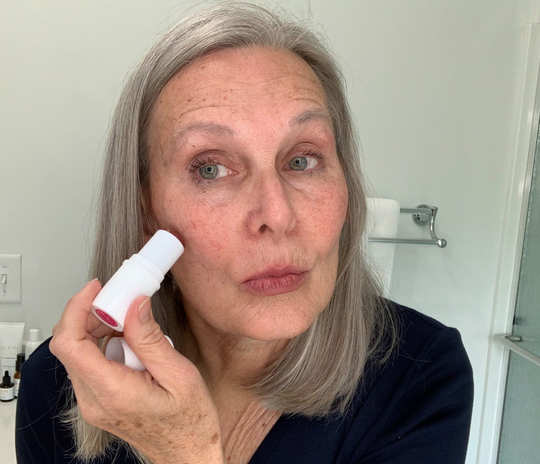 "This little thing is magic," Sheryl says. "It serves so many purposes."

Use Boomstick Color as your lipstick, blush, bronzer and more. We call it "the color of happiness" because it mimics the look of a happy, excited flush.

She applies it to her lips, cheeks, forehead and down the sides of her neck. "All places that you just naturally tend to blush," she says.
The sheer berry tint of Boomstick Color allows your natural skin tone to shine through, customizing it for every woman. It's never too dark, too cool or too warm. 
Sheryl says, "I was plain before and now look: I'm not plain anymore!"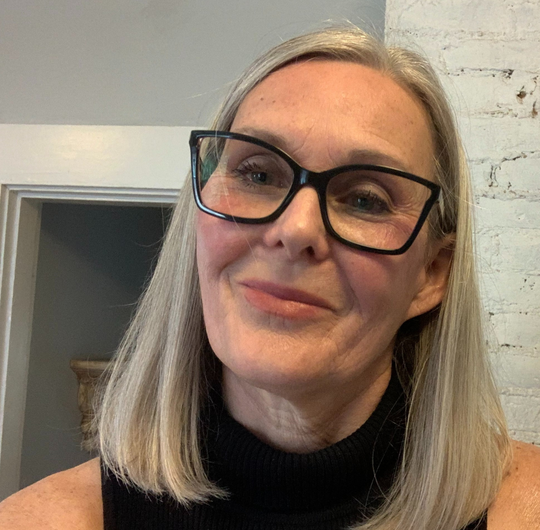 She also points out that this cosmetic stick lasts a long time. "Boomstick Color lasts 9 or 10 months. It's just so long lasting that it's so worth it," she says.

3. "The icing on the cake."
Rounding out the Trio is Boomstick Glimmer™, our creamy, pearlescent highlighter. Sheryl calls it "the icing on the cake." 
This highlighting cosmetic adds natural-looking radiance and shimmer to your skin. You can use it to draw light to your complexion or add subtle contour to your face.
Sheryl adds it under her brow bones, on her eyelids, at the top of her cheekbones and down her nose. She also dabs it along her collarbones for a sophisticated glow.
"It just gives a little iridescence," she says. "When you walk into a room, you look like you're shining—you're a shining star."
4. "It smells like heaven."
Last but not least, Sheryl applies Boom Bright™, the mascara we designed especially for women over 50.
What makes this mascara special is the gentle, water-based formula. Unlike waterproof mascaras that are often drying and difficult to remove, Boom Bright is made without any harsh ingredients. 
Instead, our mascara contains emollients to moisturize your lashes as it lengthens and defines. It also comes off easily with a cleanser, moisturizer or even just water.
Sheryl says, "It smells like heaven." 
While we don't include any synthetic fragrance in its hypoallergenic formula, Boom Bright does contain rose damascena flower oil, a natural emollient that happens to smell great, too. 
"BOOM! really took their time developing a product that is not only good for the pro-age woman but also great for the environment," Sheryl says.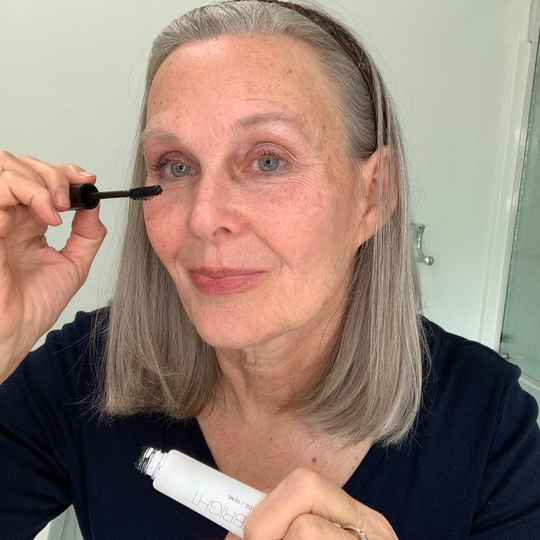 Boom Bright's recyclable tube is made from sugarcane biopolymer, not fossil fuels. Even the wand can be upcycled when you're done with it. Just remove it from the tube, clean it and donate it to a wildlife refuge or rehabilitation center. 

And with that last step, Sheryl's makeup routine is complete. We love her natural-yet-elevated look!
We'd love to hear what you think. Tell us: Do you like Sheryl's "natural-yet-elevated" look?
CHECK OUT OUR MOST POPULAR CONTENT