Sandy Berg's Tips for Radiant Skin 
(Hint: Moisture x3)
Sandy Berg's Tips for Radiant Skin 
(Hint: Moisture x3)
Sandy Berg doesn't fight against her age anymore.
For many years, the 70-year-old Boom Ambassador says she was caught in an anti-aging cycle, always on the lookout for the next "miracle" anti-aging product.
Finally Sandy said, "Enough." She grew out her natural hair and discovered it flattered her far more than the bleached-blond she'd maintained for decades. 
She then went on the hunt for healthy skin care and cosmetics that would flatter her new look. 
That's when Sandy discovered BOOM! and a whole community that embraced age, natural beauty and a pro-age mindset. 
In today's video, Sandy lets you in on a few of her Boom skin-care and makeup favorites, including her three-step moisturizing routine for radiant skin.
"This is gold for your face."
Sandy begins with Boom Gold™, our lightweight facial oil. 
"My face is very dry," Sandy says, "so I am in search of products that are good for my skin and packed with vitamins, minerals and antioxidants... and Boom Gold is it. It's very good for your skin."
She uses her fingertips to apply Boom Gold under her eyes, but this moisturizer can be used all over your face and neck for deep hydration.
Boom Gold is made with luxurious organic oils that nourish your skin for a dewy glow.
Layer with a deep-moisturizing serum.
Next, Sandy adds our rich, moisturizing serum, Boom Nectar™. 
Initially, Sandy planned to use just Boom Gold... Then she discovered Boom Nectar. "I started using them together, and the results were amazing," she says.
Boom Nectar is made with 16 all-natural ingredients that soften skin while brightening your complexion. 
Sandy adds Boom Nectar on top of the Boom Gold on her face and her neck. She says, "It has a different feel and it's much more robust."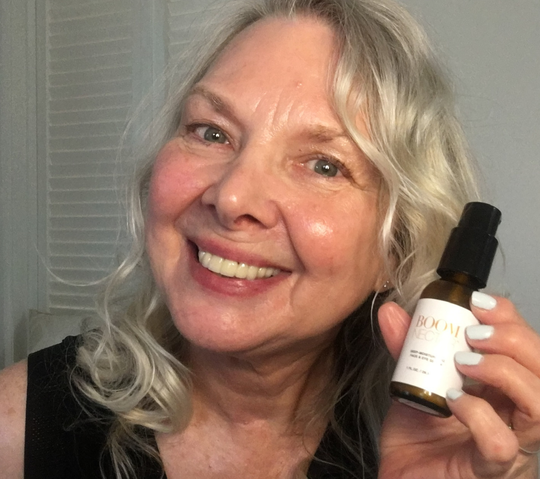 You can use this serum on your face, neck or anywhere you need nourishing moisture. 
"I really slather it on…"
Sandy seals all that goodness into her skin with Boomsilk™, our best-selling, all-in-one moisturizer. "I don't know how I ever lived without Boomsilk," Sandy says.
Made with just five all-natural ingredients, Boomsilk delivers deep hydration to your skin and provides a barrier layer against the elements. 
Sandy uses Boomsilk on her face and body. "I really slather it on my neck," she says, "my neck is so dry."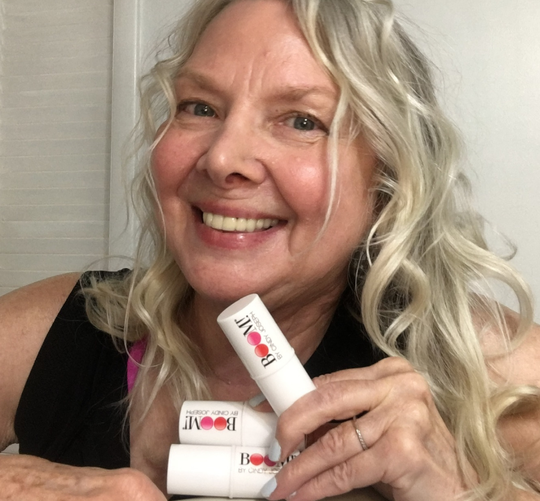 "I feel all moisturized…"
Reaching for Boomstick Trio™, our creamy cosmetic sticks, Sandy finishes getting ready for her day. 
She says, "My skin just starts to get this radiance. I feel like I have a radiance on the inside... and when I use Boom products, it shows on my face." 
She begins with our moisturizing stick, Boomstick Glo™. It contains the same ingredients as Boomsilk, her favorite all-over moisturizer, in a convenient stick that she can take anywhere. 
"I like to use it on my cheeks and above my lip. I love Boomstick Glo on my lips because my lips are very dry," Sandy says.
You can toss Boomstick Glo (and the rest of the Boomstick Trio) into your purse or travel bag for touch-ups while you're on the go.

"This works on my skin tone."
Next up is Boomstick Color™, our multitasking cosmetic stick. You can use this creamy cosmetic as a blush, bronzer, lipstick and more. 
Sandy uses Boomstick Color on her lips, cheeks, forehead and neck. She then adds a bit of Boomstick Glo to blend it in.
We suggest adding Boomstick Color wherever you naturally blush for a subtle, sun-kissed glow.
The rich berry tint of Boomstick Color is sheer, flattering every skin tone.
Sandy says, "I was having so much trouble finding a lip color that worked with my skin tone. It was always too orange, too red, too pink, too...whatever. But this works on my skin tone!"
"Who doesn't need a little glimmer?"
Finally, Sandy adds luminance with our creamy highlighter, Boomstick Glimmer™.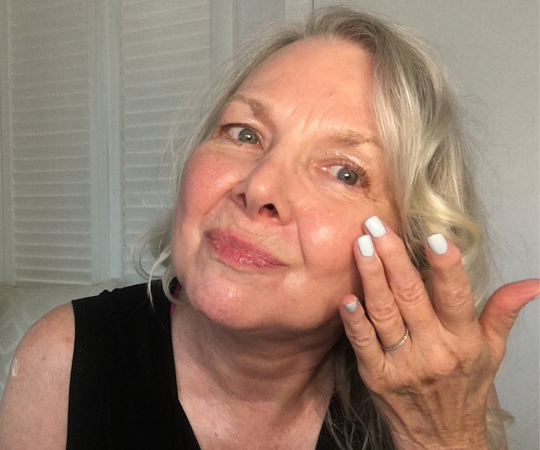 "I love Boomstick Glimmer," Sandy says. "It just adds a little glimmer to your life... and who doesn't need that? I need that!"

Sandy dabs Boomstick Glimmer onto her cheeks, chin, neck and just under her brow bone. She also adds it to her chest and shoulders whenever she wears a v-neck or sleeveless top. 
Boomstick Glimmer gives her skin a subtle, radiant shimmer. 
Finally, Sandy uses a brush to blend everything in. You can use a brush, sponge or your fingers to easily blend these creamy cosmetics for a beautifully natural glow. 
Her final look is vibrant and alive. We love everything about it.
Tell us, what do you think of Sandy's look? Do you layer moisturizers like Sandy does?
CHECK OUT OUR MOST POPULAR CONTENT