Rose Nude FAQ: How Our New Boomstick
Fits into Your Makeup Routine
Rose Nude FAQ:
How Our New
Boomstick Fits into
Your Makeup Routine
"What's special about this new Boomstick?"
"Between Rose Nude and Boomstick Color, which should I choose?"
"How do I best apply it?"
"Can I use it with my other Boom products?"
One of our favorite things about introducing a new Boom is when questions and comments from our community start rolling in. 
No matter what questions our own team asks, no matter how many answers we're prepared to give, you never cease to delight and surprise us with fantastic questions we didn't think of! 
After years of research, planning and lots of enthusiasm, we've released Boomstick Rose Nude™, our first new Boomstick in over a decade. As always, our community asked some great questions about this creamy cosmetic.
The most frequently asked questions have been about how, where and when to use it, especially in relationship to Boomstick Trio® and the rest of our cosmetic line. 
First, what's special about this Boomstick?
Many of you have asked about the "clean-beauty" formula found in Boomstick Rose Nude.
We love talking about our ingredients!
As we continue evolving as a brand, we design new products according to Cindy's original pro-age philosophy.
We consider how each new product serves her dream for product expansion that provides options while keeping the line minimal. 
We also strive to be more eco-conscious throughout our company.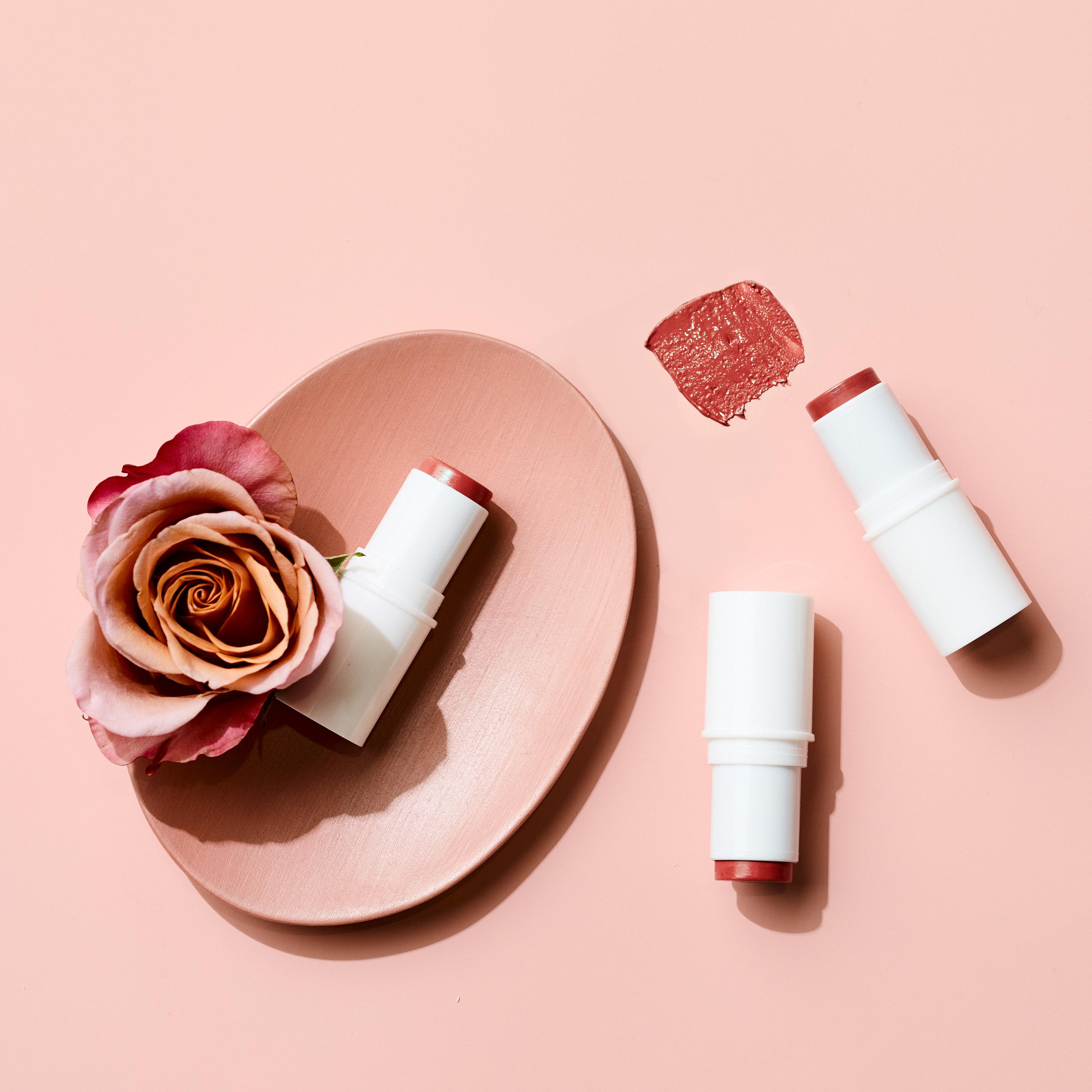 For us, that means when we create any new skincare or cosmetic, its ingredients and production fit within certain defined "Clean Beauty Standards."
As a new product, Boomstick Rose Nude meets these criteria while remaining effective like our original cosmetic Boomsticks.
Simply put, our new Boomstick is: 
safe & non-toxic

phthalate-free

paraben-free

vegan

talc-free

soy-free

moisturizing

gluten-free

fragrance-free

cruelty-free (BOOM! has never tested on animals—and never will.)
I already love Boomstick Trio…what will this new Boomstick do for me?
Love your Boomstick Color? Do the three multitasking sticks in our Trio already play a major role in your daily makeup routine? 
That's wonderful—and exactly the way Cindy Joseph designed them. She wanted to take the joyful, "no-makeup" look she often used on models during her career as a makeup artist and make it available to all—especially those over 50.
Voilá—the Boomstick Trio was born.
Now, with Boomstick Rose Nude, you can still achieve the beautiful, natural look that Cindy intended—only in a softer rosy shade.
The decision to create a new Boomstick after 10 years came directly from Boom customer requests.
While keeping the line simple, we also want to provide options for our customers who love to express themselves through their makeup. 
Boomstick Rose Nude was born from our community's desire for a Boomstick in a neutral shade.
Add its balanced, rosy-nude hue to your cheeks and lips for a soft, subtle, beautiful glow.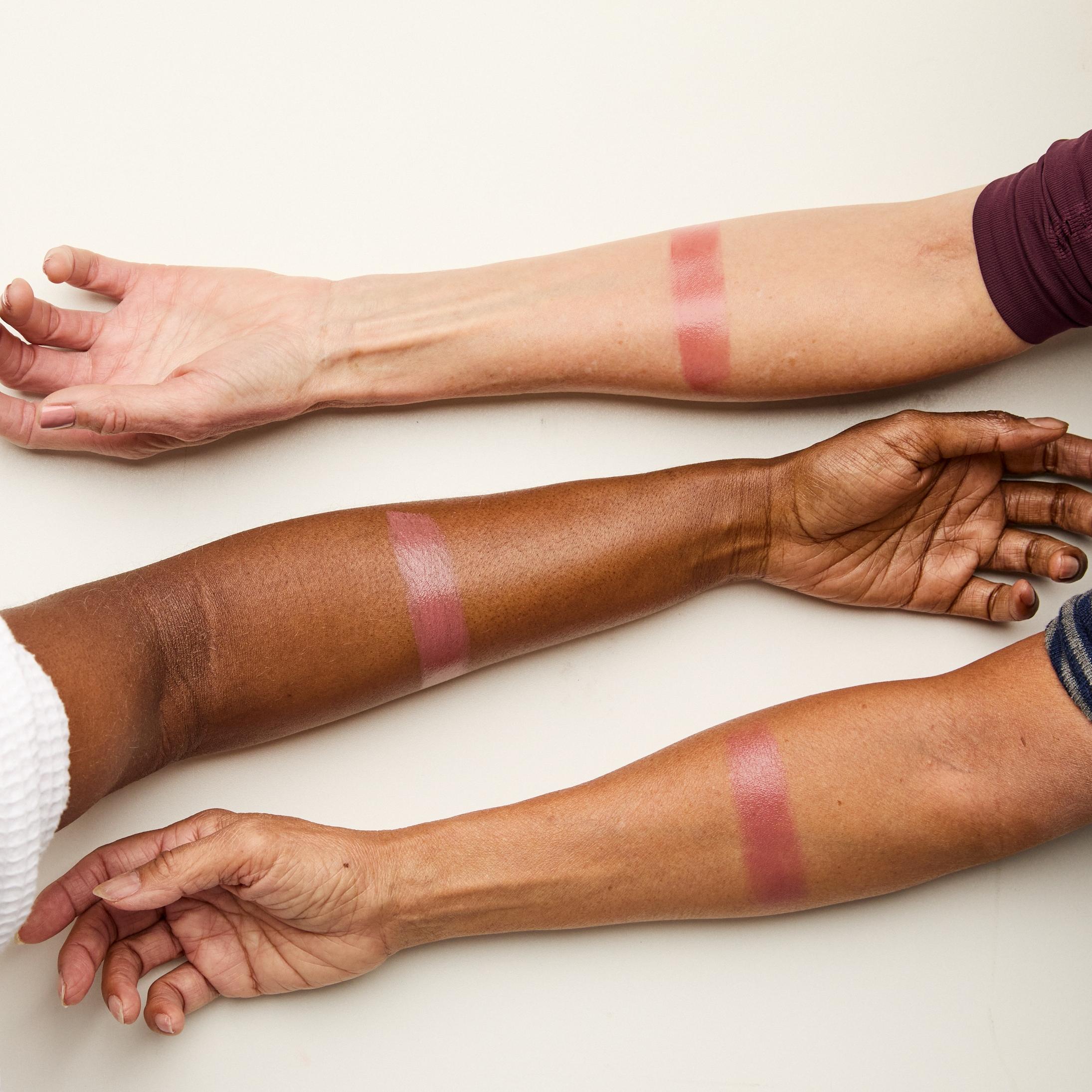 What are the tones/undertones of Boomstick Rose Nude—will it work for my complexion?
Rather than a specific shade for a specific skin tone or undertone, we created Boomstick Rose Nude to work for both warm and cool skin tones.
We designed Boomstick Rose Nude for those who would like a soft, neutral option for their makeup routine. 
So the simple answer? YES! We think you're going to love it. Our new rosy Boomstick features a buildable formula with gentle pigments, just like our original Boomsticks.
That means you can vary the amount of product you use to create the exact look you want!
How do I choose between Boomstick Rose Nude and Boomstick Color?
While both products are multitaskers that add a subtle, healthy, natural look to your lips and cheeks, each product is unique. 
Boomstick Color's rich berry hue mimics the beautiful flush your skin has when you're happy or excited. Think of the way your skin looks after a great workout or laughing with friends over coffee or a glass of wine.
You can also use Boomstick Color where the sun touches your skin—including your lips, forehead, décolletage and the apples of your cheeks—for a gorgeous, sun-kissed look even during the darker, colder months. 
Boomstick Rose Nude's rosy hue is a balanced nude, thoughtfully formulated to give your skin a demure vibrance. It's the pink flush your cheeks have after you've taken a walk in the brisk fall air or fresh winter snow. A healthy, soft glow that looks great with any outfit, in any season, for any occasion. 
The best news, however, is that you don't have to choose! Both Boomstick Color and Boomstick Rose Nude complement most skin tones (all year round!). Many will choose to use Boomstick Rose Nude as a standalone product, while others will use it in conjunction with Boomstick Color. 
Because of their differences, having both shades within our line offers you another opportunity to experiment and customize your makeup routine, expressing yourself through your own unique style. 
I'm a visual person—what do they look like side by side?
How do I use this new rosy Boomstick with my other Boom cosmetics?
One of the wonderful things about Boomsticks is that there's pretty much no wrong way to use them.
Over the last two years of Boom Ladies' Nights, our Ambassadors have surprised and delighted us with so many creative applications, and we hear unique suggestions and comments from customers all the time.
Our number one tip for applying Boom cosmetics is: Have fun!
Watch our videos on the blog for ideas if you like, but we also encourage lots of experimentation to find the look (or looks) that you like best.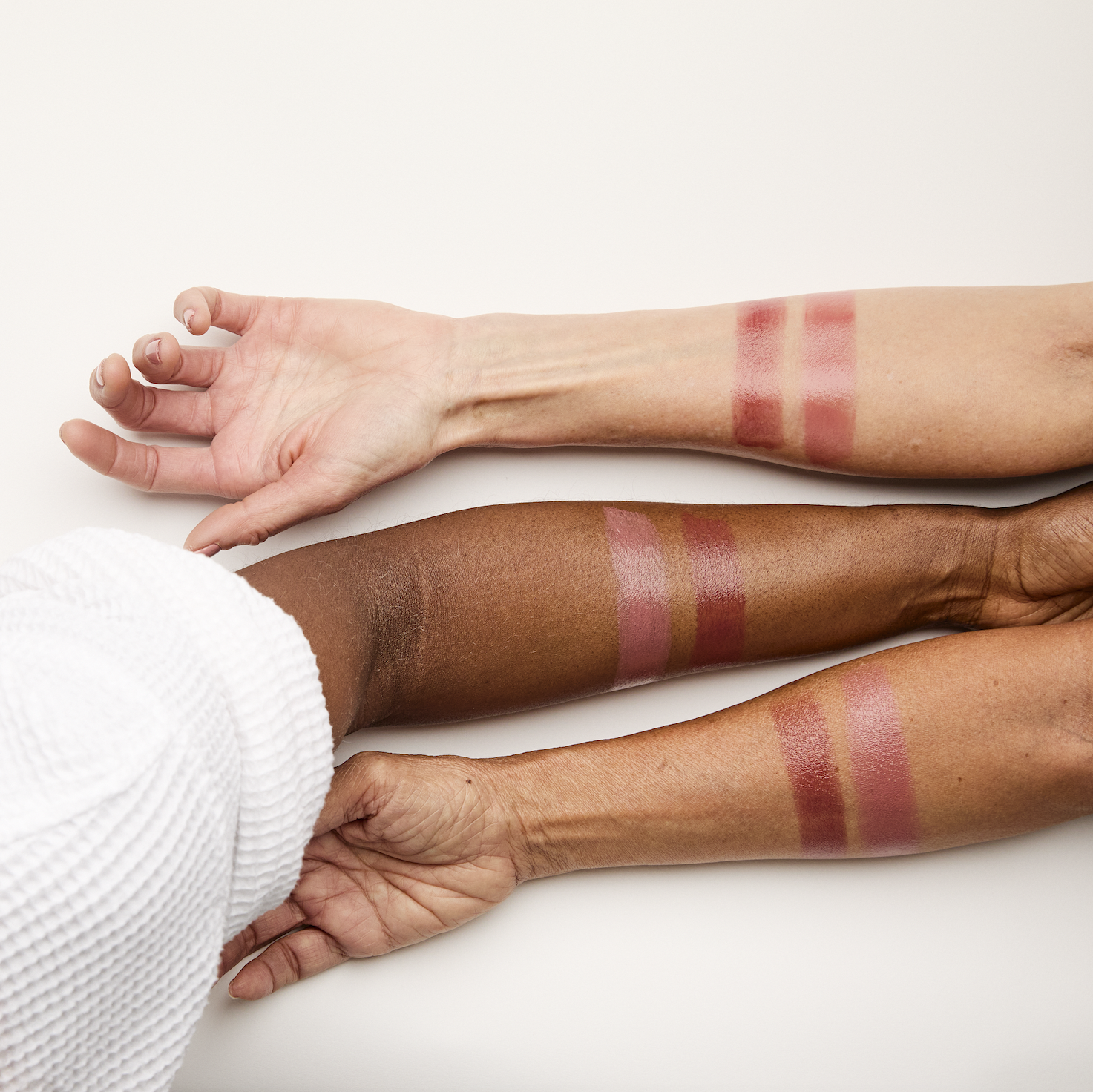 (Hint: This entire routine takes less than 10 minutes.) To get you started with our new rosy Boomstick, here's a fun makeup tutorial to try…
Step 1: Moisturize
To celebrate your gorgeous, pro-age skin, we always love to start with a natural moisturizer that doubles as a makeup primer. With just three ingredients, Boomstick Glo® is as natural as it is convenient. Dab it onto your cheeks, forehead and around your eyes and mouth, then blend with clean fingertips. 
Step 2: Decision time
Today, do you feel like the rich berry hue of Boomstick Color® or the soft, demure vibrance of Rose Nude? 
To best apply Boomstick Rose Nude, we suggest dabbing it directly onto the apples of your cheeks and blending back toward your hairline. If you'd like a stronger effect, simply dab on more of this buildable cosmetic until you find your perfect color.
To enjoy a sun-kissed look and a flirty glow, start with Boomstick Rose Nude. As suggested above, apply directly to your cheeks and blend. Add a joyful flush by applying Boomstick Color to the upper sides of your forehead, sides of your neck and décolletage. Blend with clean fingers.
Step 3: Shimmer & shine
For a lovely luster, whether you're on your way out for the evening or just want to feel your best while running errands, dab Boomstick Glimmer® onto your eyelids and along your brow bones. 
Without any glitter or frosty effects, Glimmer will add dimension and a subtle luminous glow to your skin, gently enhancing your features without irritating your eyes. 
If you like, you can also add a gentle, water-based mascara like Boom Bright™ to make your eyes pop.
Step 4: Lovely lips last
Lastly, add a demure rosy vibrance for the perfect lip look. 
If you're going for a gentle hint of color, first apply Boomstick Glo to your lips, then dab Boomstick Rose Nude. 
For a richer color and matte finish, apply Boomstick Rose Nude directly to your lips. 
If you are going out, add a dab of Boomstick Glimmer to the center of your upper lip and cupid's bow to up the glamour factor. 
We hope this FAQ helps you get the most out of your new Boomstick! 
Maybe you haven't had a chance to try it yet…want to learn more? You can get even more details about Boomstick Rose Nude here.
Did we miss your question? Drop it in the comments below! We'd be happy to answer it for you. 
CHECK OUT OUR MOST POPULAR CONTENT