Paula's 4-Step Routine for Glowing, Natural Beauty

Paula's 4-Step Routine for
Glowing, Natural Beauty

This silver-haired beauty is 52-year-old Boom Ambassador Paula Joseph.
Paula discovered Boom in a Facebook group for women growing out their silver hair. Boomstick Trio® quickly became one of her favorite products. 
Paula uses Boom in a simple, targeted way that enhances her natural beauty—without covering anything up. 
Watch her video to discover the quick and easy way she uses Boomstick Trio and our mascara, Boom Bright™, to intensify her glow.
1. Targeted moisture
First, Paula applies Boomstick Glo to drier areas of her face. "I have very dry skin," she says, "so every once in a while I need to have a little extra moisturizer."
Boomstick Glo® is our all-natural moisturizing stick. Made with organic olive oil, beeswax and honey, this moisturizer is perfect for quick touch-ups whenever your skin feels dry.
Paula uses Boomstick Glo around her eyes, where her skin tends to become dry later in the day. She applies this moisturizer above her eyebrows and between her eyes, as well.
"Boomstick Glo is wonderful," Paula says. "I take it with me because it's also great on your lips."
2. Natural-looking color
Next, Paula applies Boomstick Color®, our multitasking cosmetic that's a blush, bronzer, contour and lip color all in one creamy stick. 
Paula says she uses Boomstick Color on her cheeks and lips.
She applies Boomstick Color to the apples of her cheeks and blends it back.  "It goes into your skin very nicely," she says. 
The deep berry tint of Boomstick Color is sheer, allowing your natural skin tone to shine through. We call Boomstick Color "the color of happiness" because it's designed to mimic the color a woman gets when she's excited, happy or laughing.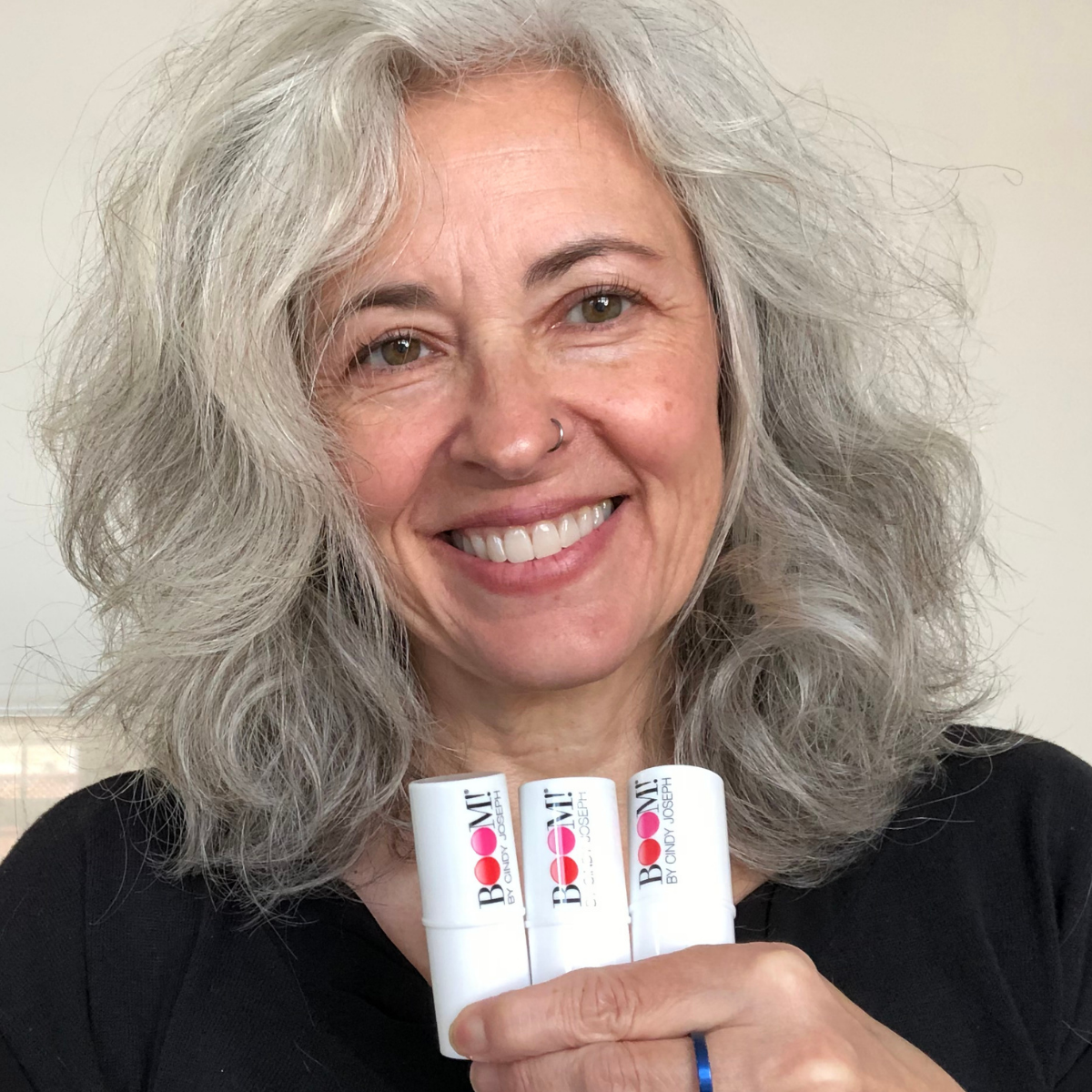 Paula also adds Boomstick Color to her lips. "It's super moisturizing and very natural-looking," she says.
3. A pop of shimmer
The third stick in the Trio is Boomstick Glimmer®.
Paula uses this pearlescent highlighter on her cheekbones and browbones. "For a little pop there," she says. She also dabs it on the end of her nose.
Boomstick Glimmer is not glitter or frost. Instead, it adds subtle radiance and glow to your skin.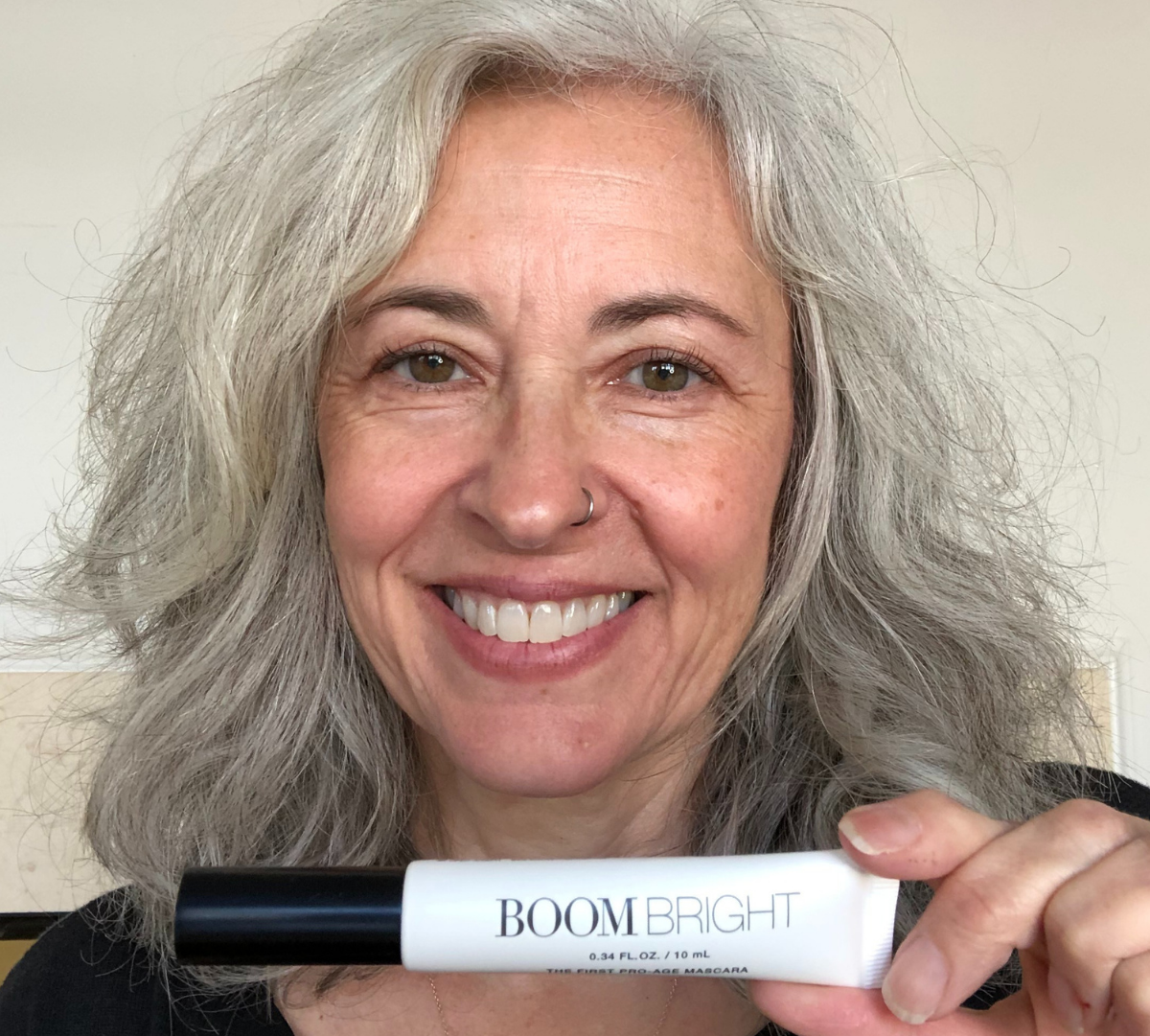 This creamy cosmetic can also be used on your collarbones and shoulders to add a delicate shimmer to your skin in sleeveless or lower-cut tops.

4. Simply defined lashes
There's just one last step before Paula's look is complete: our mascara, Boom Bright. 
"I've been looking for a good mascara for a gazillion years," she says, "and this is by far my favorite."
Boom Bright is the first mascara made specifically for women over 50. This gentle, moisturizing mascara separates, lengthens and defines the finer, shorter lashes we tend to experience after 50.
Boom Bright is water-based, so you won't break or pull out your lashes trying to remove it. Just use a bit of water, cleanser or moisturizer and the mascara comes right off. 
At the same time, Boom Bright is formulated to last all day without smudging or flaking.
Paula also appreciates Boom Bright's packaging and wand. She demonstrates how cleanly the wand comes out of the sugarcane plastic tube. You won't need to remove clumps or extra product before layering the mascara on your lashes. She also says, "The curved wand just lifts your lashes like crazy." 
We think Paula's simple and easy makeup looks amazing on her.
What do you think about Paula's demo? Have you tried Boom Bright yet?
CHECK OUT OUR MOST POPULAR CONTENT