Olivia's Morning Boom Routine for Glowing Skin
Olivia's Morning Boom Routine for Glowing Skin
Today, we'd like to introduce you to a very special Boom Ambassador: Olivia Parr-Rud.
Olivia, age 70, is an internationally recognized business expert. She's the author of five books and the creator of The Wisdom Institute, "a forum for professionals to unveil, craft, and share their wisdom with the world." 
Olivia's passion is "proving, using data, that love is good for business." 
As a lifelong spiritual seeker, Olivia's work now centers on helping people approach the world with deep self-love and a sense of connection to themselves and each other.
Speaking of connections, Olivia has her own special connection to BOOM! She was good friends with Cindy Joseph, our founder, for many years. 
In this video, Olivia demonstrates her morning routine for silky, soft skin and a warm glow. Get every step of her daily Boom in the video below.
1. "My favorite daytime moisturizer: Boom Cotton."

Olivia's day begins with Boom Cotton®.

"I have very dry skin," she says, "so when I wake up in the morning, I don't wash my face. I spray just with a little water and then I put on Boom Cotton."

We love this way of caring for her dry skin, which many people have at this age. 

Washing too often, particularly with hot water or harsh cleansers, can strip your skin of its natural protective oils. By skipping the morning wash, Olivia retains her skin's natural moisture and adds more with Boom Cotton. 

Boom Cotton is our shine-control moisturizer. Certified organic and made with shea butter, jojoba oil, sea buckthorn oil and honey, this special moisturizer softens and hydrates skin without an oily or greasy finish. 
2. "A good blush was always important."

Now that Olivia's skin is soft and hydrated, she prepares for her day with Boomstick Color®—her favorite in the Boom line.
"This was Cindy's very first product, and when she created it, I was excited because I'm very pale and often look washed out. So a good blush was always important," she says.
Olivia applies Boomstick Color to her cheeks and blends it into her skin. 
Before Boomstick Color, Olivia struggled to find a blush color that looked natural and healthy. 
"I would try to find something that looked natural," she says, "but a lot of them were powders and they were peach or orange-looking." 
"What I love about Boomstick Color," Olivia adds, "is it really is the color of our blood, which is what makes our skin flush, so it works for any skin tone."
You can also wear Boomstick Color as lipstick, as Olivia does, and as a contour or bronzer. Just dab it on your neck, décolletage, forehead or wherever you blush to create a sun-kissed look. 
3. "That little bit of shine…"
Next, Olivia applies Boomstick Glimmer®, our pearlescent highlighter, eyeshadow and body luster. 
She says, "If I am going out at night, I might want a little color on my cheekbone or under my brow, so this is great for adding that little bit of shine where I want the light to reflect or highlight certain parts of my face. Very exciting."
Far from frost or glitter, Boomstick Glimmer adds subtle, natural-looking radiance to your skin wherever you apply it. In addition to your cheekbones and browbones, you can also dab this shimmering cosmetic on your neck and décolletage, cupid's bow and the center of your lips.
Boomstick Glimmer also works as eyeshadow. Use your finger to apply it to your eyelids and the inside corners of your eyes for an elegant look.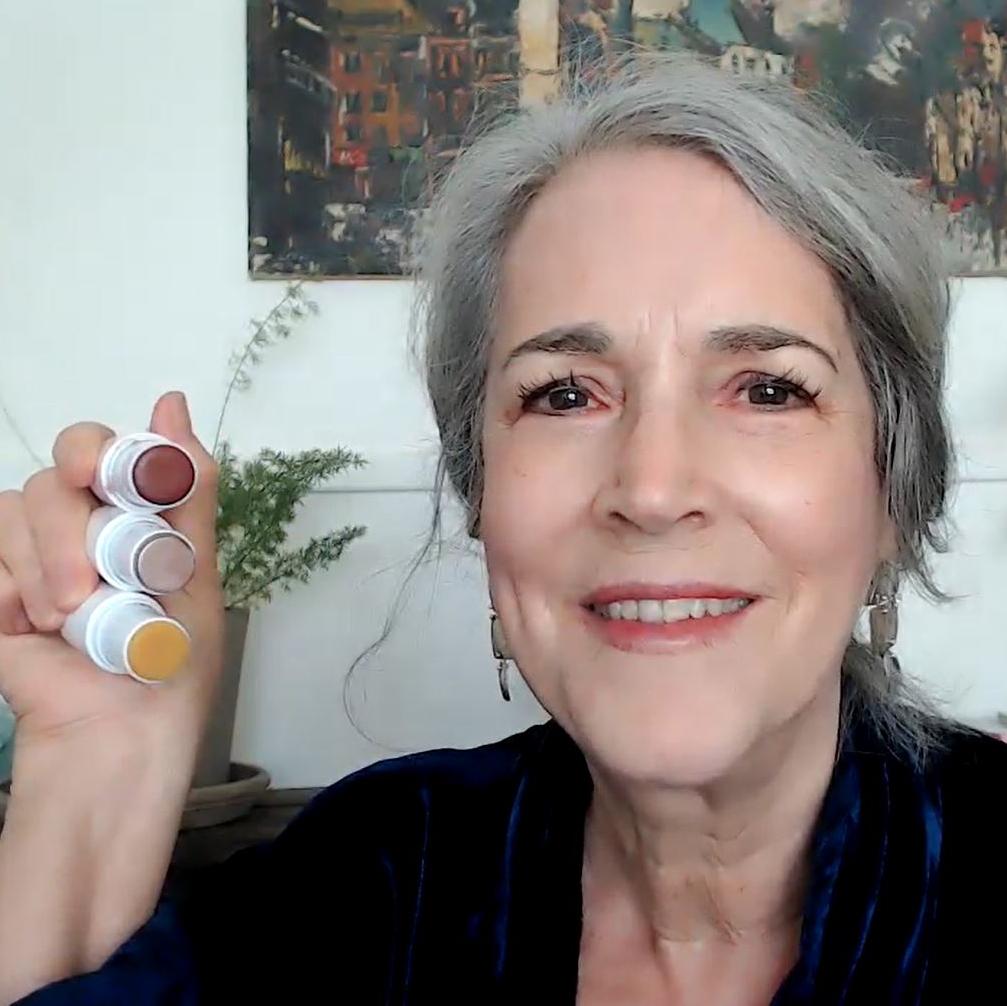 Wearing a low-cut top? Dab Boomstick Glimmer onto your shoulders and collarbones for a radiant glow.
4. "This one I carry in my purse."

Third in the Boomstick Trio® is Boomstick Glo®, our moisturizing stick.

Made with the same luscious, all-natural ingredients as our best-selling moisturizer, this creamy Boomstick hydrates and softens skin naturally. 

Olivia says, "This one I carry in my purse. It's just so convenient."

You can use Boomstick Glo wherever you need moisture, but it's especially helpful for your face, neck, décolletage, hands, cuticles, feet, elbows and knees. 
5. "You can see how great it is."
Finally, Olivia says, "I finish up my morning routine with Boom Bright mascara."
Boom Bright™ is our mascara designed especially for women over 50. With a lightweight, moisturizing formula, Boom Bright lengthens, separates and defines your lashes without harsh chemicals. 
You can wear one layer of this gentle, hypoallergenic mascara for daytime and add another layer for evening or a special occasion. 
The water-based formula resists flaking and smudging but is still easy to remove—so you won't risk your delicate lashes taking it off at the end of the day. 
Olivia wraps up her demo saying, "I just turned 70 last month and I really attribute a lot of my skin health and physical health to just using all these wonderful products."
We love Olivia's healthy glow.
Tell us… What do you think of Olivia's look? Who else loves Boomstick Color best? Tell us in the comments below.
CHECK OUT OUR MOST POPULAR CONTENT