"No More Hiding:" This is How Christine Booms
"No More Hiding:"
This is How
Christine Booms
57-year-old Christine has sensitive skin. 
Besides eczema on her hands, she's also used to frequent skin reactions. 
That's why, before Boom, Christine didn't really have a skincare routine. 
"It's sort of new to me to have a whole line of skincare—and it's just been amazing. It feels very luxurious, taking care of myself in such a fun way. It's really new to me," she says.
Now that she's found Boom, Christine doesn't have to worry about her skin reacting. As a result, she gets to care for herself and her skin in a new way.
"It's so nice to have a self-care routine because it sort of lifts your spirits, and when you just start your day out with a little lift, a boost, it kind of permeates your day," Christine says. "I think it's a great self-care thing to do, to invest just a little bit in yourself."
In the video below, Christine shares her self-care routine for soft, fresh, vibrant skin. 
1. Boom Clean: "A silky, wonderful-smelling cleanser."
Christine starts her day with Boom Clean®, our gentle daily cleanser. 
"Boom Clean is a very nice, light, silky, wonderful-smelling moisturizing cleanser," Christine says. 
Made with gentle ingredients and three different skin conditioners, pH-balanced Boom Clean removes makeup, dirt and impurities without drying your skin. 
Christine says, "Even if I just use Boom Clean, my skin feels so soft and so silky on just the smallest amount."
2. "Your skin looks just vibrant after…"
After cleansing her skin, sometimes Christine uses Boom Scrub™, our deep pore cleanser and gentle exfoliant. 
Unlike some other facial exfoliants, Boom Scrub is made with gentle ingredients that won't scratch, tear or damage your skin.
Daily exfoliation helps remove the dull, dead cells on the surface of your skin. That can leave your skin looking and feeling brighter and softer. 
To use Boom Scrub, apply a small amount to your wet skin and massage it in. For deep pore cleansing, let it sit for five minutes, then rinse clean.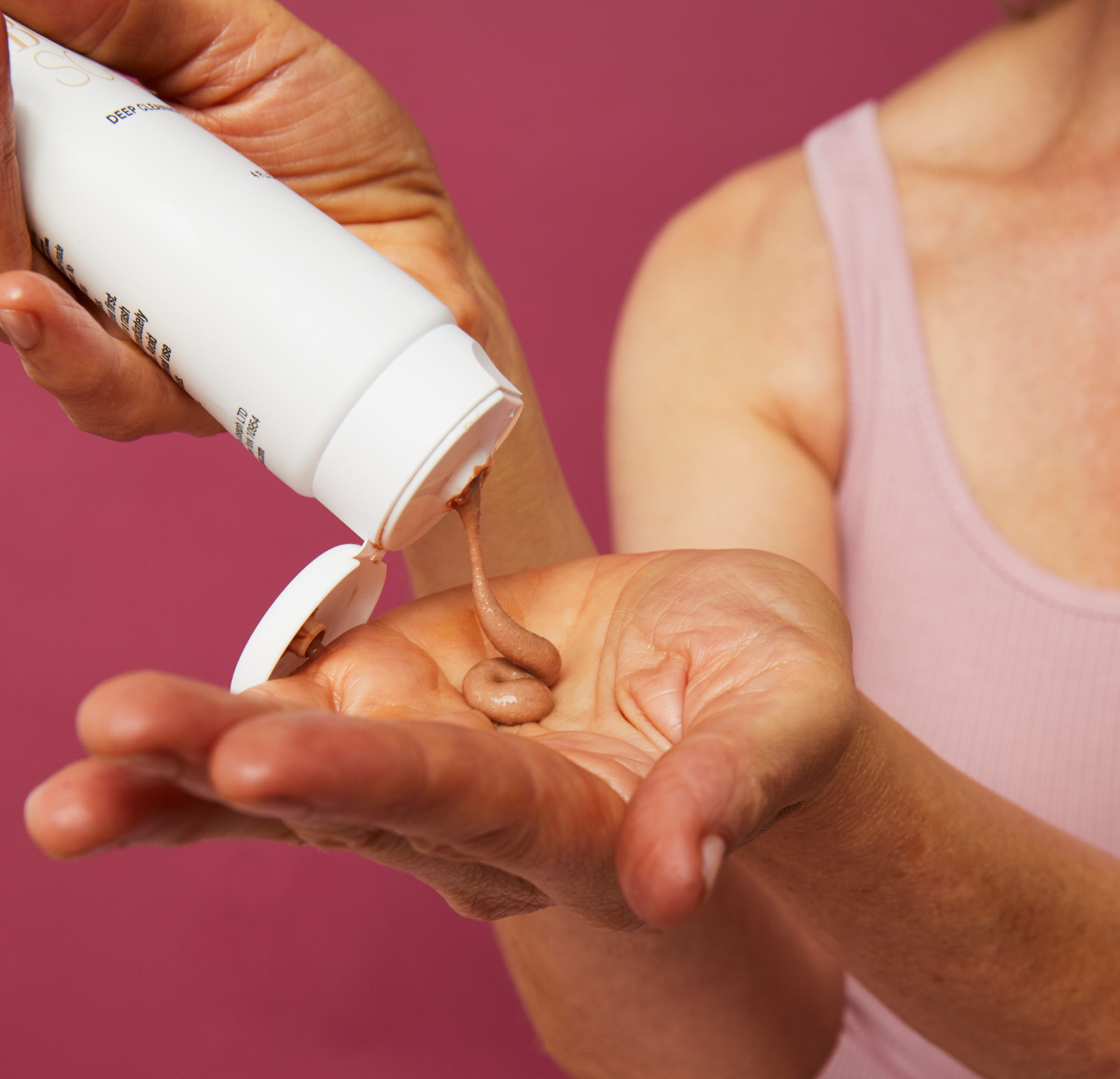 "Boom Scrub is gentle, it smells great. Your skin looks just vibrant after you use it," says Christine.
3. "Pure magic."
One of Christine's favorites is Boomsilk®, our all-natural moisturizer. As Christine says, "This stuff is pure magic."
Made with extra virgin olive oil, beeswax and honey, Boomsilk can be applied anywhere on your body to soften and soothe skin. Christine likes to use it on her hands after she washes them to avoid dryness and irritation.
You can also use Boomsilk® on your face, neck, décolletage, feet, knees, elbows or any other dry areas. Its luscious formula hydrates the skin and leaves a light, dewy finish. 
She says, "I think there is really something to having one-stop shopping with things. You don't have to have a hundred different kinds of products."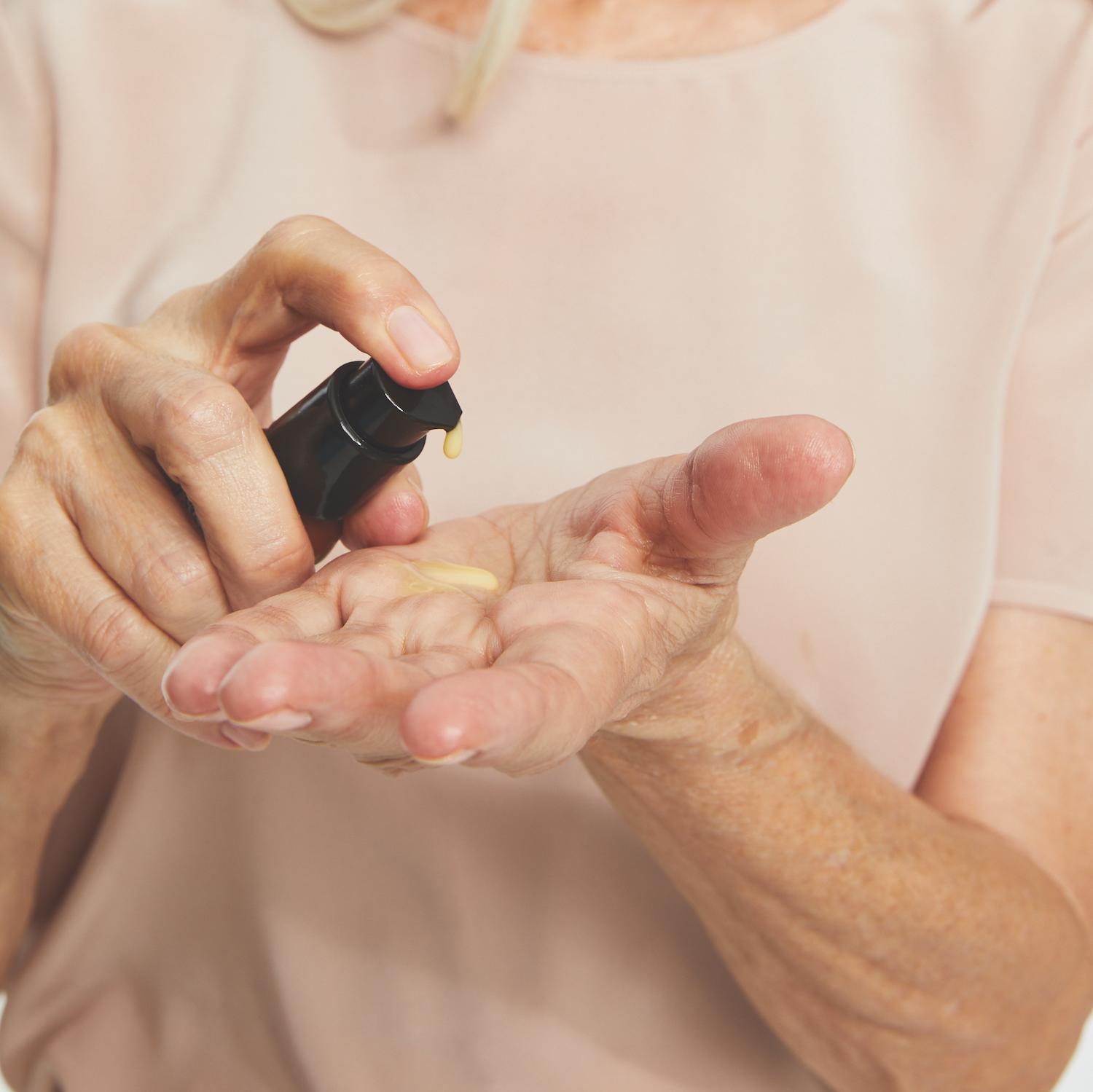 4. "It just feels fantastic…"
"What I absolutely love to use is Boom Nectar®," Christine says. 
This moisturizing serum is made with rich, certified organic ingredients that soften, soothe and brighten your skin for a luminous finish. 
You can use Boom Nectar on its own or under Boomsilk or one of our other moisturizers for silky smooth skin.
"I can't tell you how great that feels," Christine says. "It's just so nice to feel like your skin is soft and moisturized. I just absolutely love that."
5. "Boom Cotton is fabulous."
Next, Christine shows you Boom Cotton®, our shine-control moisturizer. 
"This stuff is amazing," she says. "If you have any problems with shine, like oily skin, Boom Cotton is fabulous."
Christine uses Boom Cotton at night because it's thick and hydrating for her skin. Many other women also use it during the day because it leaves a matte finish that looks great on hot, humid days. 
As she points out, you can use Boom Cotton anywhere on your body. She likes it on her knuckles. "Honestly, since I've been using this, when I look down at my hands, they just don't look as ruddy. It just feels very special," Christine says.
Christine also says, "It's so nice to have a self-care routine because it sort of lifts your spirits, and when you just start your day out with a little lift, a boost, it kind of permeates your day." 
6. "You just need the tiniest amount."
Last, but not least is Boom Gold™, our luxurious facial oil. 
Boom Gold is made with all-natural, organic ingredients, like kukui nut and sandalwood, to create a quick-absorbing oil ideal for delicate areas, like around the eyes. That's just where Christine applies it. 
"I always go straight to the eyes because, obviously, that's where we get the most tender, delicate skin. More sun damage shows up there," she says.
For an extra touch, Christine applies whatever is left to her ears with an acupressure massage. 
"I would go out like this because I just feel fresh," she says at the end. "I'm not hiding anything. I'm not trying to conceal or cover anything up, I just think it's a whole new way to look at makeup and skincare."
We think Christine's fresh look is beautiful.
Tell us… Does your skincare routine feel like self-care? How do you care for your skin? 
CHECK OUT OUR MOST POPULAR CONTENT