Boom Cares: The Not-So-Small Earth-Friendly Changes to Boom Gold
Boom Cares: The Not-So-Small Earth-Friendly Changes to Boom Gold
Care. Love. Respect.
Here at BOOM!, we believe this beautiful earth deserves that—and much more—from all of us.
That's why we're always looking for ways we can serve not just you, but this gorgeous planet we all call home.
Sometimes that means making big decisions like sourcing our ingredients in sustainable ways or choosing eco-friendly materials to ship your Boom to your door. 
At other times, that means making smaller choices that can be just as impactful for the long-term sustainability of the Earth.
Just this year, we made one of these quieter, earth-friendly changes to Boom Gold™.
New earth-friendly look
If you've been shopping in the Boom store lately, you may have noticed our facial oil, Boom Gold, has a new look. 
This longtime customer favorite no longer has an adhesive label. Boom Gold now comes in a brown bottle with its label screen-printed directly onto the glass. 
For the first time, this lightweight facial oil now ships inside a new hemp-made individual folding carton. 
Why did we make these changes? Simple.
It's easier to recycle. 
Boom Gold has always come inside a recyclable glass bottle.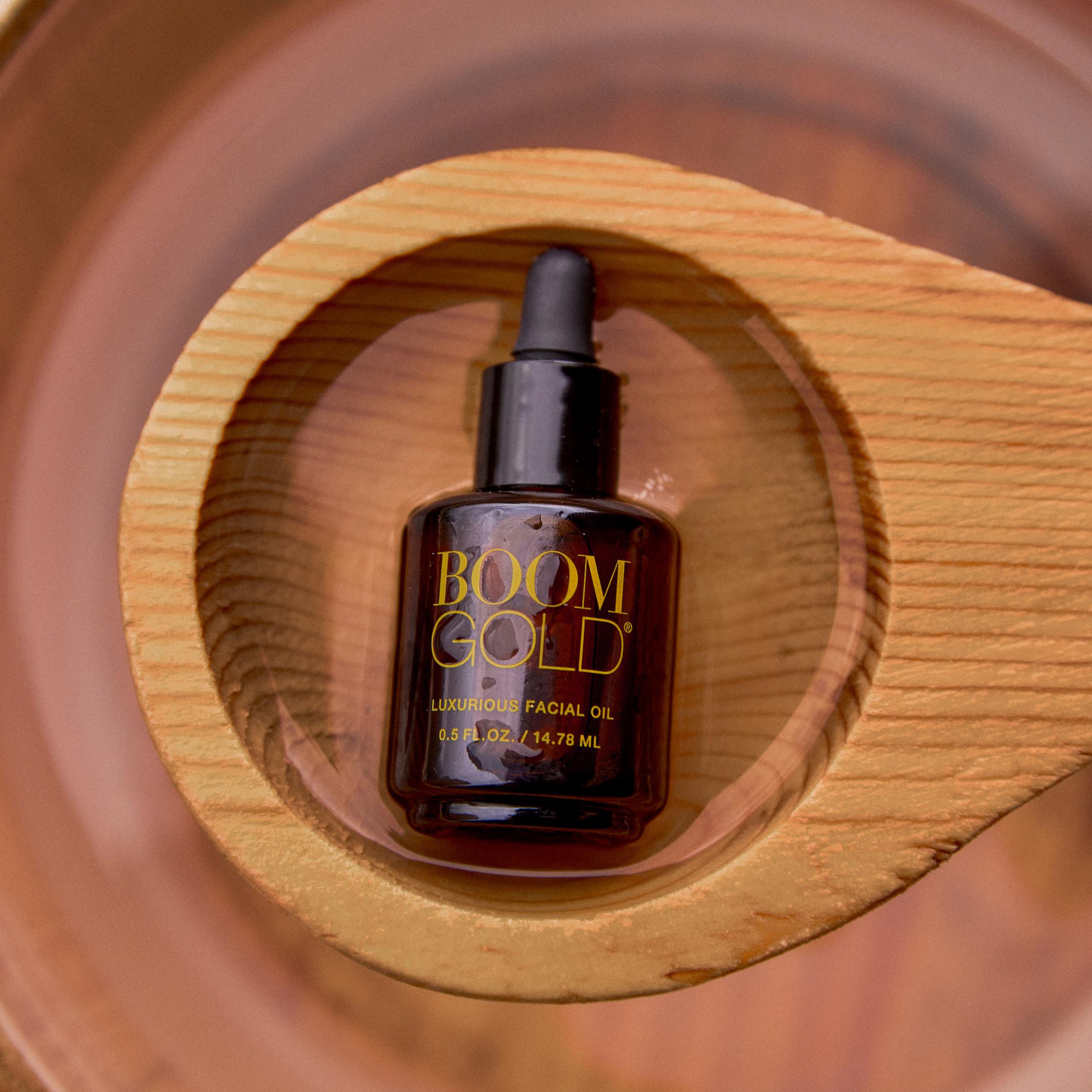 Up until now, you may have had to remove the label in order to recycle it. (This was not easy to do.) Now, with its new screen-printed label, you can simply recycle the bottle as is. That makes it extremely easy to recycle anywhere. 
It uses fewer resources.
By using a screen-printed label, we no longer have to print a label for each bottle of Boom Gold. That means we're using fewer of the earth's resources in production. 
It's safer to ship.
We know glass can be fragile, so we're taking steps to make sure every bottle of Boom Gold ships safely and arrives in perfect condition. 
That's why the new Boom Gold bottle ships inside a new sturdy, hemp-made carton that protects your facial oil all the way to your door.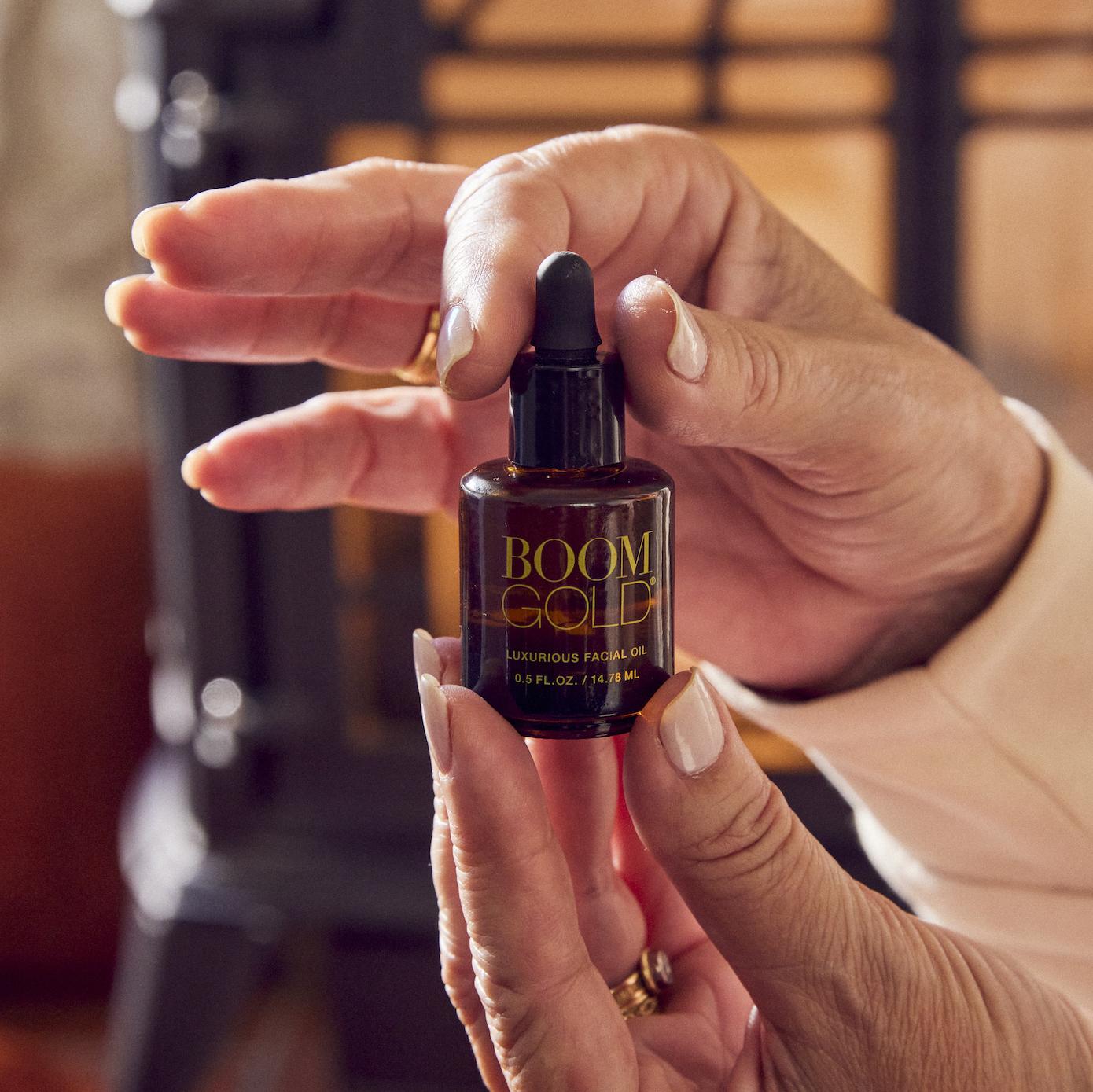 It's easier to read. 
Once, we had to print all of Boom Gold's ingredients and other important information directly onto its adhesive label. 
Now, we're printing all that important information in larger print on the new carton instead. That means it's much easier to read and much easier on your eyes. 
Same ingredients, better bottle. 
Boom Gold has the same organic ingredients and featherlight, quick-drying formula our customers have loved for years.
Every drop of this facial oil still softens, nourishes and rejuvenates the delicate skin on your face and neck. 
This new, screen-printed bottle also features the same easy-to-use dropper, so you can still use your Boom Gold sparingly—and make it last.
The difference is now you can easily recycle it once you're done. 
Just the first of many changes…
Right now, we're looking for more ways to be even more earth-friendly—including using fewer resources to produce our other Boom products.
We can't wait to show you what's coming next. 
CHECK OUT OUR MOST POPULAR CONTENT