Marlo's Fabulous No-mirror Boom Makeup Routine
Marlo's Fabulous
No-mirror Boom
Makeup Routine

Marlo Faulkner has played many roles in her 80 years.
During her life, she has flourished in a variety of environments and explored many interests, including teaching, journalism, opera, symphony and many more. 
While this flexibility is all her own, Marlo credits Boom with helping her shine all that inner beauty outward. 
"Boom has made my 80-year-old skin look fabulous," she says.
Watch the video below to see how Marlo uses Boom cosmetics to reveal the natural beauty 80 amazing years have brought her.
1. Start with moisturizer.

Marlo's routine begins with the Boomstick Trio®, our original pro-age cosmetics. 

She keeps this trio of convenient cosmetic sticks upside down on her dresser so she can easily see which one she's grabbing next. 

First, she applies Boomstick Glo®, our all-natural moisturizing stick, to her lips. As we age, loss of collagen can cause the skin of our lips to crease. Applying moisturizer can help protect and smooth this thinner, more delicate skin. 

Marlo also dabs Boomstick Glo onto the corners of her eyes because, "Some nasty crows have left their feet marks," she says. 
2. "Brings light to that area."
Next, Marlo reaches for Boomstick Glimmer®, our creamy highlighting cosmetic. 

"Now, this isn't a frost, this isn't a glitter. It's called Glimmer," she says. 
Marlo applies Boomstick Glimmer to the tops of her cheekbones, as well as her brows and eyelids. 

Her allergies cause puffy skin under her eyes, so she glides Boomstick Glimmer there, as well. 


She says, "You can see it doesn't change the color, it simply brings light to that area."
3. "Ubiquitous Boomstick Color®."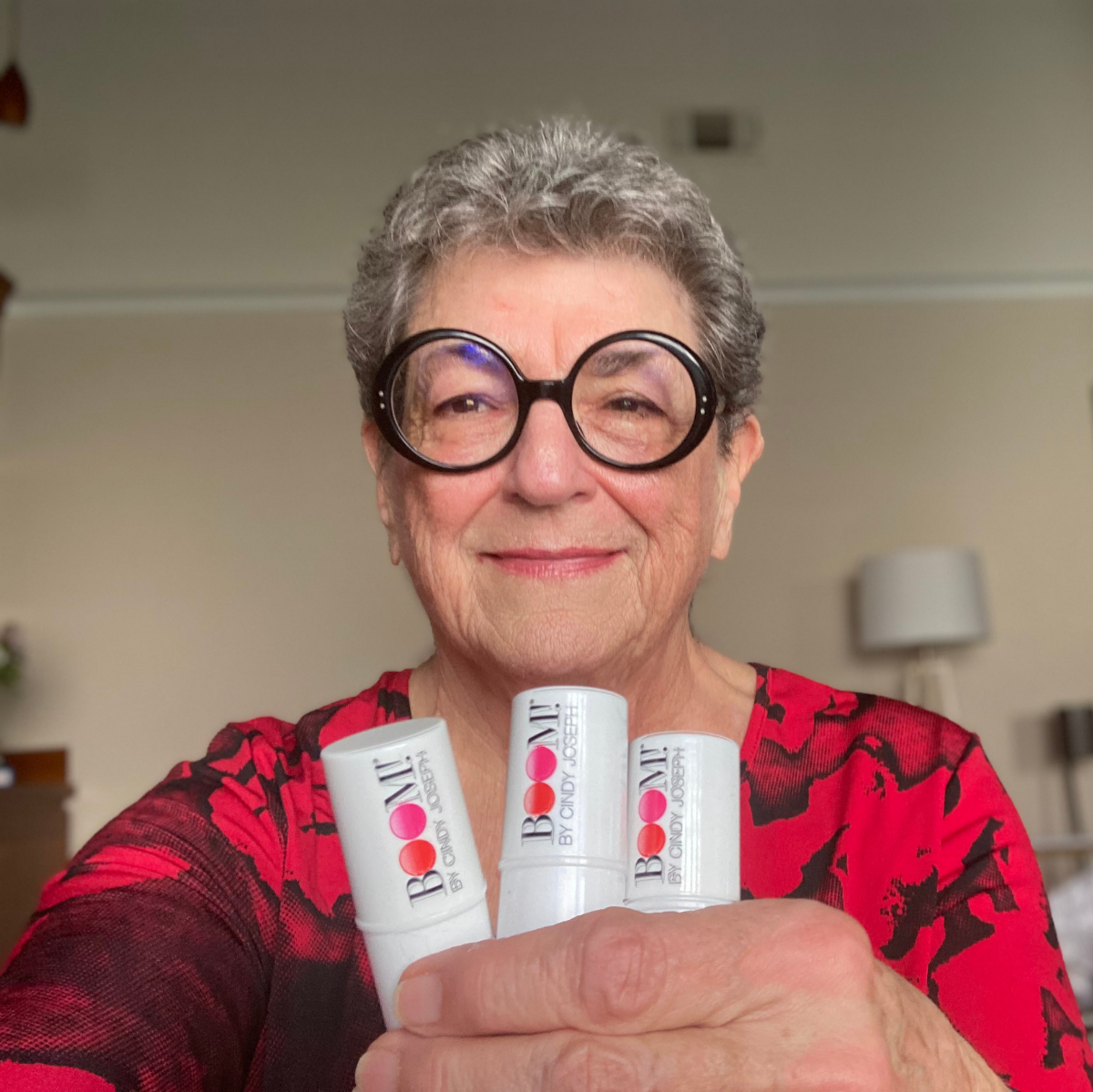 The last piece of the Trio is Boomstick Color, our multitasking cosmetic. 

Marlo uses it as blush and lipstick, but you can also use it as a bronzer and contour. 
As she points out, Boomstick Color works with every skin tone to provide natural-looking warmth wherever you apply it. 
Marlo applies all three Boomsticks easily—without a mirror. 

"You notice," she says, "this is not a precise operation here. I'm just simply doing it with my hands. I could do this on a plane, in a car, anywhere where I didn't have a mirror."
4. "A really perfect mascara"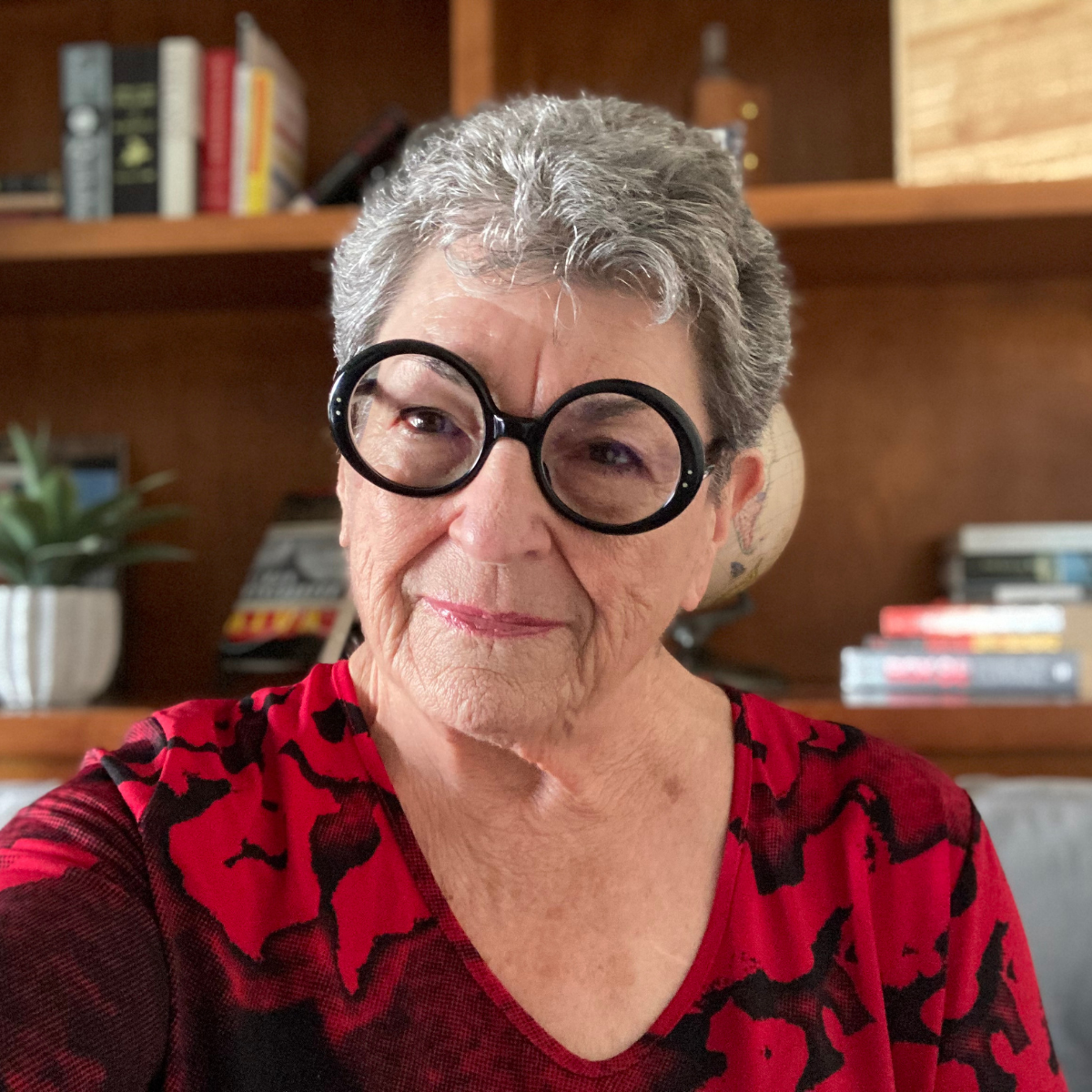 Next, Marlo is ready to highlight her beautiful eyes. She chooses Boom Bright™, our soft-black mascara designed for the thinner, shorter lashes we tend to have at this age.
She says, "The great thing about this mascara is that it doesn't smear, it doesn't flake. It doesn't cause you to look as if you're a raccoon if you take a nap. It's just a really perfect mascara."
Marlo applies two layers of Boom Bright, one to the tops of her lashes and one beneath for extra volume.

Boom Bright's water-based formula is gentle on sensitive eyes and easy to remove at the end of the day. 
5. A fabulous finish with subtle shine.
Last, but not least, she dabs a bit of moisturizing Boom Gloss™ on her bottom lip. 

This translucent gloss can be worn alone or on top of your lipstick, as Marlo does, to seal in color and moisture.
Boom Gloss adds a subtle shine to brighten any look. 
With that, her makeup is complete. 
"I put my glasses on—and this is what I look like," she says. "I'm Marlo. I'm 80 years old. Boom has made my 80-year-old skin look fabulous."
We completely agree, Marlo—you do look fabulous.
Tell us… What do you think of Marlo's no-mirror makeup routine? Have you ever applied Boom without a mirror?
CHECK OUT OUR MOST POPULAR CONTENT