Margo's Beautiful and Unusual Boomstick Routine
Margo's Beautiful
and Unusual
Boomstick Routine
Personal trainer. Author. Podcaster. Functional fitness coach.
At 56 years old, Margo Rose's passion for fitness has touched every aspect of her career. She has been a personal and group fitness trainer for the last 20 years. 
Margo specializes in functional fitness. She helps her pro-age clients maintain a level of functionality so they can lead more confident, vibrant lives. 
Years ago, Margo discovered Boom (and her pro-age philosophy) from Cindy Joseph herself. 
She has loved Boomsticks ever since. Today, this Ambassador shows you why.
Watch the video to see how Margo applies all three Boomsticks for a beautiful look that matches her on-the-go trainer lifestyle. (Hint: this routine includes a few unusual tips.)
1. Moisturize anywhere (except fingertips).
The Boomstick Trio® includes all three original Boomsticks. As Margo says, everyone uses these Boomsticks a little differently.
She starts her personal routine with our all-natural Boomstick Glo®.
In less than a minute, Margo applies this moisturizing stick anywhere she wants to feel hydrated. 
That includes her forehead, brow bones, lips, cheeks, under and beside her eyes, around her mouth and all up and down her neck.
"It doesn't have to be limited to any one part of your body," she says.
When she's away from home, Margo uses Boomstick Glo to quickly hydrate the backs of her hands and cuticles. 
The best part? She doesn't have to use her fingertips to apply this moisturizer.
"If you're handling your phone or your glasses, your fingertips aren't covered with moisturizer, so you can go about your day," she says.
2. "It de-emphasizes wrinkles."
Next, Margo switches to the multitasking Boomstick Color®.
Made with sheer pigments, Boomstick Color easily blends to match your complexion.

Margo lightly applies this universally flattering color to her cheeks. Then she uses her fingertips to blend this natural-looking blush up the sides of her face. 
On her forehead, Margo is starting to show a few fine lines. So, she likes applying this rich, berry-colored Boomstick there too.
"It actually de-emphasizes some of those areas with wrinkles," she says.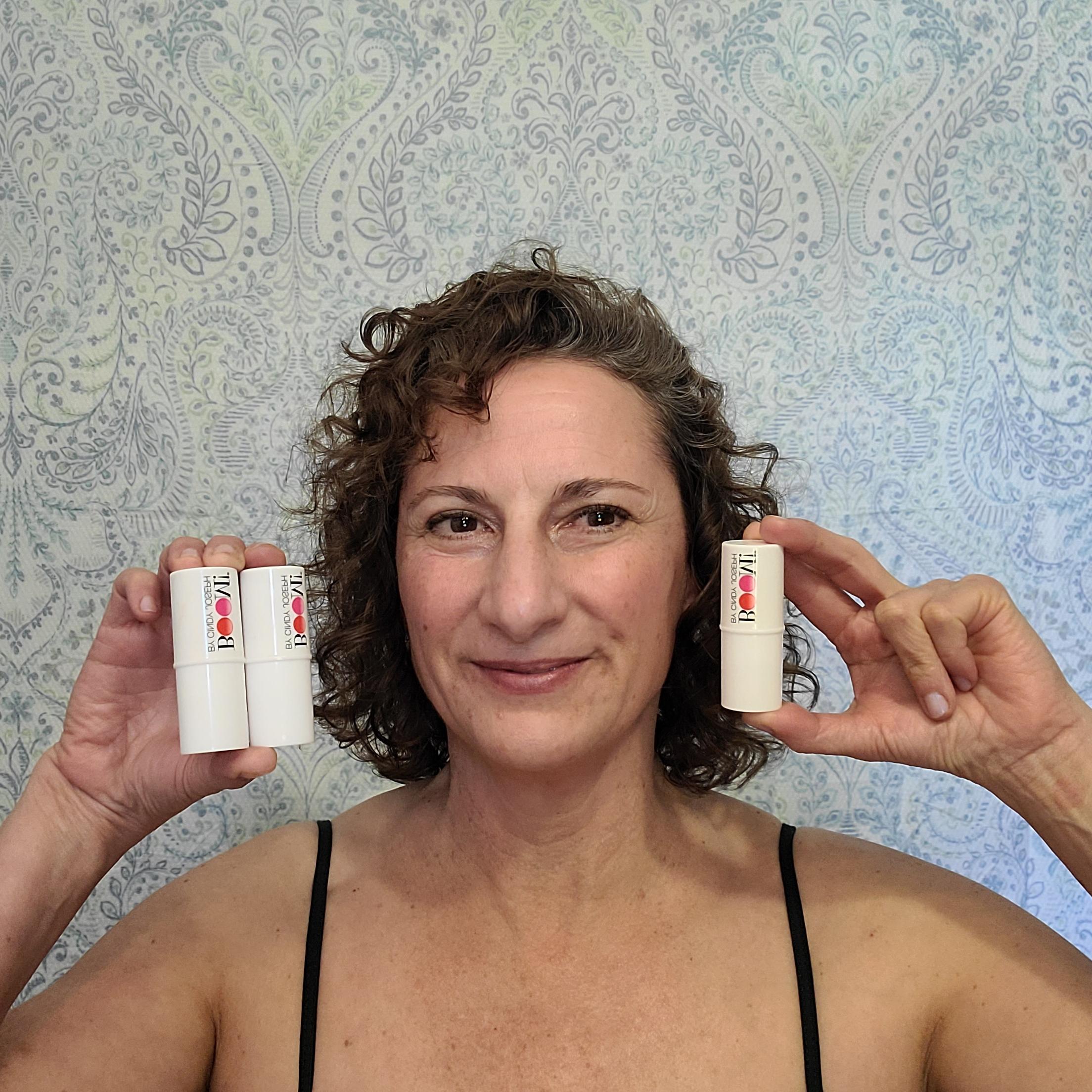 3. Apply this before Zoom calls.
Margo gets the most out of Boomstick Color by applying this multitasker in a few other ways.
She "goes a little glamorous" by applying Boomstick Color as a lovely, natural-looking lipstick. 
But she doesn't stop there.
Margo also uses this multitasker to add extra color to the paler areas along her jawline, neck and décolletage.
Good tip: Margo applies Boomstick Color to these spots before Zoom calls, so she can even out her skin tone (and enjoy a sun-kissed look) on camera.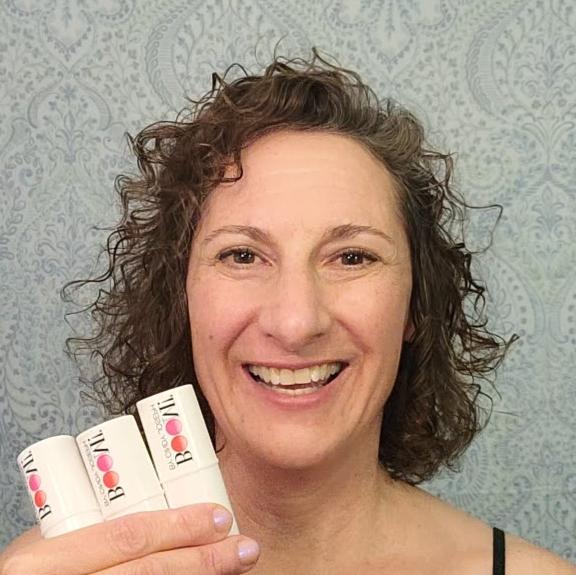 4. Trade your concealer for this.
When Margo first discovered BOOM!, Cindy Joseph really inspired her.
"She had this philosophy that beauty follows function. If we give ourselves the things we need to feel good…then we'll glow from within."
Cindy's words inspired Margo to finally embrace her dark under-eye circles—and perhaps even see them as beautiful. 
"I was like, BOOM!... Just the idea that maybe dark circles aren't unattractive was really revolutionary," Margo says.
Fast forward to today, and Margo wears Boomstick Glimmer® instead of concealer.
Margo applies Boomstick Glimmer on the inner corners of her eyes. Then she sweeps this Boomstick over her eyelids and just under her brows.
This highlighting Boomstick draws just the right attention to her eyes, so she no longer feels the need to wear concealer or other under-eye makeup.
"I don't bother with under-eye makeup anymore, which feels really like a revolution to me," she says. 
"What do you like about Boomsticks?"
That's how Margo applies her Boomsticks for a beautiful, pro-age look—in less than 10 minutes. 
Now she's curious about your Boomstick routine.
"I'd love to see in the comments what you like about Boomsticks, where you use them, and how you feel when you're ready to be out the door, being yourself?"
We love to hear from you too.
CHECK OUT OUR MOST POPULAR CONTENT