Marcella Friel's "Boom Beauty" Demo

Marcella Friel's
"Boom Beauty" Demo

Boom Ambassador Marcella Friel is a mindful-eating mentor, author and chef in Colorado. 
58-year-old Marcella has been a fan of Boom for a while…but felt like something was missing. 
Marcella says, "I have been feeling like, 'I really wish Boom would make a mascara because I love everything that Boom does.'"
So when we introduced Boom Bright™, our mascara made especially for women over 50, she was excited to try it out. 
In the video below, Marcella shares her daily makeup routine with Boomstick Trio®, then tries out Boom Bright for the first time.
Creating the "Boom beauty" glow
Before Marcella tries out Boom Bright, she applies her makeup using the Boomstick Trio.
She begins with Boomstick Glo® our convenient moisturizing stick. 
Boomstick Glo is made with organic extra virgin olive oil, beeswax with pollen and propolis and honey with naturally occurring royal jelly. (You'll find these same ingredients in our best-selling moisturizer, Boomsilk®.)
This all-natural moisturizer is wonderful for dry areas of your face, hands, feet or elbows—anywhere you need protective hydration. 
"I often start with a little bit of Boomstick Glo moisturizer around my eyes. It feels like the area where I most need moisture," Marcella says. 
She applies this creamy moisturizer around her eyes, on her cheekbones and along her jaw.
Next, she applies Boomstick Glimmer®, our highlighting Boomstick. 
This creamy cosmetic can bring a touch of radiance to your skin. The pearlescent pink tint adds a subtle shimmer to your cheekbones, collarbones, brow bones and more. 
Marcella likes to use Boomstick Glimmer on her eyelids and along her brow bones and cheekbones.
She says, "I'm starting to feel that Boom beauty coming on already."
Finally, Marcella adds a warm glow with Boomstick Color®. 
Boomstick Color, our multitasking cosmetic stick, is lipstick, blush, bronzer and contour.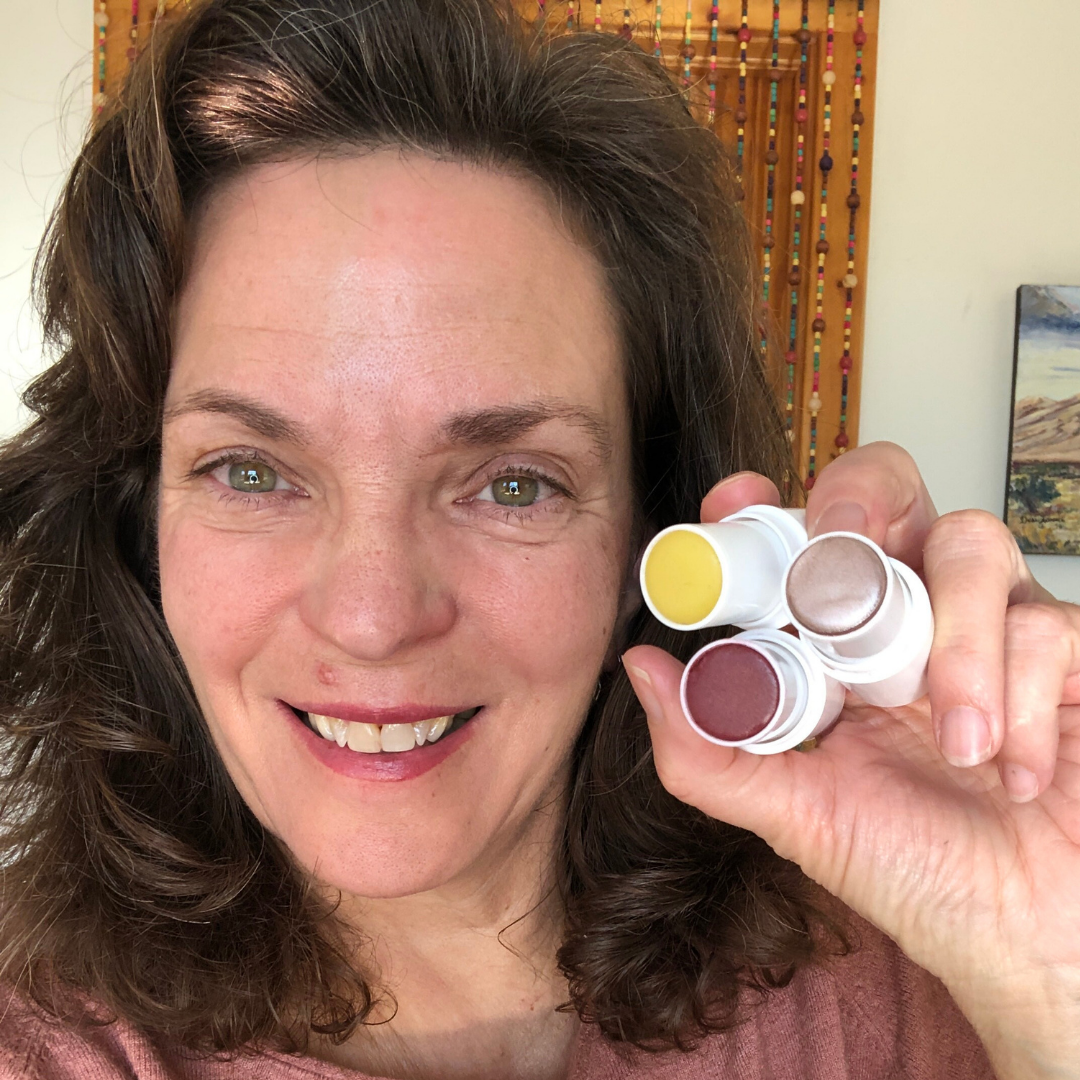 We call Boomstick Color "the color of happiness" because it mimics the look of a happy or excited blush. 
Marcella says, "I don't need a whole huge amount of this, but just enough to give me a little rosy glow." 
She applies this sheer, berry-tinted cosmetic to her lips, the apples of her cheeks and the top of her forehead for a sun-kissed look.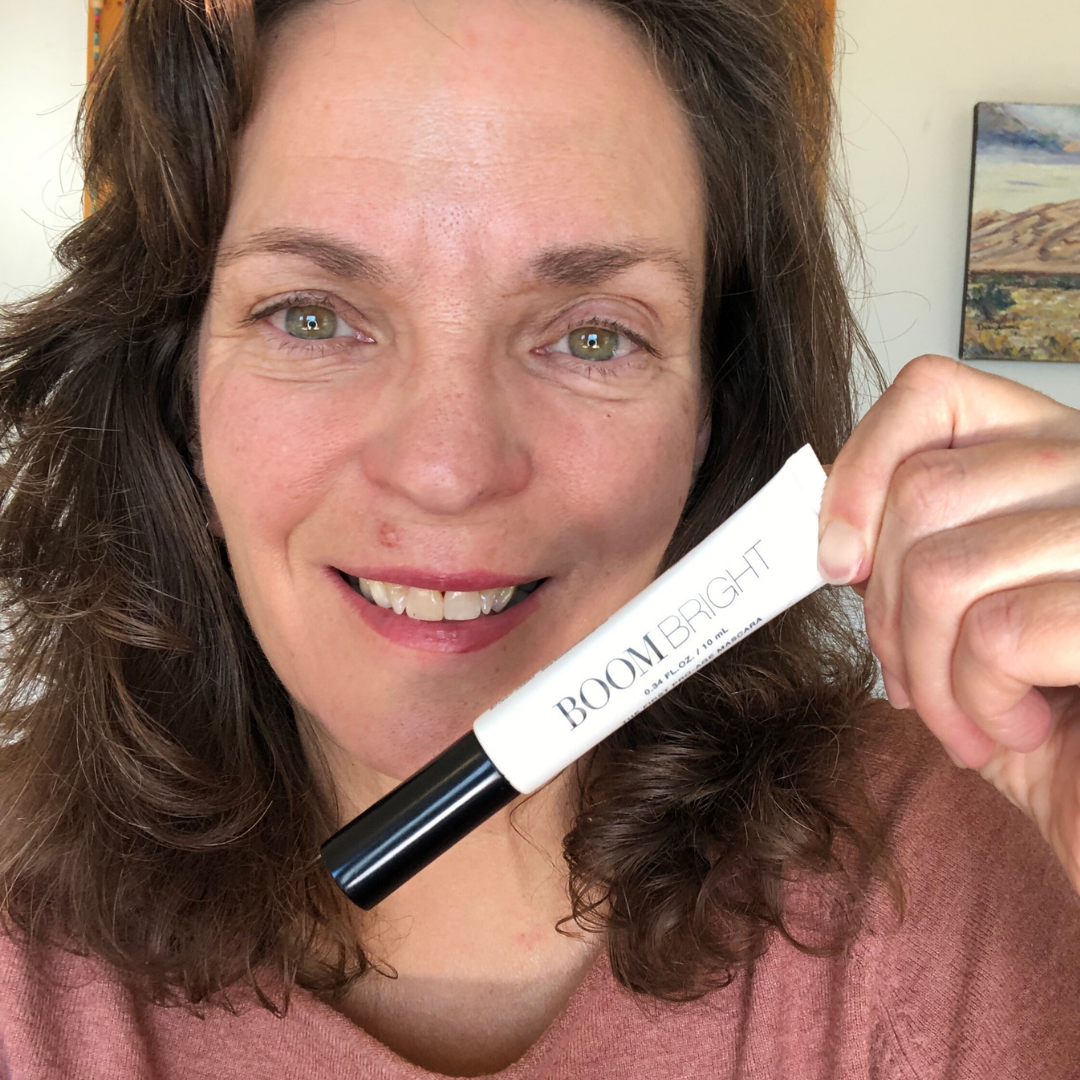 Trying out Boom Bright
Finally, Marcella is ready to try out Boom Bright.
Made especially for women over 50, we created Boom Bright to lengthen, separate and moisturize the shorter, finer lashes we tend to have as we age.
Unlike waterproof mascaras made with harsh, drying ingredients, we included moisturizing, plant-based ingredients in this gentle mascara. 
The light, subtle scent of Boom Bright comes from Rosa Damascena Flower Oil, which also acts as an emollient to help your lashes retain their moisture.
Boom Bright's clean-beauty formula is vegan, gluten-free, soy-free, paraben-free, phthalate-free, GMO-free and, of course, cruelty-free. (We never test on animals.)
This moisturizing mascara is designed to resist smudging and flaking to stay on all day while remaining easy to remove with warm water or a bit of moisturizer. 
Marcella also points out, "It comes in sustainably produced packaging. The tube is made from sugarcane and the brush can be upcycled, so we are benefiting the planet here."
Marcella was a fan of brown mascara before but she loves the way soft-black Boom Bright looks on her lashes. She says, "I like it, and that's what matters." 
"Look how pretty she looks!" she says. We agree.
What do you think of Marcella's lovely, sun-kissed glow? Have you tried Boom Bright yet? If so, what did you think?
CHECK OUT OUR MOST POPULAR CONTENT