Love the Way Your Skin Feels with Kristine's Boom Routine
Love the Way Your
Skin Feels with
Kristine's Boom Routine
Want to know how Kristine gets her glow? You're about to find out.
This 55-year-old pivoted from a long career as a physical therapist to a new career as a writer and novelist. 
A "closet writer" since her 20s, she recently drafted a complete novel, loosely based on her own experience of finding love in her 50s. 
She says, "The creative process has been nothing short of magic, and I'm glad I took it on."
This remarkable Boom Ambassador also says working with BOOM! just "makes sense." 
"​​This is a company that celebrates women as we age, recognizing our beauty, contributions and strengths," she adds.
In the video below, Kristine shares the Boom skincare she chooses daily for healthy, glowing skin.
1. Boom Clean
®
for "good and healthy" skin. 
First, Kristine shows you Boom Clean, our gentle daily cleanser. 
"I can't say enough about this product," she says. "I have not found a product, at this age, that leaves my skin feeling the way this one does."
Boom Clean is formulated with gentle cleansing agents and three different skin conditioners to leave your skin free from dirt, makeup and excess oil, without drying you out. 
In fact, Kristine says, "My skin doesn't feel drawn or tight, it feels good and healthy after I use this product, and I just love it."
2. Boom Gold™: A drink of water for your skin.
Next among Kristine's favorites is Boom Gold, our luxurious facial oil. 
She likes to use this nourishing oil in the winter to soften and soothe her skin. 
"I just fill a little dropper full," Kristine says, "Put it in my hands, two or three drops. You don't need more than that."
Boom Gold contains all-natural, organic ingredients chosen for their ability to quickly hydrate and nourish your skin without leaving a greasy or oily residue. 
Kristine applies it to her neck and face.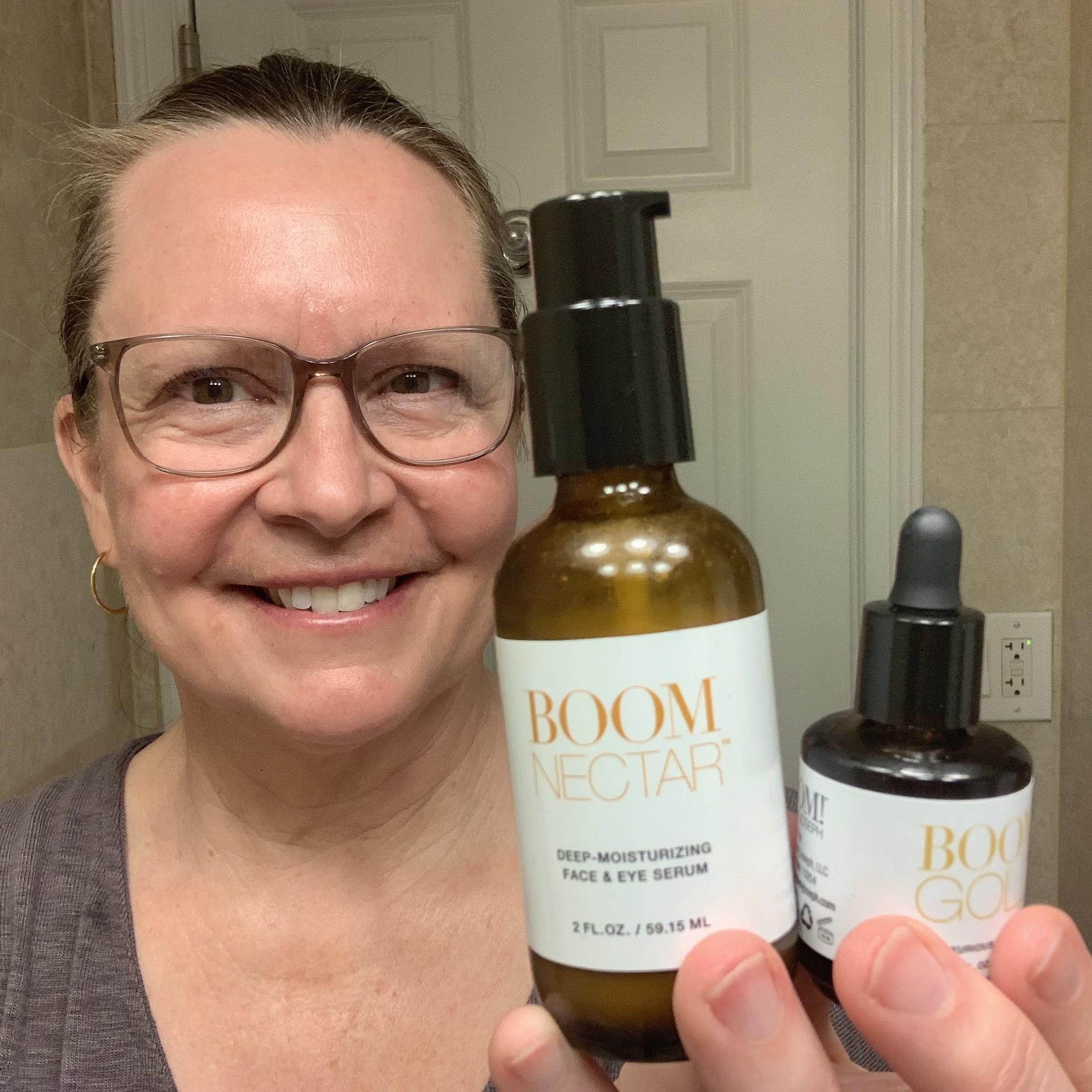 We also suggest dabbing this high-quality facial oil into the skin around your eyes or anywhere else you need quick and effective moisture.
"To my skin," she says, "Boom Gold is just like a drink of water. It soaks it in."
3. Boom Nectar
®
for extra love.
"When I feel like my skin needs a little extra love, then I will add a layer of Boom Nectar," Kristine says next. 
This rich, moisturizing face and eye serum is packed with all-natural ingredients, including oils, emollients, humectants and nutrients for softer, smoother, brighter skin. 
Just a few drops of this silky serum bathes your face, neck and décolletage in luscious, nourishing moisture. 
Kristine says, "If I had to choose my favorite product, I think this would be it."
These three Boom are all Kristine needs for her daily routine—and we love her glow. 
Tell us… Do you have a favorite Boom moisturizer? If so, share it in the comments below. 
CHECK OUT OUR MOST POPULAR CONTENT