Lisa's "Glimmery and Shimmery" Makeup in 5 Steps
Lisa's "Glimmery
and Shimmery"
Makeup in 5 Steps
57-year-old Lisa Fournier was born and raised in New Jersey, where she trained and worked as a speech-language pathologist for 15 years. 
Lisa then fell in love with floral design during her time in London. That was the start of a passion that became her second career.
These days, Lisa is a mom to six—three adult children and three dogs—who lives and works as a floral designer in South Carolina.
She discovered BOOM! while searching for cosmetics and skincare to support her changing skin. 
Lisa knew immediately BOOM! was right for her because, she says, "flowers have natural beauty and so should we!"
In the video below, Lisa shows you her "really quick, really simple morning makeup routine."
Step 1: "Boomstick Glo is perfect for me..."
Lisa starts with Boomstick Glo® on her neck and chest. 
Made with honey, olive oil and beeswax, this all-natural moisturizer adds nourishing moisture to your skin with just a dab or two. 
Boomstick Glo also fits easily in your pocket, purse or carry-on for soft skin on the go.
Step 2: "It's this beautiful berry color and you don't need much."
Lisa's second step is applying Boomstick Color®—her favorite Boomstick—on the apples of her cheeks and her lips.
"It's this beautiful berry color, and you don't need much. It is buildable if you want a little more," she says. 
We call Boomstick Color "the color of happiness" because the sheer pigments blend with your skin tone to create a look of sun-kissed warmth and happiness.
You can also dab Boomstick Color on your lips, temples and neck for a natural-looking glow.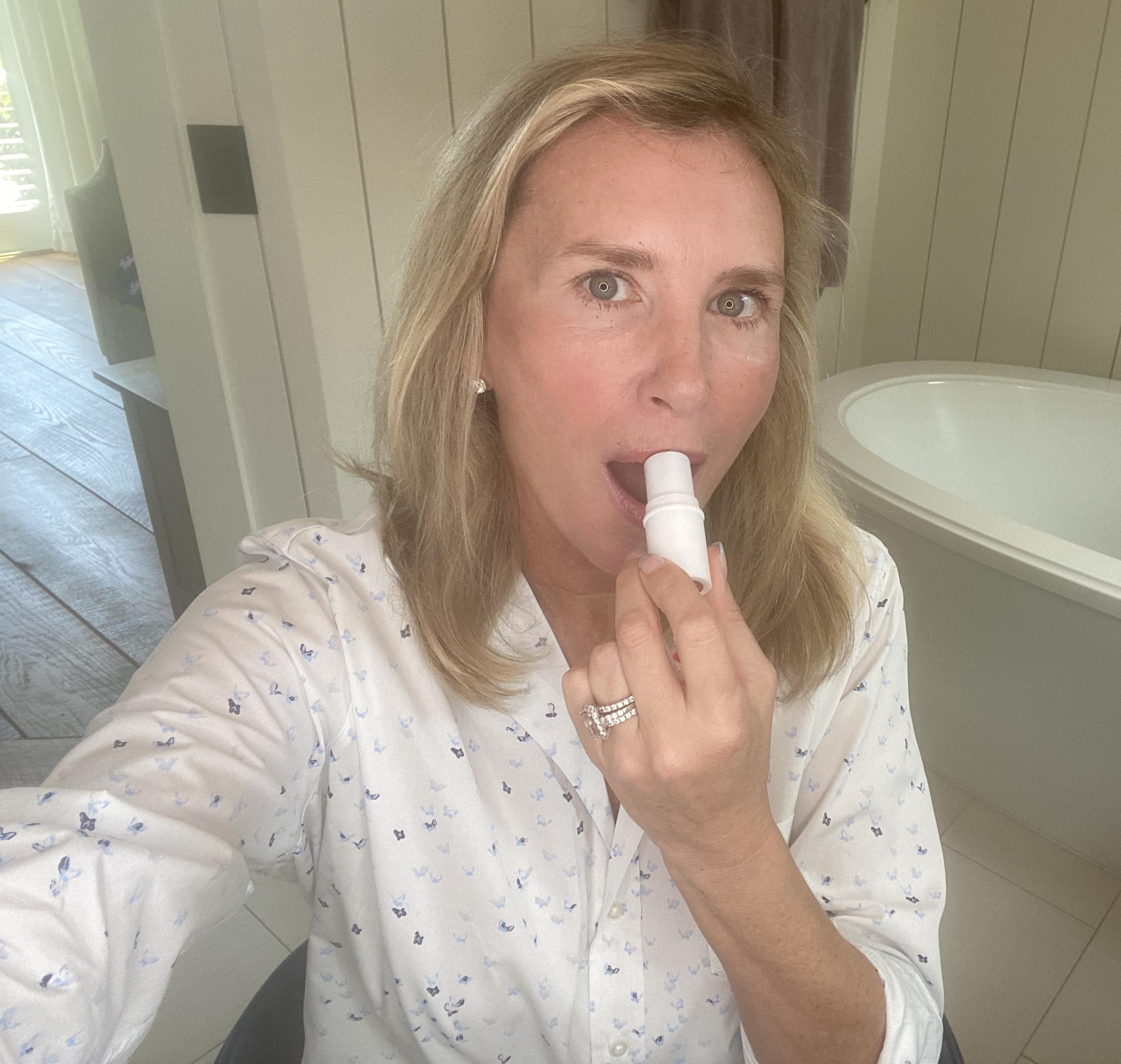 Step 3: "This is a little pizzazz in a stick."
Next, she applies Boomstick Glimmer®, our highlighting cosmetic. Lisa also uses it in a unique way we haven't seen before. 
Lisa applies this shimmering cosmetic on top of her cheekbones as a highlighter, then under her cheekbones and jaw and along her hairline like a contour.
She also applies it as an eyeshadow. Unlike powder cosmetics, the creamy formula won't settle into creases while it draws light and attention to your eyes. 
Lisa says, "I don't use powder eye color anymore. As you age, things happen to your skin naturally, and things crease and flake and fleck off. With this cream Glimmer, it just stays on all day."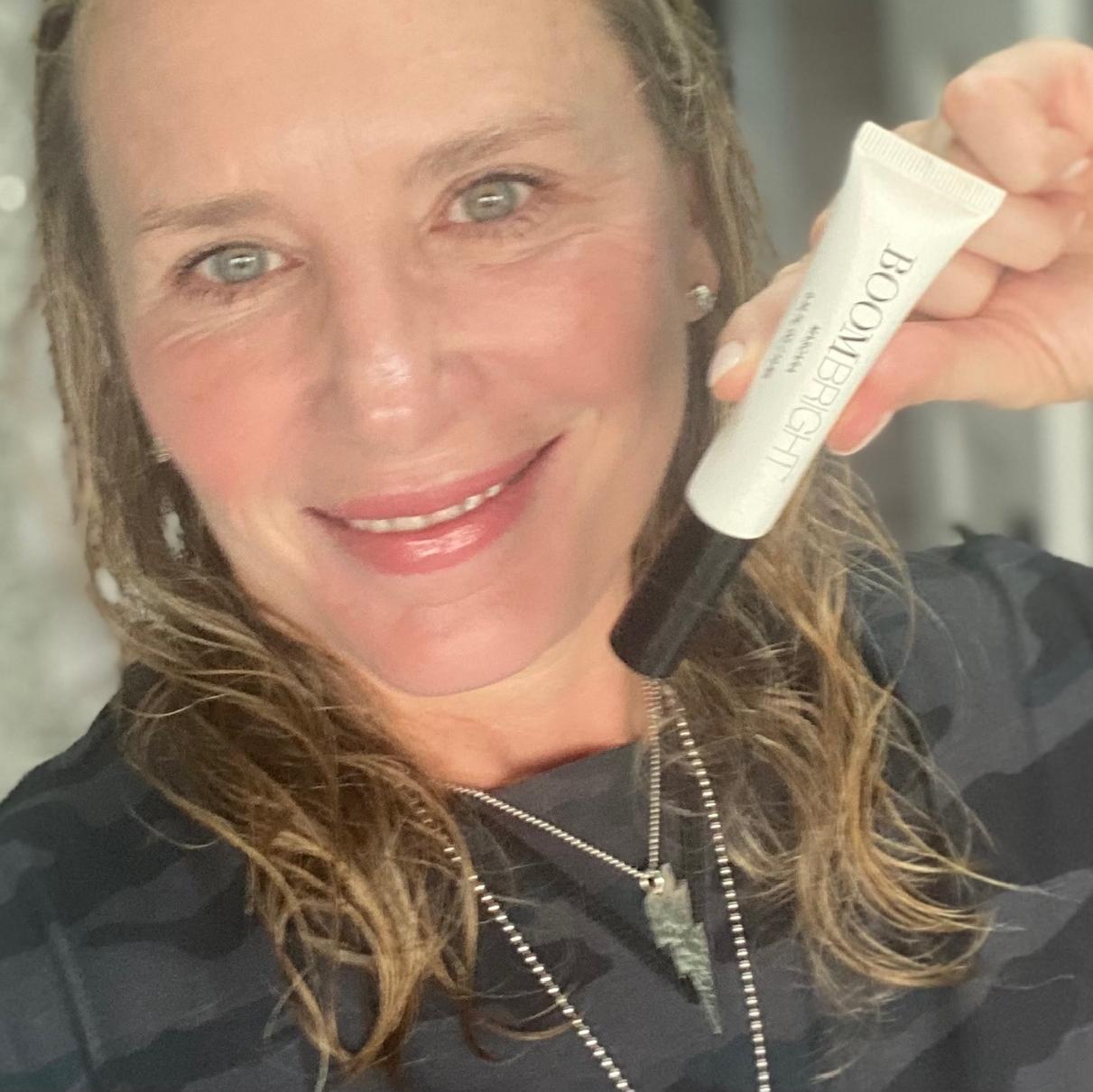 Step 4: "They called it Boom Bright because it really brightens and opens up your eyes."
Now, Lisa is ready to highlight her eyes. 
She brushes on Boom Bright™, our lengthening and separating mascara. "I love this," she says, "because it does not clump together."
Designed for sensitive eyes with gentle, nourishing ingredients, Boom Bright is buildable, for the look you want without clumping or flaking.
Step 5: "The pièce de résistance is the Boom Gloss."
In her final step, Lisa applies Boom Gloss™, our moisturizing lip gloss, over her lips for subtle, glossy shine.
"I also love it because it's not only this luscious, luscious gloss, it's a serum for your lips," she says.
Boom Gloss adds the perfect finishing touch—although Lisa likes to apply Boomstick Glimmer on top for a final dash of shimmer.
With that last Boom, Lisa's look is complete. "As you can see," she says, "I'm glimmery and shimmery all over and I'm ready for the day."
We love her glow.
Tell us, what do you think of Lisa's finished look? 
CHECK OUT OUR MOST POPULAR CONTENT