Kristine's Boom "Just Kind of Meets Me Where I Am."
Kristine's Boom "Just Kind of Meets Me Where I Am."
55-year-old Kristine lives in Gaylord, Michigan. This self-described "Bigfoot hunter" was a physical therapist for over 20 years. Now, she's a writer using her lifelong love of words to create a new life.
Kristine's also a big fan of BOOM! and our pro-age philosophy. 
She says, "Part of the pro-age philosophy of this makeup and skincare line is that it's all about enhancing. It's about revealing and it's not about covering up, which I'm really in line with."
In the video below, Kristine shows you how she uses Boom cosmetics to create what she calls a "really easy, really simple makeup routine."
"I can't mess it up," she says, "Which for me is huge."
"Yes, please!" to Boomstick Glo
Kristine begins with Boomstick Glo®, our all-natural moisturizing stick. 
"I love to use this around my delicate eye area," she says, "And like all of the moisturizers from this skincare line, my skin just says, 'Yes, please!'"
Made with olive oil, honey and beeswax, Boomstick Glo is a quick and convenient way to soften and soothe skin anywhere on your body.
Kristine uses it on her laugh lines. She says, "I actually like these lines because they mean I've smiled and laughed a lot."
Highlight with Boomstick Glimmer
Next, Kristine applies Boomstick Glimmer®, our creamy highlighting cosmetic. "There are lots of ways you can use this product," she says.
Kristine applies it to her eyelids, cheekbones and brow bones for subtle shimmer and radiance. You can also dab this pearlescent cosmetic on the inner corners of your eyes, neck, cupid's bow and the center of your lips to accentuate them.
"I don't want a lot," Kristine adds. "I've never been a big makeup person and this just kind of meets me where I am, which I love."
Boomstick Color
for a little bit of glow
After adding beautiful shimmer to her skin, Kristine is ready for Boomstick Color®, our deep-berry, multitasking cosmetic. 
Kristine says, "I am just going to put this along my cheekbone, give myself a little bit of color. And again, I can't mess it up, which for me is huge."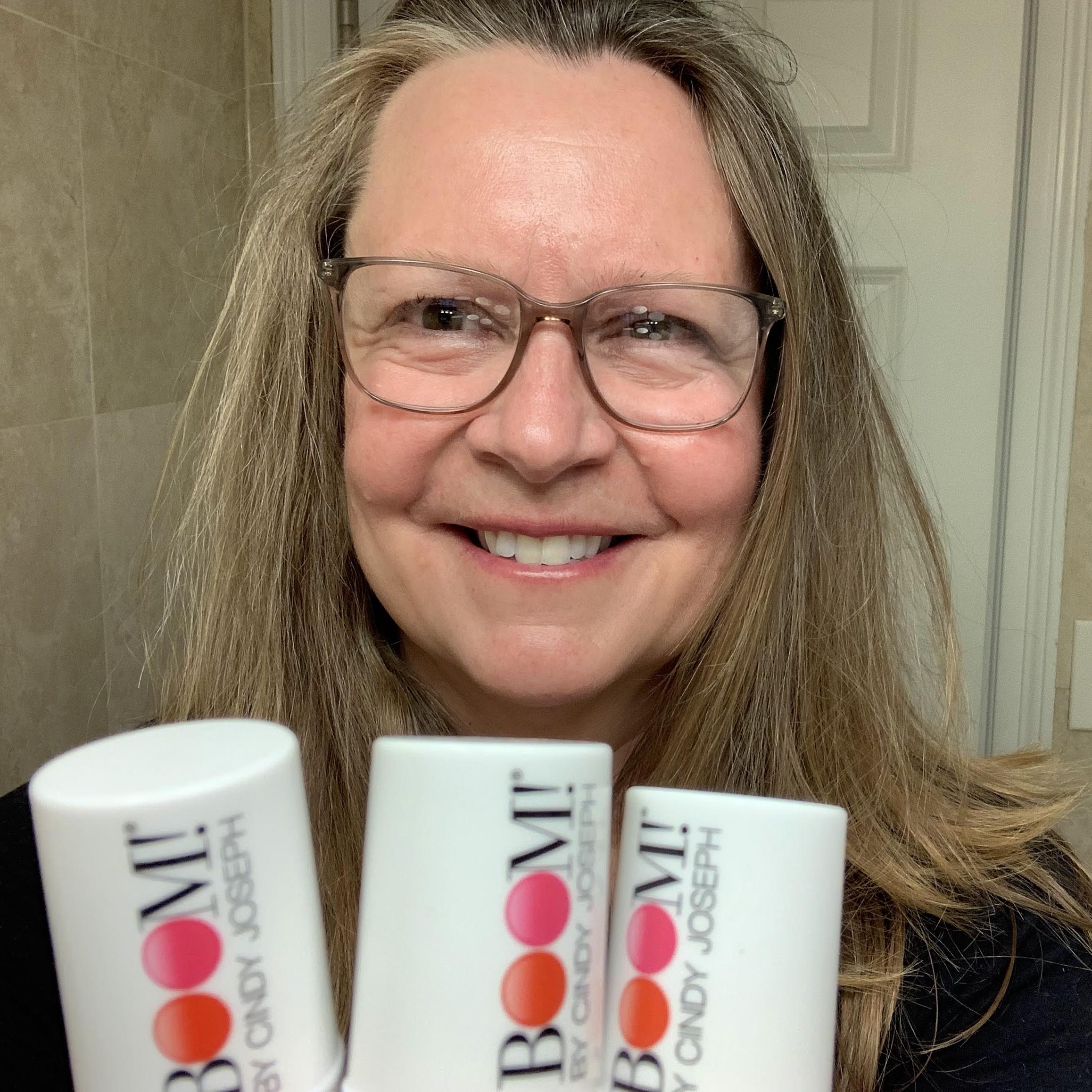 Boomstick Color is made with sheer pigments that blend to match every skin tone in every season. It can also be used as lipstick (like Kristine does), blush, bronzer and contour.
"This just gives me a little bit of a glow that I'm looking for," she adds.
Nourishing and moisturizing Boom Bright
Finally, Kristine is ready for Boom Bright™, our gentle mascara. 
"It's nourishing, it's moisturizing, and I just use a little to enhance," she says.
Boom Bright is made for sensitive eyes with a gentle, water-based formula that won't irritate your eyes or your skin. It also comes off easily with warm water, cleanser or moisturizer.
This soft-black mascara resists smudging, flaking and smearing, for easy all-day wear. 
With that last step, Kristine's daily look is complete. "I'm ready to go," she says.
What do you think of Kristine's look? Share your favorite Boom cosmetic in the comments below.
CHECK OUT OUR MOST POPULAR CONTENT