Kat's Journey: Silver Hair and Inner Strength

Kat's Journey: Silver Hair
and Inner Strength

Boom Ambassador Kat Garza is a pro-age inspiration. 
She raised seven children, including six daughters.

Kat decided to embrace her natural silver hair years ago. Ever since, she's been on a journey of self-discovery.
For Kat, being pro-age is also about teaching her daughters to love themselves just as they are. 
Watch the video or read on for more.
Transcript 
Hi, I'm Kat. And I'm sitting out here enjoying my garden, surrounded by my herbs. I love to cook so this is just a really fun place for me to be. 
The pro-aging movement is something that really excites me. For many years, the media and entertainment industries just did not accept women of all shapes and sizes. 
Now it seems to be changing and I do think Cindy Joseph had a part in that. She was a trailblazer with her modeling career in her 60s with her gray hair. She's the one that encouraged me to embrace my gray hair. 
When I decided to do that, though, I had to really do some digging down deep inside.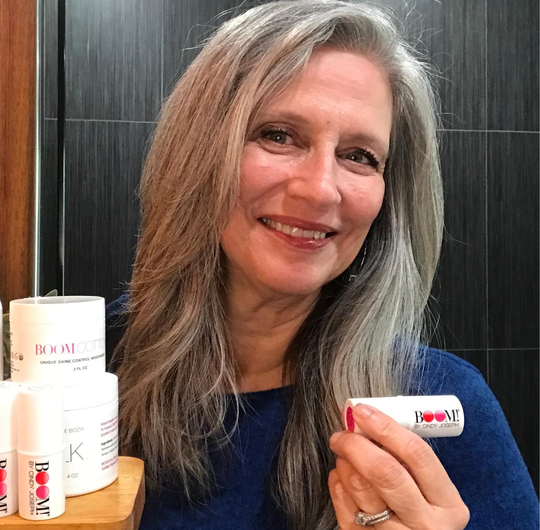 Many people want to be critical… they want to tell you you're going to look old or long hair shouldn't be worn on older women. 

It's really more about our insides—inside what's going on rather than our hair. I had to learn who I was and embrace myself. I had to find my inner strength. 
That's what I want for my daughters. I have six of them and I didn't always do the right thing by them as far as encouraging them to just be themselves. 
We're often told to walk by our own beat and take our own path and don't listen to peer pressure. Yet when it comes to beauty, it's "Oh my goodness, color your hair" and "wear this makeup" and "cover that up" and "lift this" and "tuck that." 
It's just time. It's time to just be ourselves and to love who we are. And it's an exciting time to be a mature woman.
Want to hear more from Kat?
CHECK OUT OUR MOST POPULAR CONTENT