Kathy's Short but Sweet 

One-bag Boom Routine
Kathy's Short but
Sweet One-bag
Boom Routine
54-year-old Kathy Dibiasi is an educator in New York.
Kathy's also a working actress. In a recent Ladies' Night appearance, Kathy said about acting, "It's my passion. It's also my therapy."
Kathy tells us she's always preferred simpler makeup. "All my makeup has always fit into this little pouch," she says. "So how excited I was when I received all that I need from BOOM! by Cindy Joseph in this little pouch. I thought, 'Ok, this is right up my alley.'"
In the video below, Kathy shares the short and sweet routine she uses for everything from a lunch out with friends to Zoom calls.
1. Start with Boomstick Glo.

Kathy starts by applying Boomstick Glo® to her freshly scrubbed face. 

Boomstick Glo is our all-natural moisturizing stick. Made with beeswax, extra virgin olive oil and honey, you can use this Boomstick to add gentle, effective moisture to your skin anytime. 

Kathy uses Boomstick Glo to moisturize the skin around her eyes and nose, forehead, cheeks and around her mouth. Then she gently rubs it in. 

She says, "Really be gentle when you apply any type of product to your skin. I find that folks tend to be very rough on their skin when they apply their cosmetics and you really don't need to."
2. Add vibrant color with Boomstick Color.

After moisturizing, Kathy applies Boomstick Color®, our multitasking Boomstick that's blush, lipstick, bronzer and contour all in one. 

Boomstick Color's deep berry tint blends to match any skin tone. 

"I'm very fair," Kathy says, "So when I first saw this color I thought, 'How in the world is this going to go on my skin?' But it does. It works with all skin tones." 

She dabs Boomstick Color onto her cheeks and uses her fingertips to blend. 

Then she applies a layer to her lips as well. 
"Boomstick Color is perfect if I wanna take a Zoom call or I'm going out to lunch," she adds.
3. Boomstick Glimmer is subtle, simple and natural.
Next, Kathy applies Boomstick Glimmer® to her cheeks, nose and eyes.
Boomstick Glimmer is our highlighting Boomstick. This pearlescent cosmetic adds subtle, natural-looking radiance to your skin wherever you apply it. 
"This is so gentle and light," Kathy says. "You can see the difference, the subtleness of the color. 
In addition to where Kathy applies it, you can also dab this creamy cosmetic on your cupid's bow and in the center of your lips. If you're wearing a low-cut top, dab it on your neck, collarbones or décolletage for extra shimmer. 
"My goodness," Kathy adds. "Look how pretty that is. Very subtle, very simple, very natural."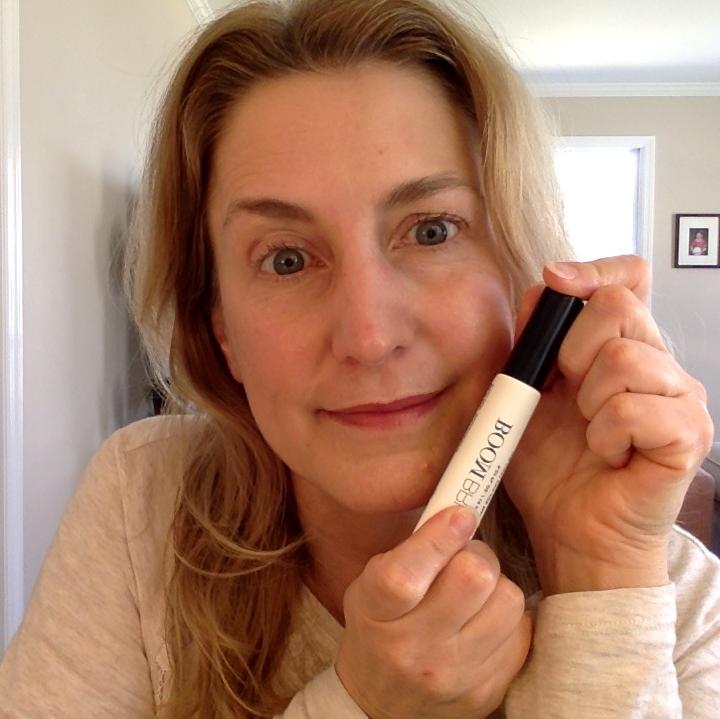 4. Boom Bright is Kathy's "absolute favorite."

The last step in Kathy's routine is Boom Bright™, our hypoallergenic mascara. 
Kathy says mascara is her "absolute favorite" because she has long lashes that are very light. "If I don't put mascara on, you can't see them," she says. 
Every aspect of Boom Bright was designed for you and your eyes as you age.
The water-based formula is designed to separate, lengthen and define your lashes while resisting smudging or running. 
We use gentle, nature-inspired ingredients in a clean-beauty formula that won't irritate sensitive eyes. 
Boom Bright also comes off easily with warm water or a gentle cleanser.

Even the soft-black color was designed to look universally flattering, especially with silver hair. 

Kathy takes a last look in the mirror before she's done to touch-up her cheeks with Boomstick Color. 
Finally, she says, "How quick that was and how easy for someone like me… I feel good about myself." 
We love to hear that, Kathy. We think you look amazing.
Does anyone else relate to Kathy's feelings about cosmetics? If so, tell us about it in the comments below.
CHECK OUT OUR MOST POPULAR CONTENT