Kathy's Favorite Feel-Good Boom Skincare
Kathy's Favorite
Feel-Good
Boom Skincare
54-year-old Kathy Dibiasi is an actor and mother in New York. 
Kathy's always been a minimalist about her makeup. Her skincare is another story.
Kathy says, "I'm a huge fan of cleansers and creams. I have always been that way, so I've tried a lot of products."
Because she's tried so many products, she instantly recognized that Boom was different. 
"What I love about Boom products," Kathy says, "is how they make me feel—how they make my skin feel and how they make me feel about myself."
In this video, she shares two beloved skincare products. 
Watch below to learn why these two Boom are her "absolute favorites."
"I felt like I was getting a massage…"
First, Kathy shows you Boom Scrub™, our deep-cleaning exfoliant.
This gentle scrub helps remove dull, dry skin cells and impurities to reveal your fresh, soft skin.
Kathy says, "I've tried many exfoliants in the past and often when you wash your face with an exfoliant…it can feel very abrasive and rough on your skin. Boom Scrub did not feel like that at all."
"I felt like I was getting a massage," Kathy adds.
That's because Boom Scrub exfoliates your skin with gentle, round, oat kernel flour rolled in jojoba esters for exceptionally gentle cleansing.
As Kathy points out, Boom Scrub is gentle even when she leaves it on for a long time. 
"I find that when you leave a product on your skin for more than a few minutes," she says, "often you feel a little bit more of a sensation, an irritation or even a burning sensation. I did not feel like that at all with Boom Scrub."
We formulate Boom Scrub without common irritants and allergens that can dry or irritate your skin—including gluten, as Kathy points out.
"The oils that are in this…just fabulous."
Next, Kathy shows you Boom Gold™, our luxurious facial oil. 
"The oils that are in this," Kathy says, "grapeseed oil, raspberry oil, raw honey—just fabulous."
Boom Gold's all-natural ingredients create a luscious, light oil that smells as good as it feels on your skin. 
You just need a drop or two of Boom Gold to soften, soothe and hydrate the skin on your face, neck, hands and décolletage.
As Kathy says, "It really goes a very long, long way.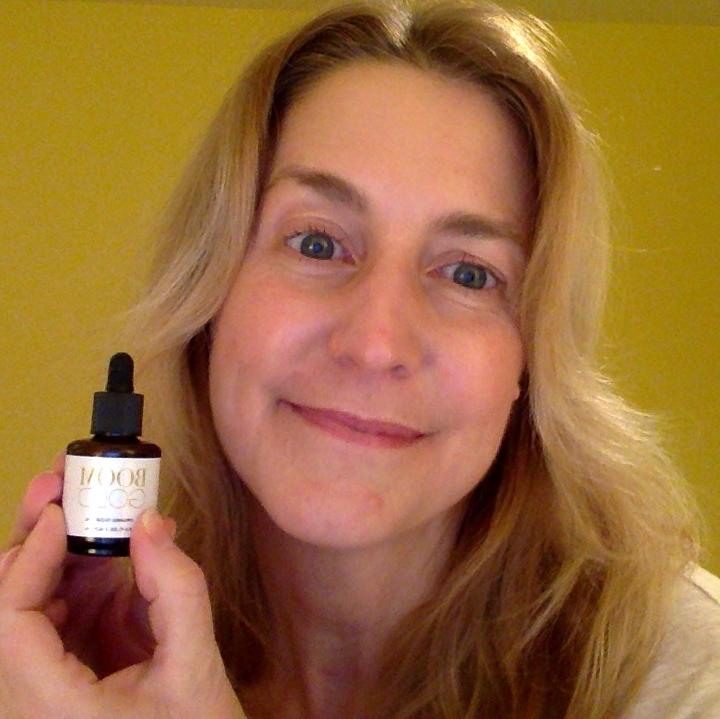 "I often will put a few drops on my hands throughout the day, especially in the wintertime when everything seems a little bit more dry," she adds.
Tell us… Have you tried Kathy's skincare favorites? Share your favorite Boom in the comments below.
CHECK OUT OUR MOST POPULAR CONTENT