This is Julie, and she's through with trying to look younger.
She started going silver at 21, and she started dying her hair at age 26.
But it wasn't until she entered her 50's that she decided to grow her natural color out and to stop masking her age.
And that's the exact moment she began to love the way she looked and feel more confident in herself.
You can watch Julie's story in this blog video.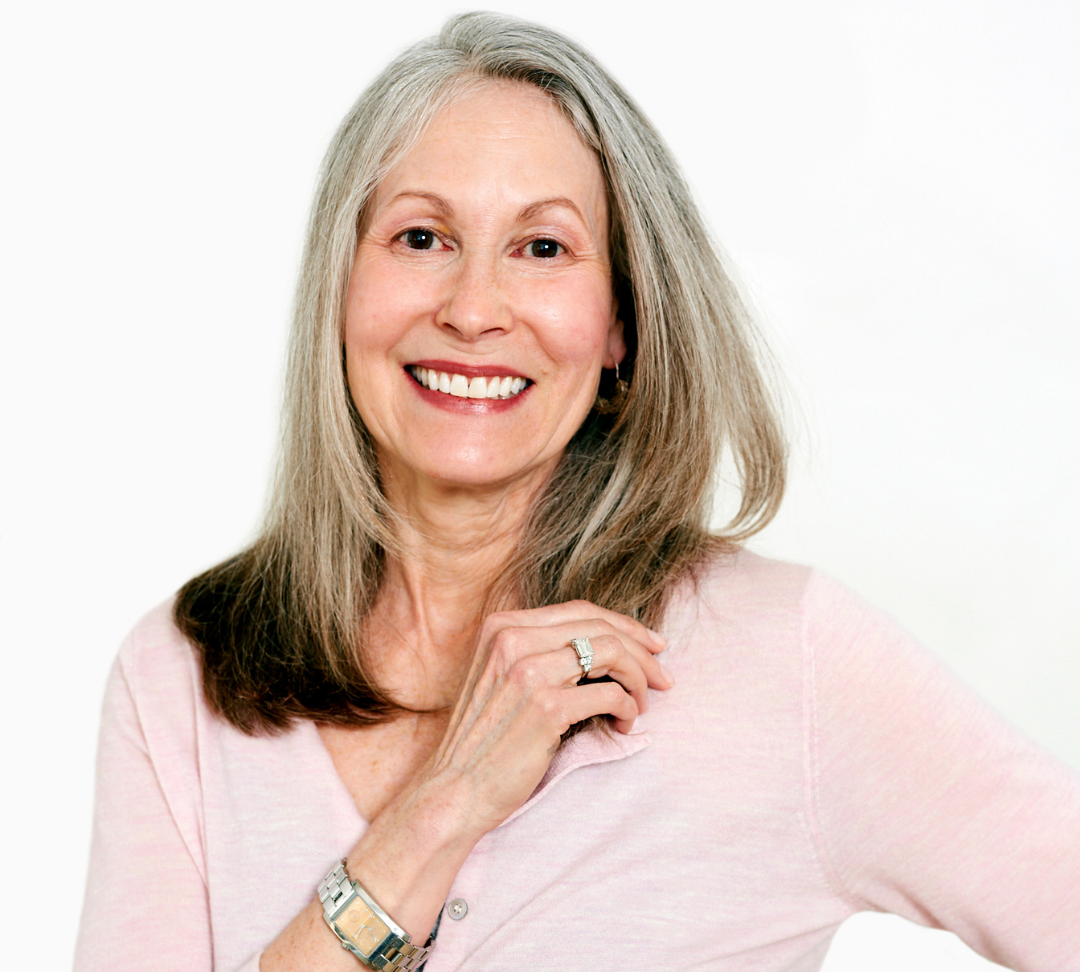 Video Transcript:


Julie Harman Mastronardi. I will be 59 next month. What makes a woman beautiful isn't necessarily what you see.
What makes a woman beautiful is how others respond to her, how do her friends regard her, how does her family feel about her. When I hear about somebody's attributes and characteristics, that's when they become really beautiful to me even if the physical is unremarkable.
Beauty is intelligence. Beauty is strength. Beauty is authenticity and beauty is confidence. That's really beautiful. That's really beautiful.
I work in a very youth-oriented business. And I went from being like the cool, hot chick to being the older lady.
And the opinion gets less important. The contribution becomes less important.

And it's two steps away till you're Betty White and they think you say cute things because it's like funny to have a sassy, old lady, you know?
So I just didn't wanna go down that path.
Changing what I wore, changing how I looked and taking it down a notch, I reestablished that credibility that I thought was really important to maintain in my work and in my personal life as well.
Well, part of the reason you wanna pair back your routine if you're a middle-aged person, is that you can't see anymore.


So it's like I stopped wearing false eyelashes because like, you know, they were ending up over here, you know.
You just have to take into consideration what your real daily life is like. I do a job very similar to yours.
And so I'm on my feet all the time and I'm around a crew and I don't have to, you know…The person here is the person who's giving the spotlight so I don't really…I fade into the background, you know.

But I find that I take really rigorous care of my skin, really rigorous care of my hair. I pay attention to what I wear in that it's simple colors, simple shapes, no patterns, no froufrou. That makes me feel strong and good.
And I think of all the, my God, all the hours I spent with the curling iron and the eyeliner and the eyelashes and stuff.
I mean, I can still rock that if I have to but not for every day. It's an ironic thing. The minute that I stopped doing the things that I thought were making me look younger, I started to look better, not necessarily younger but better.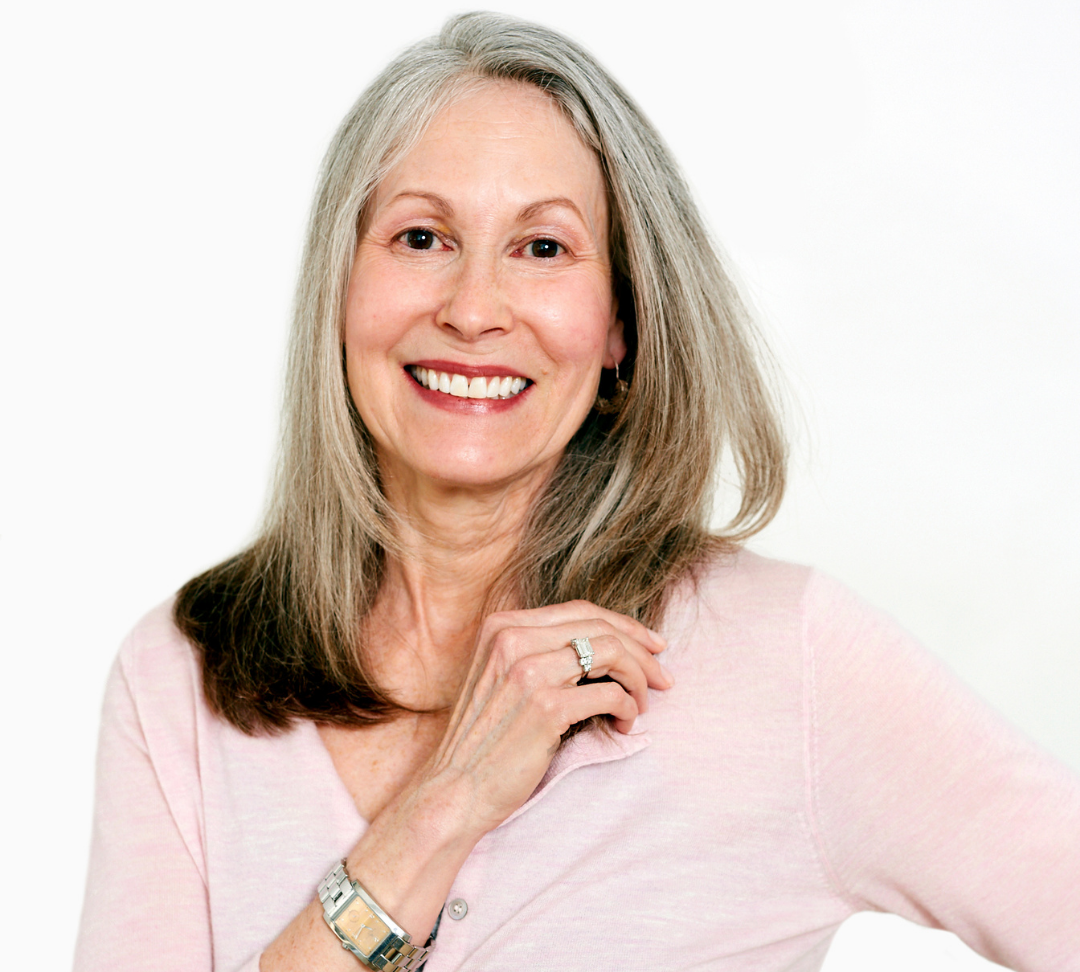 And that made me more credible and gave me more ownership of my age and made people think I wasn't an old lady anymore.

I used the Boom Touch last night, was not expecting that to come in the package, I'll say. So that was an interesting experience.
I used the Boom Silk, I guess, it's the body. I used the Boom Silk Body Lotion this morning right after I got out of the shower.
It's amazing how little you need. You need just the tiniest amount, put it on damp skin and you are good for the day.
Not slippery. Not greasy. You just feel luminous. Really, really fantastic. I started going grey at 21 and I started coloring it at 26.
My family is full of grey hair. I wasn't gonna go down that path. And when I was 52 or so, I met the person who's my husband now.


And I would look at pictures of us together and I'd go, "God, my hair looks so dark and flat and one-dimensional and it makes me look old. And he's really hot.
And this isn't working anymore for me." On January 1st, 2013, I stopped coloring my hair and it took about two-and-a-half years to get it all grown out. But I haven't looked back. I'm so sorry I ever touched the dye bottle in the first place.
But it's like a gateway drug. You know, you start with highlights then it just gets to be a big thing.
I get more compliments on my hair because of its natural color than I ever got when I was dyeing it. I actually went back to the colorist who colored my hair the first time.

She was still working here in New York and I said, "You got me into this. You're gonna help me get out of this."
So we did highlights and blending and stuff. But, ultimately, what we have to do is just chop it all off and that's what I did.
I see more women with grey hair, with proudly showing their wrinkles. You could spend your entire life going…you know.
But that's… it's useless. It's not gonna stop things. It's just eating up your time and it's zapping your energy.
So I think if you take all of the energy that you would put into finding your flaws and look at the things that really make you beautiful, that's where your currency is gonna grow.
I'm really looking forward to the next few decades because when you look back at what the last few decades have brought in terms of changes in our lives, and maybe not all of them have been great, but I would say the good has far outweighed the bad.
Don't you wanna be there for that? I'm not ready to give that up yet. I can't…I don't wanna miss a thing.
CHECK OUT OUR MOST POPULAR CONTENT