Jenny Johnson's Daytime and Evening Makeup Demos

Jenny Johnson's Daytime
and Evening Makeup Demos

60-year-old Boom Ambassador Jenny Johnson is the mom of four adult children. She and her husband of 33 years call Florida home. 
Jenny had begun searching for a more natural and organic line of cosmetics and skincare and discovered BOOM! when a friend "liked" our Facebook page. 
"BOOM!'s products contained ingredients that were high quality, a lot of them were organic, no parabens, no phthalates, no animal testing and sustainably sourced ingredients with very little negative impact on the environment," Jenny says.
But what really drew her in was our founder, makeup-artist-turned-supermodel Cindy Joseph.
"Cindy suggested that the beauty industry, up until then, was anti-wrinkle and anti-aging… She developed the concept of pro-age: enhancing what you have, embracing whatever age you are. Well, I bought into it!" Jenny says.
Today, Jenny demonstrates how she uses the Boomstick Trio® to create a put-together daytime look and a stunning evening look. 
Watch her video or read on for details.
A chapped-lips saver.
First, Jenny shows you Boomstick Glo®, our convenient moisturizing stick. 
Boomstick Glo is made with the same all-natural ingredients as Boomsilk®, our best-selling moisturizer. It contains organic extra virgin olive oil, beeswax with propolis and pollen, and honey with naturally occurring royal jelly. Together, these gentle, natural ingredients hydrate and soften your skin.
Boomstick Glo can be used on any skin for moisture touch-ups, but it's especially helpful for dry spots on your face and body. 
Jenny likes to use it for chapped lips and on her elbows and cuticles. 
"While focusing on what I was putting INTO my body, I started to look for a more natural and organic skincare and cosmetic line to put ONTO my body—the skin is our largest organ, and most of what we put on it gets absorbed."—Jenny Johnson

"A gentle hint of color."
Next, Jenny demonstrates Boomstick Color®, which she calls "the star of the show." 
Boomstick Color, our creamy, multi-tasking cosmetic stick, is a blush, bronzer, lipstick and more. 
Boomstick Color's deep berry tint is sheer, so your natural skin tone comes through—customizing the color just for you. 
Jenny says, "My skin's fairly dark, but this is a color that seems to blend into just about any color skin."
She prefers to avoid dragging it across her skin. Instead, she gently dots it from the apples of her cheeks back to her hairline, building to the level of color she prefers.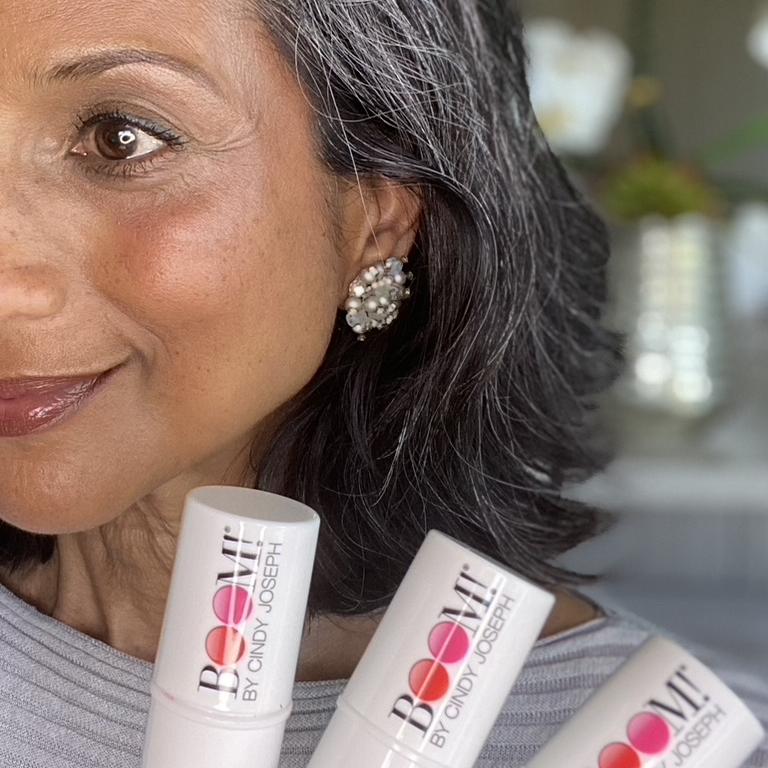 Then, Jenny applies Boomstick Color to her forehead and "anywhere that you feel you might blush or flush when you're excited or have been in the sun."
We call Boomstick Color "the color of happiness" because it mimics the look of a happy, excited flush.
Finally, Jenny applies Boomstick Color to her lips for "a gentle hint of color." 
"The bling of the show."
Boomstick Glimmer® is next, which Jenny calls "the bling." 
This creamy, pearlescent cosmetic stick supplements your natural radiance and adds subtle shimmer to your skin. 
Jenny applies Boomstick Glimmer under her brow bones, on the tops of her cheekbones back to her hairline and in the center of her lips for a little extra shimmer.
"You can see how it catches the lights," Jenny says. "It just adds a wonderful sheen."
You can also use Boomstick Glimmer on your cupid's bow, shoulders, neck and décolletage for a radiant glow.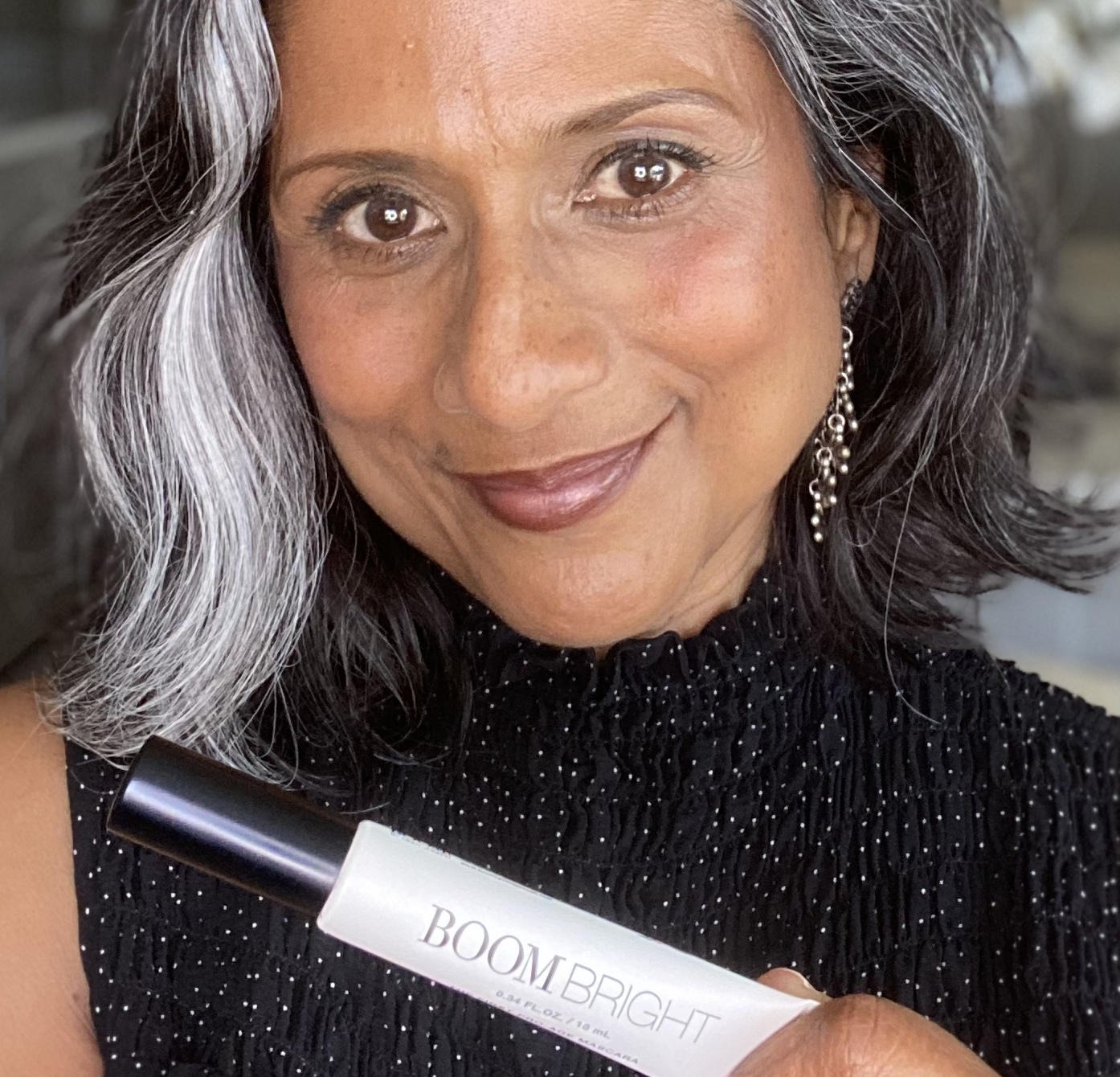 "It's very moisturizing…"
Last but not least, Jenny adds Boom Bright™, the world's first mascara made especially for women over 50. 
What makes this mascara special? Boom Bright is designed specifically for the shorter, finer and often drier lashes we tend to have after 50. The gentle, hydrating formula moisturizes lashes while it separates and defines. 
It's also easier to remove than waterproof mascaras, which means less breakage and lash loss.
Jenny uses a single coat of Boom Bright for daytime, concentrating on the lashes at the outside corner of her eyes.

"I am so looking forward to growing older, bolder, wiser and more beautiful with what I call the 'Boom Beauty Glow!' Thank you, BOOM! by Cindy Joseph!"—Jenny Johnson

"Voila...you are set to go out."
Jenny pops back in at the end of her day "with a little tip to take your daytime look to an evening look."
She touches up her face with both Boomstick Color and Boomstick Glimmer, then adds another coat or two of Boom Bright. 
"The lights are a little dimmer at night so you can afford to wear your mascara a little thicker," Jenny says.
She also applies lip liner and eyeliner for her evening look, then tucks them into her Boomstick Trio bag along with Boom Bright. 
Finally, the pièce de résistance… A bold statement necklace that looks amazing on her. 
What do you think of Jenny's demo? How do you dress up your look for an evening out?
CHECK OUT OUR MOST POPULAR CONTENT