Introducing Our First Boom Ambassador: Hillary Bitar
Meet our very first Boom Ambassador, Hillary Bitar. 

By day, Hillary is silver-haired model and actress. You can see Hillary's face on magazine covers, in commercials, on websites, on the sides of buses, and yes, even on a few of our own webpages here at BOOM!  

Hillary is well-known for her natural look. She's never dyed her hair—ever. Since her 30s, Hillary has allowed her natural silver to shine through. Now, at 57, she loves her long silver hair, freckles, fine lines, and really, everything that makes her uniquely herself.   

She is also a huge Boom fan. Today, Hillary is sharing exactly how she uses Boom in her daily routine. Watch the video or read on to see, in her own words, how she applies Boom every morning.

Her Morning Routine: Cotton + Trio
Hi, I'm Hillary. I'm 57-years-old. I want to talk to you about my favorite skin care and makeup line called BOOM!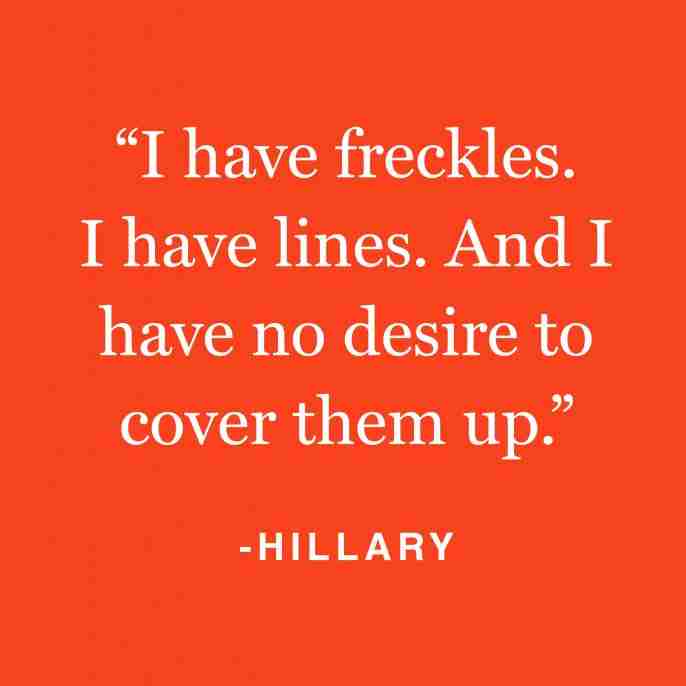 BOOM! really resonated with me as a customer because it's about pro-aging. That's their tagline and that's their entire mindset and it matches mine.  


I have no desire to look like I did when I was 25 and honestly, I'm very tired of all the marketing geared towards erasing and concealing, and that's just not me.  

I have a very natural approach to aging. I embrace it, and I want something that reveals my beauty not conceals it.  
So as you can see, I have no makeup on. I have freckles. I have lines. And I have no desire to cover them up. So I thought I would share with you what my daily routine is.  

I love to use the Boom Cotton, which is a shine-control moisturizer.

I just dab a little on. It leaves your skin feeling super smooth and just even. When I say "even," I don't mean that it covers. I just mean that it feels very, very smooth to the touch.   
Then I use what's called the "Color Stick," which is part of a Trio. This wonderful, really game-changer item is a color that works on everyone. You can use it as a blush. It gives your cheeks a nice little rosy glow. The same color goes on your lips, and then you have some color there.

And I'm done. That's how I go out every day. 

There are two other sticks in the Trio that I absolutely adore. One is called "Glimmer" which is kind of fun to just add a little bit on your eyelids for a little extra glow or just on the bottom lip for some shine.  
There are two other sticks in the Trio that I absolutely adore. One is called "Glimmer" which is kind of fun to just add a little bit on your eyelids for a little extra glow or just on the bottom lip for some shine.  

And then this is called the Glo stick. This is basically a moisturizer in a stick. So you can leave this in your car. You can throw it in your bag. Travel with it. It can be used anywhere. You can use it on your face. You can use it on your body. I like it to use it on my cuticles. Sometimes during the day, when I feel like I have a little bit more dryness under my eyes, I just add some in there. You can put it on your lips. And you're set. 
For me, these three products go everywhere. It's my daily look. Honestly, I think we don't need more than that. You should be comfortable with just good skin, feeling good from within, and embracing our age. There's no reason to keep hiding it.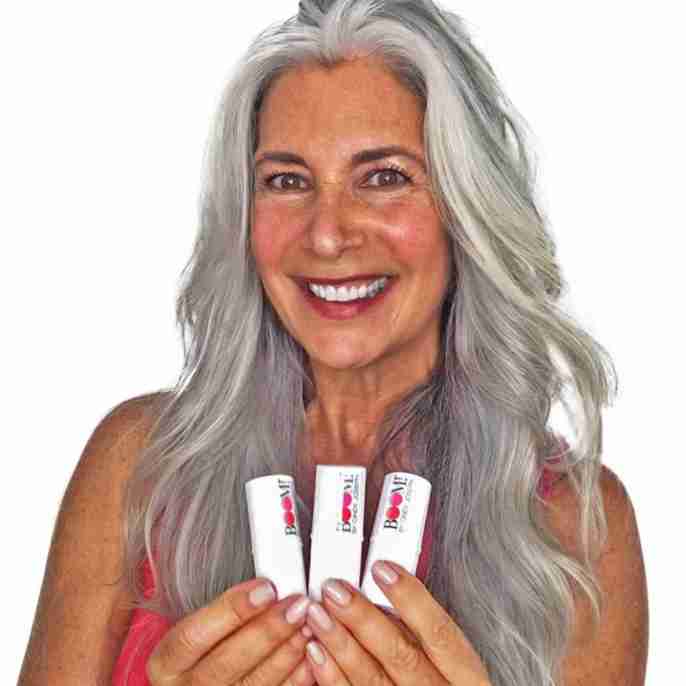 I've left out other ones. I use this weekly. This is a scrub for your face, and the Boom Clean, which is a daily cleanser for your face. It is wonderful! It is very, very gentle. It's natural. It's easy to use. Especially, I use it after I go to the gym. So after I'm sweaty, I just wash my face with this one. 
And, I do love the Boomsilk, which is a moisturizer that can be used on your entire body. 
So again, these are products where you don't need a million things. They are one thing you can use all over. You can feel good about it!
Most importantly, it's a company that's promoting pro-aging.   
I think it's really about time that we stop trying to always put so much pressure on ourselves to look younger, because we don't need to.   
The vitality comes from within. You want to show that, and have a company that truly understands that. And I think that BOOM! does. 
So I love my Color Stick. I can use it on my lips. I can travel with it, which nowadays, it's so difficult to find makeup you can travel with. You just stick it in your bag and you're good to go.  
So I thoroughly recommend this line. Thank you!
Be our next Ambassador…
We'll be featuring a new Ambassador like this every month here on our blog. Want to be our next Ambassador and share how you use Boom? Go here for all the details.

In the meantime, tell us: Do you use our Boomstick Trio or Boom Cotton like Hillary? Or do you have another Boom favorite that you use in your daily routine? Let us know in the comments!
CHECK OUT OUR MOST POPULAR CONTENT