How to Get Sandy Berg's Sun-kissed Look
How to Get
Sandy Berg's
Sun-kissed Look
BOOM! was exactly what Sandy Berg was looking for. 
After years of doing her makeup the same way, this 70-year-old realized the way she felt about her routine had changed.
"I was using heavy makeup and it just wasn't working for me anymore," Sandy says.
"This is a wonderful time in the lives of women, but we need new beauty tools to show on our face the radiance we feel inside. Boom products do that," Sandy says.
In this video, Sandy demonstrates how she uses Boomstick Trio and Boom Bright to create her year-round sun-kissed look—even during the Missouri winter.
Sandy's got some great tricks up her sleeve, including a new tip for Boomstick Glimmer that you may want to try.
Watch her video for details.
Step 1. All-natural moisture
Sandy begins her routine with Boomstick Glo, our all-natural moisturizing stick. 
Sandy adds Boomstick Glo to her lips, under her eyes, across her forehead and cheeks and down her neck. "Boomstick Glo feels wonderful on my skin," she says. 
Made with organic extra virgin olive oil, beeswax with pollen and propolis and honey with naturally occurring royal jelly, this moisturizer hydrates and protects your skin from dry weather. 
Step 2. Create a sun-kissed glow
Sandy's next step is Boomstick Color.
Boomstick Color is our creamy, multi-purpose cosmetic stick that you can use in five different ways.

Sandy uses it as a bronzer, blush and lipstick.
Sandy says, "I'm fair so I use it fairly liberally." She adds Boomstick Color to her cheeks, forehead, neck, décolleté and lips.
"When I was looking at products to use, I was looking for a year-round sun-kissed look," Sandy says. Boomstick Color gives her the warmth she's looking for.

Step 3. Add radiance
Sandy applies Boomstick Glimmer next—our pearlescent, creamy highlighter.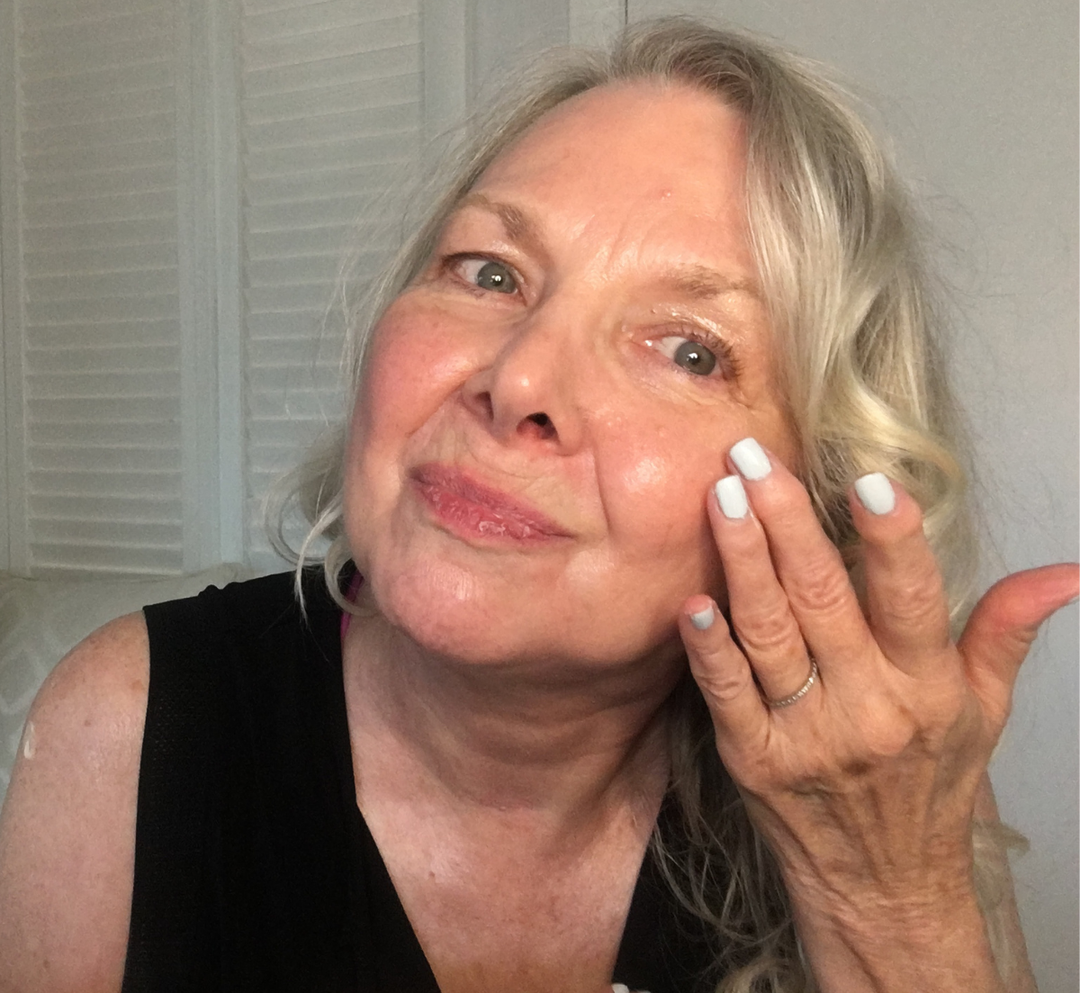 "This is a very subtle glimmer," Sandy says. "It's not a frost and it is not a glitter."
She applies this cosmetic stick under her brow bones and on her forehead, cheekbones, chin and neck. 

She also uses Boomstick Glimmer in a unique way you might not have seen before. Sandy dabs it on her eyebrows to give them a touch of radiance—and to hold them in place. "Sometimes they get a little wild," she says.

When she's wearing a sleeveless, v-neck top, Sandy applies Boomstick Glimmer to her chest and shoulders for subtle radiance.
"You can see this glow I'm looking for. It's so nice to have this feeling of being kissed by the sun," she finishes.
Step 4. Separate and define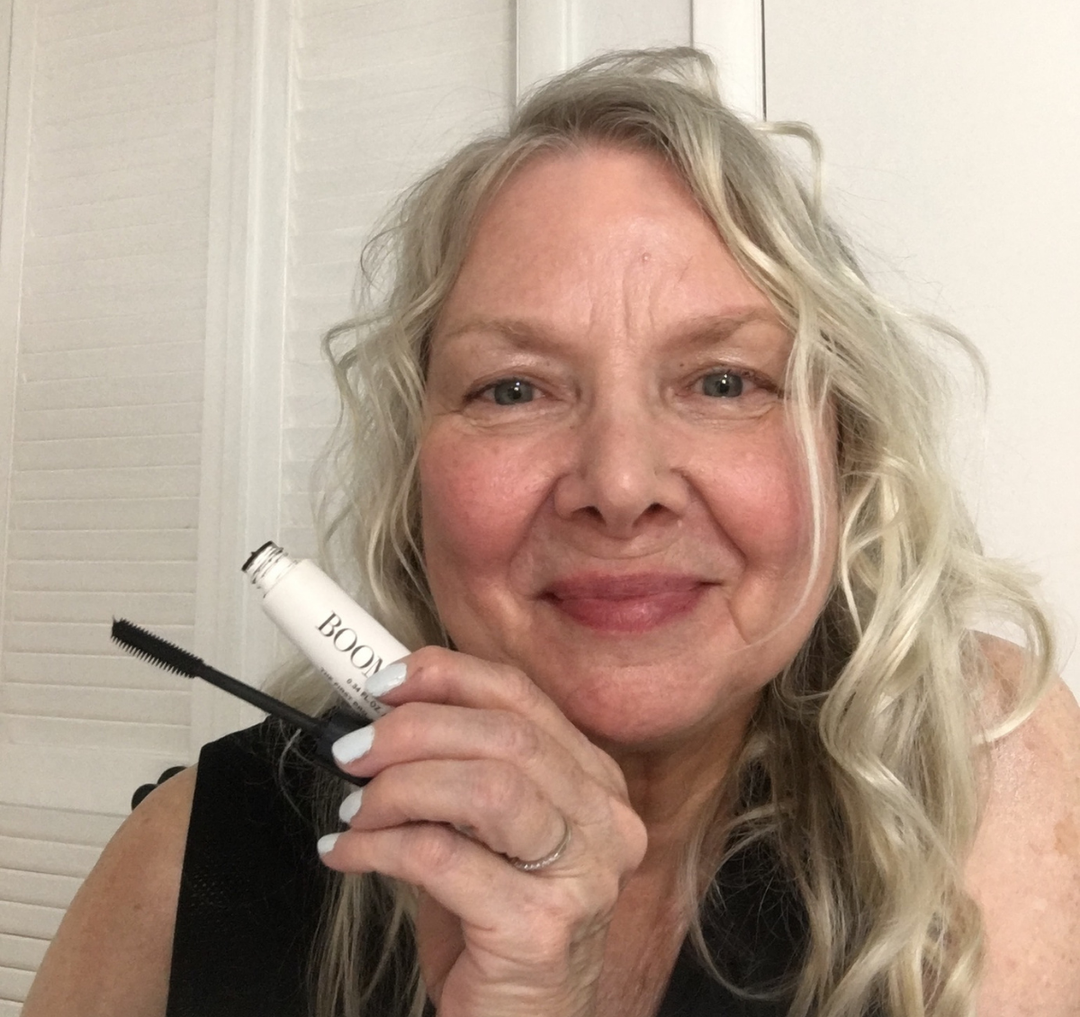 Finally, Sandy shows you her favorite Boom… Boom Bright.

Our new mascara is specially formulated to define, separate and moisturize the shorter, finer lashes many women experience after 50. 

Sandy loves Boom Bright because it's made for her. "It doesn't look like I have eyelashes, but I do," she says. "You just can't see them."
"I've had a hard time finding a mascara that really works. A lot of times, they clump on me and don't separate my lashes. Boom Bright separates and it moisturizes my lashes. That's a bonus. It's just a great product."
And with that final step, Sandy is done. 
We love her happy, sun-kissed glow. We hope you do too.
What do you think of Sandy's look? 

Sandy recently joined us on Boom Ladies' Night! 
Catch the replay here to hear Sandy share more tips about Boomsticks, her skin-care routine and how she approaches each year with gratitude. 
Before you go, tell us… What do you think of Sandy's look? Are you inspired to try any of these tips, like using Boomstick Glimmer to hold your eyebrows in place? 
CHECK OUT OUR MOST POPULAR CONTENT