How I Met My First Gratitude Santa (And Why I Want to Be One)
How I Met My First
Gratitude Santa
(And Why I Want
to Be One)
By Elizabeth 
The other morning I was at the dentist having my teeth cleaned. This is not usually an experience I find super inspiring.  And yet, on this particular day, it absolutely was.
I've gone to this dental practice for years. They are just the loveliest people, the kind of people who remember your dogs' names and ask you how your vacation went. 
But really, what you notice about this office is not so much any one person, but the energy of the entire place. It hums with efficient positivity. People do a great job and they enjoy themselves as they work. 
It's a very successful business that has at its core a real sense of joy and pleasure. How do they do that? During this visit, I got a clue. 
As I got up from the big scary chair, with my teeth all minty and sparkly, one of the hygienists came in and presented the dentist with a single, absolutely gorgeous pale pink peony (my favorite flower). Then she smiled and said: "This is from your Gratitude Santa."
What… is… a Gratitude Santa?!
Of course, I had to ask. It turns out that for over a year now, as a pandemic-era pick-me-up, the entire office has been participating in a kind of never-ending Secret Santa experience, without the holiday season affiliation. 
Some brilliant person had the thought: Why do we exchange gifts only once a year when we could just do this all the time?! The rules are simple: nothing over $25, given once a month, anytime you want. 
What this means is all month long, on any day, at any moment, you might be surprised by something thoughtful left on your chair or hand-delivered by a helpful colleague. 
You don't know what you're getting, you don't know when it's coming, you don't know who is giving it, you just know that once a month it's someone else's job to make your day. 
And you get to make someone else's day, too. 
Once a season they do a reveal party to find out who was their past Gratitude Santa. It's just a small wine and a cheese tray in the breakroom on a Friday afternoon. 
Then they put everyone's names in a hat and pick again. 
I love so much about this.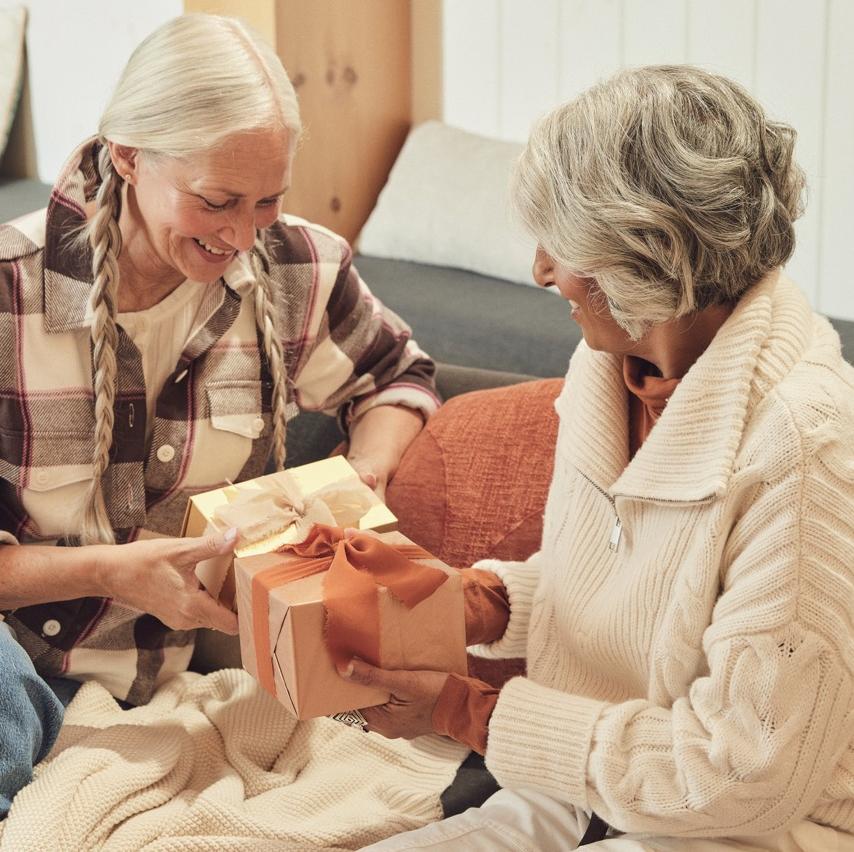 I love the way it integrates an often-forgotten but key element of pleasure: anticipation. Knowing something good is going to happen is as much a part of the enjoyment of that good thing as is the thing itself. 
I love how the gift-giving goes on for an extended period of time so it allows extra space to be especially thoughtful, to show the person to whom you give that someone is paying attention to them. 
But the aspect I love most about this tradition is how it fosters and deepens a sense of community among everyone involved. 
All this attention and anticipation is going on between these individual sets of people, but its effect is exponential: everyone is getting so much more than they are giving. 
I haven't yet integrated this game into my own life, but I plan to, soon. 
In the meantime, I'm wondering, have you ever heard of or participated in anything similar? 
We would love to hear stories from your own secret gift-giving (and receiving!) lives.  
Elizabeth is a journalist who has been writing about health, beauty and wellness for over 20 years. She lives in Northern New Mexico with her two dogs and several hundred trees, shrubs, bushes and succulents. 
CHECK OUT OUR MOST POPULAR CONTENT