For Special Occasions: A Boom Look for the Holidays from Dulcy!

The holidays have arrived! 


Before you head out to dinners and parties, our newest Ambassador, Dulcy Stewart, has a few tips for looking your best for holiday evenings out.


In her tutorial video, the silver-haired Dulcy is showing you step-by-step how she uses her five favorite Boom items to get ready for an anniversary date with her husband.


It's an evening look you can borrow for date nights, parties, dinners, holiday gatherings, New Year's Eve and other special occasions.
Check out Dulcy's special holiday video above or read on for details.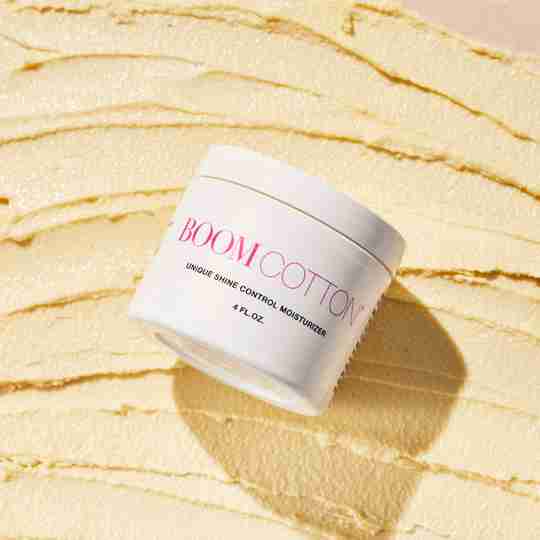 Step #1 Choose Boom's shine-free moisturizer for nights out.


Dulcy uses a process she calls "moisturizer layering." She likes combining more than one Boom moisturizer to create the healthy, radiant look she wants. 

When she is heading out for evening, Dulcy starts this layering by applying Boom Cotton on her entire face. 


Dulcy loves using Boom Cotton for nights out because it gives her skin a moisturized look without leaving any shine or sheen behind.
(She also uses Boomsilk before she goes to bed, but she recommends shine-free Boom Cotton when you're going out.)
Step #2 Touch up dry spots with Nectar.


Next Dulcy uses our all-natural serum,Boom Nectar, as the second moisture layer. 


Dulcy calls Boom Nectar a "nice, thick, lovely oil." She likes using "just a teeny tiny bit" of Boom Nectar in a few strategic places on her face. She uses her fingers to dab a little of this serum on the extra dry spots between her eyes and right under her eyes. 


Not wanting to waste a drop, Dulcy then rubs her hands together so she can use any remaining Boom Nectar to moisturize her hands.(Good tip for getting the most out of every drop of Boom Nectar!)
Step #3 Give yourself a glow with Color.
When she's going out, Dulcy uses only two "super cool, super handy" Boomsticks to create the look she wants—Boomstick Color and Boomstick Glimmer.


Dulcy begins with Boomstick Color. She describes it as a "color that's rich and deep but also transparent." She uses Boomstick Color in "all the places where, if you are having a good time, you're happy, you're laughing—this is the glow you would naturally see on someone."
To create this natural-looking glow, she starts by dabbing Boomstick Color directly onto her upper cheekbones. Since she's going out for the evening, she's adding a bit more Boomstick Color than she wears during the day.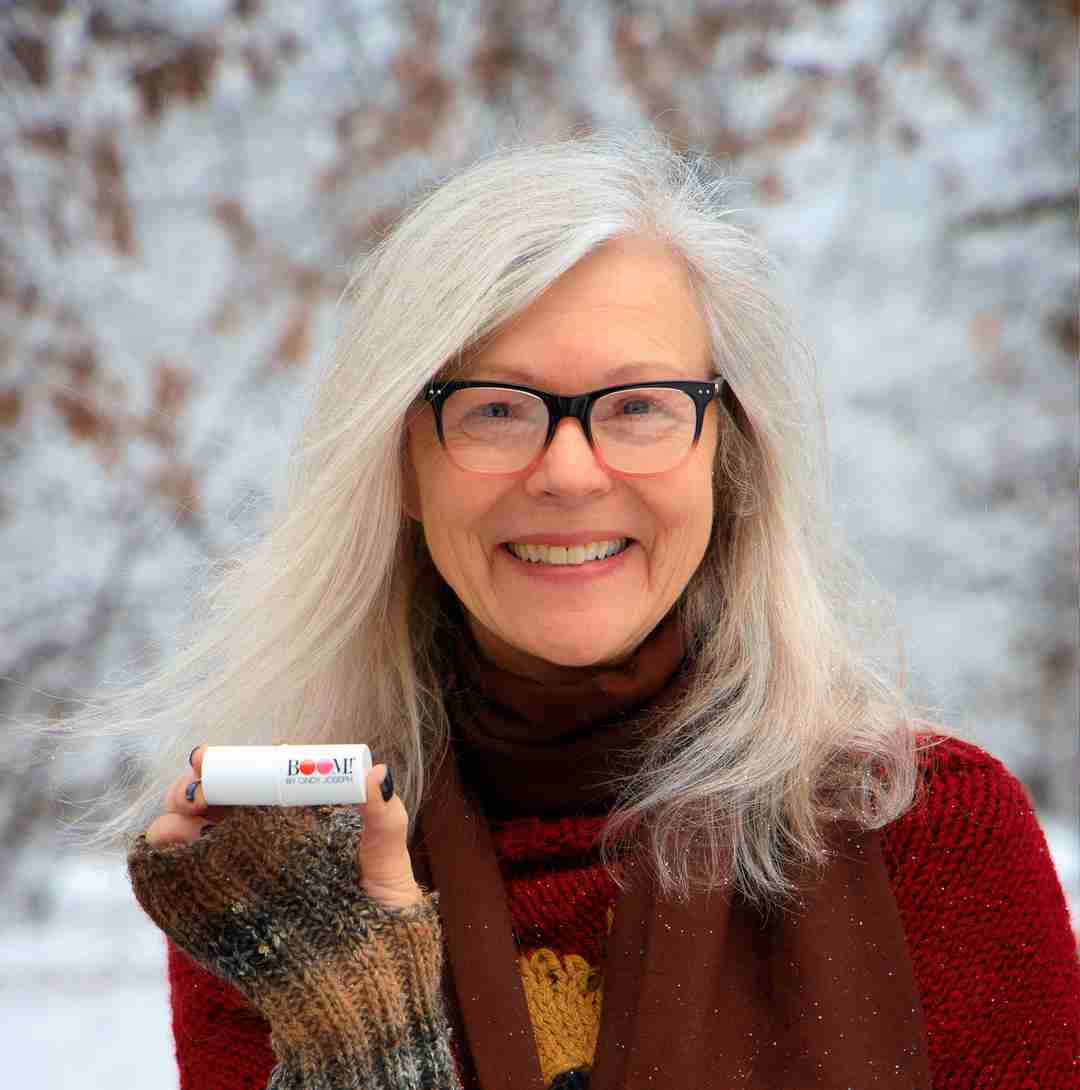 Since you glow in more places than just your cheeks, Dulcy also dabs Boomstick Color on her forehead and down the sides of her neck. She's planning to wear an open, V-neck blouse, so she also adds a little Boomstick Color on her exposed collarbone and clavicle area. 
Step #4 Dab a little Glimmer everywhere.


Boomstick Glimmer is Dulcy's favorite. Dulcy describes Boomstick Glimmer as "the exact same color as the Color stick only it's a pearlized version. It's a champagne pearlized accent that you can add wherever you want."

As she says, "I just love this stuff. You can put it anywhere." And she does—especially when she's going out for the evening.


She starts by adding Boomstick Glimmer to her cheeks to give herself "a little bit of opalescent shine." Then she adds Boomstick Glimmer to her upper eyelids and under her brow bone as a shimmering eyeshadow.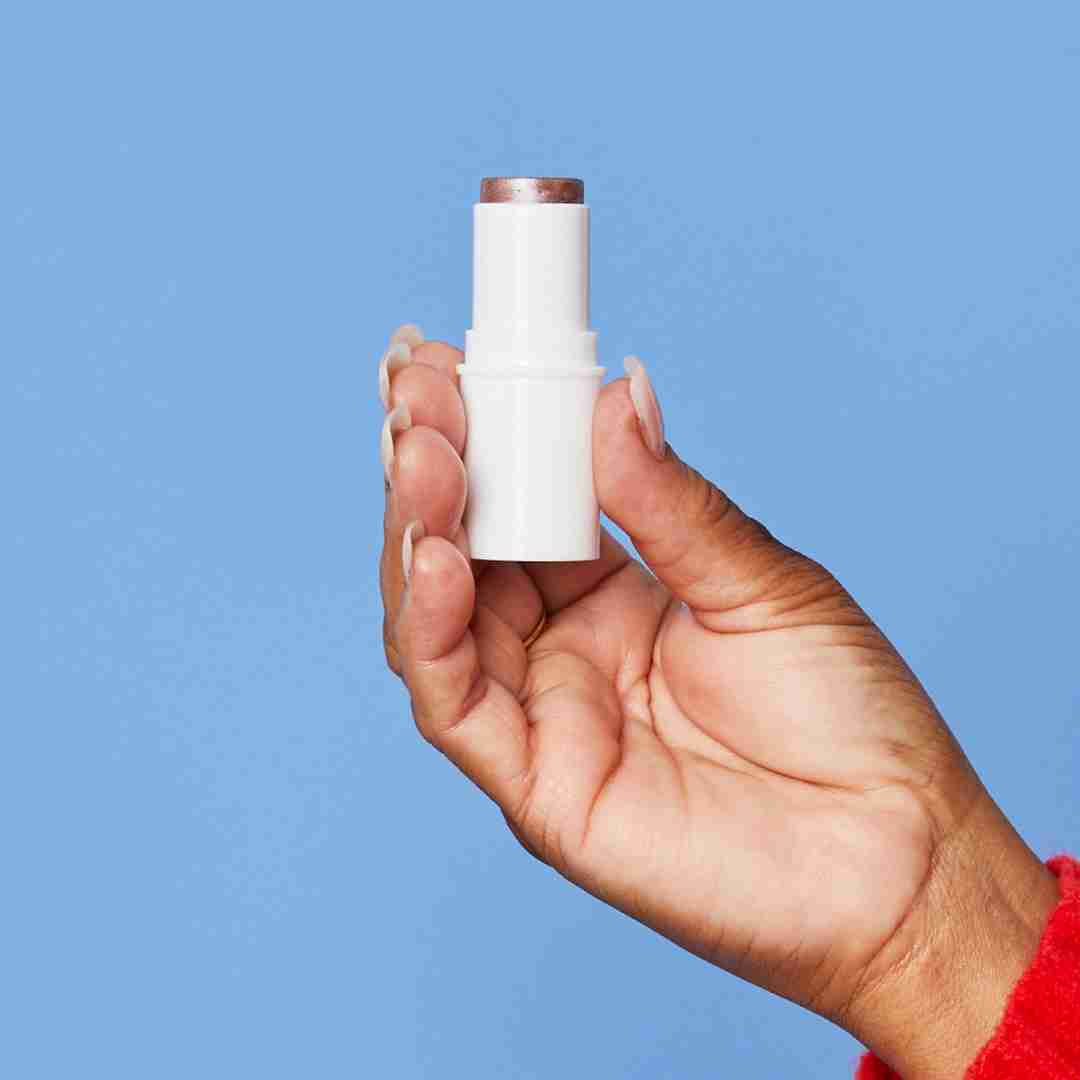 She starts by adding Boomstick Glimmer to her cheeks to give herself "a little bit of opalescent shine." Then she adds Boomstick Glimmer to her upper eyelids and under her brow bone as a shimmering eyeshadow. Then she dabs Boomstick Glimmer across her clavicle area. Finally, she adds a little to her chin. 


Dulcy says: "It's not going to look like you put on a whole bunch of glitter... It just kinda gives you a little bit of glow where light hits you."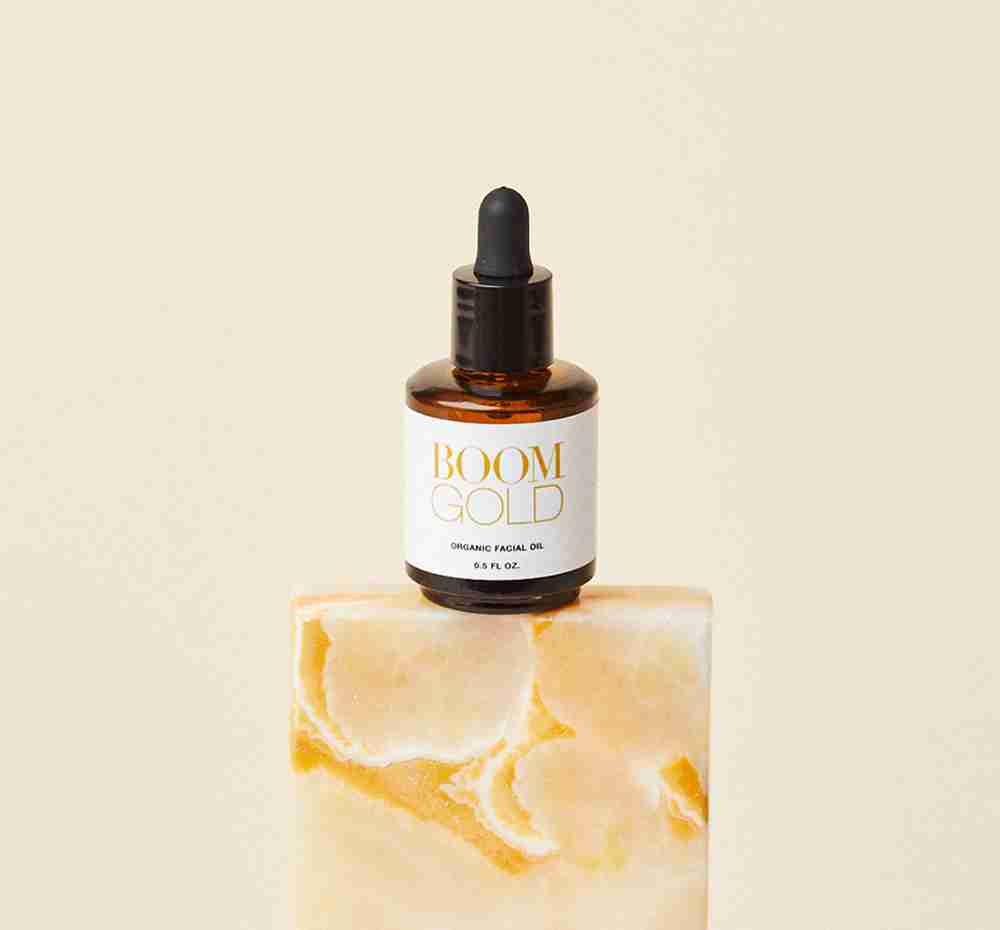 Step #5 Use Gold as an oil and scent.


Boom Gold is our organic facial oil. It's designed to moisturize and nourish your skin from the inside out with essential oils and other organic ingredients.

Dulcy uses Boom Gold as another moisturizer layer. She adds a few drops of Boom Gold to her hand, rubs her hands together, then pats it all over her face for additional moisture. 

But Dulcy also uses Boom Gold in a completely original way—as a scent. As she says, "This is a lovely, lovely smelling oil. It's sort of a spicy, peppery smell. I like the scent so well that I use it as a scent."
For this reason, Dulcy puts a little Boom Gold behind her ears and on her wrists before she heads out for the evening. 

Step #6 Finish with two-tone lips.
Now the very last step: Dulcy uses both Boomstick Color and Boomstick Glimmer as lipstick when she's going out.

First, she dabs Boomstick Color over her lips. Then she adds just a tiny bit of Boomstick Glimmer to her bottom lip to give her lips more definition—and make them shimmer in the light.


That's it! She's ready to go. 


You can borrow this "dressed-up" look for any special occasion.


From Dulcy and all of us at BOOM!... here's wishing you an amazing holiday!
CHECK OUT OUR MOST POPULAR CONTENT