Enjoy Every Sunny Day More with Boom Sun
Enjoy Every
Sunny 

Day More
with Boom Sun
Loving the sun, and everything you do in the sun, just got a little easier with Boom Sun™, our new SPF 30+ daily sun protection.
Years in the making, this "clean-beauty" sunscreen provides natural and effective broad-spectrum sun protection without leaving a white cast on your skin.
Curious? Here's everything you need to know.
What inspired Boom Sun?
If you've been a Boom customer for a while, you might know that our founder, Cindy Joseph, wasn't a big fan of sunscreen. 
For a long time, many of the sunscreens on the market contained questionable ingredients that could be absorbed into the body, with unknown consequences.

As a result, Cindy preferred to stay out of the sun when she could, and to protect her skin with long sleeves, a hat and other barriers when she couldn't. 

Recent research has borne out Cindy's concerns. Studies have shown that ingredients in some chemical sunscreens, including avobenzone and oxybenzone, absorb into your bloodstream with only one use and can be detected weeks later, to unknown effect.
At the same time, research continues to show that protecting your skin from UV rays every day, in every season, is important to keeping you and your skin healthy and strong.
What makes Boom Sun special?

Boom Sun is different from other sunscreens.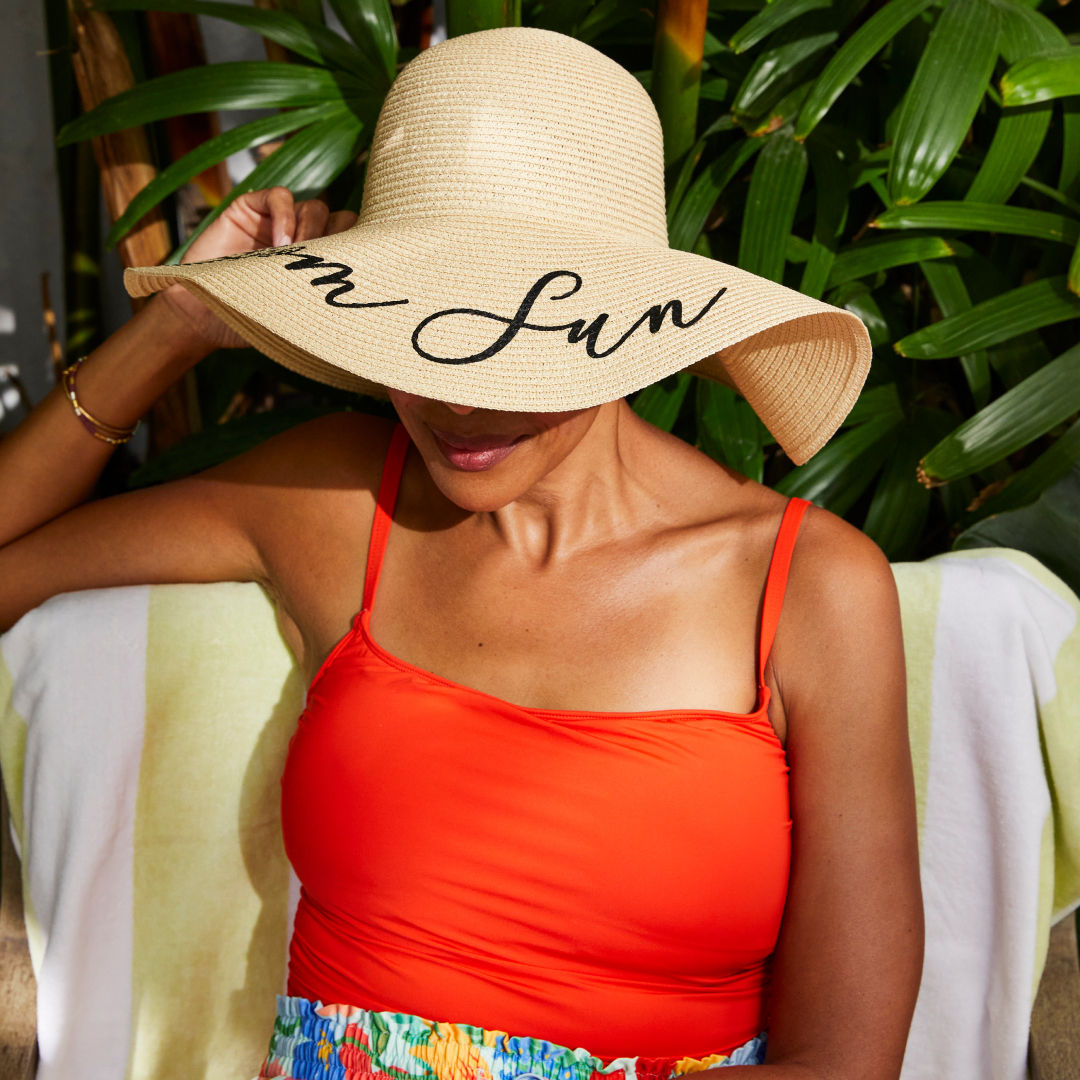 We start by using a physical sunscreen ingredient to protect your skin. What's that mean? Here's a quick explanation… 


Chemical sunscreens, including those with active ingredients oxybenzone, avobenzone, octisalate, octocrylene, homosalate and octinoxate, absorb into your skin where they chemically convert UV rays into heat.
These sunscreens can be aerosolized for easy application and disappear on the skin.  
Unfortunately, these ingredients are also suspected hormone and endocrine disruptors and are often blended with parabens and other problematic ingredients. 
Two chemical sunscreen ingredients have even been banned in Hawaii and Florida because they cause stress-bleaching in coral reefs. 
Boom Sun, on the other hand, contains a natural mineral called titanium dioxide. This mineral filter sits on top of the skin to reflect and scatter UV rays before they reach your skin.

Boom Sun's non-nano titanium dioxide is too large to be absorbed by your skin or the cells of sea life, so it's reef-friendly and allowed in all 50 states.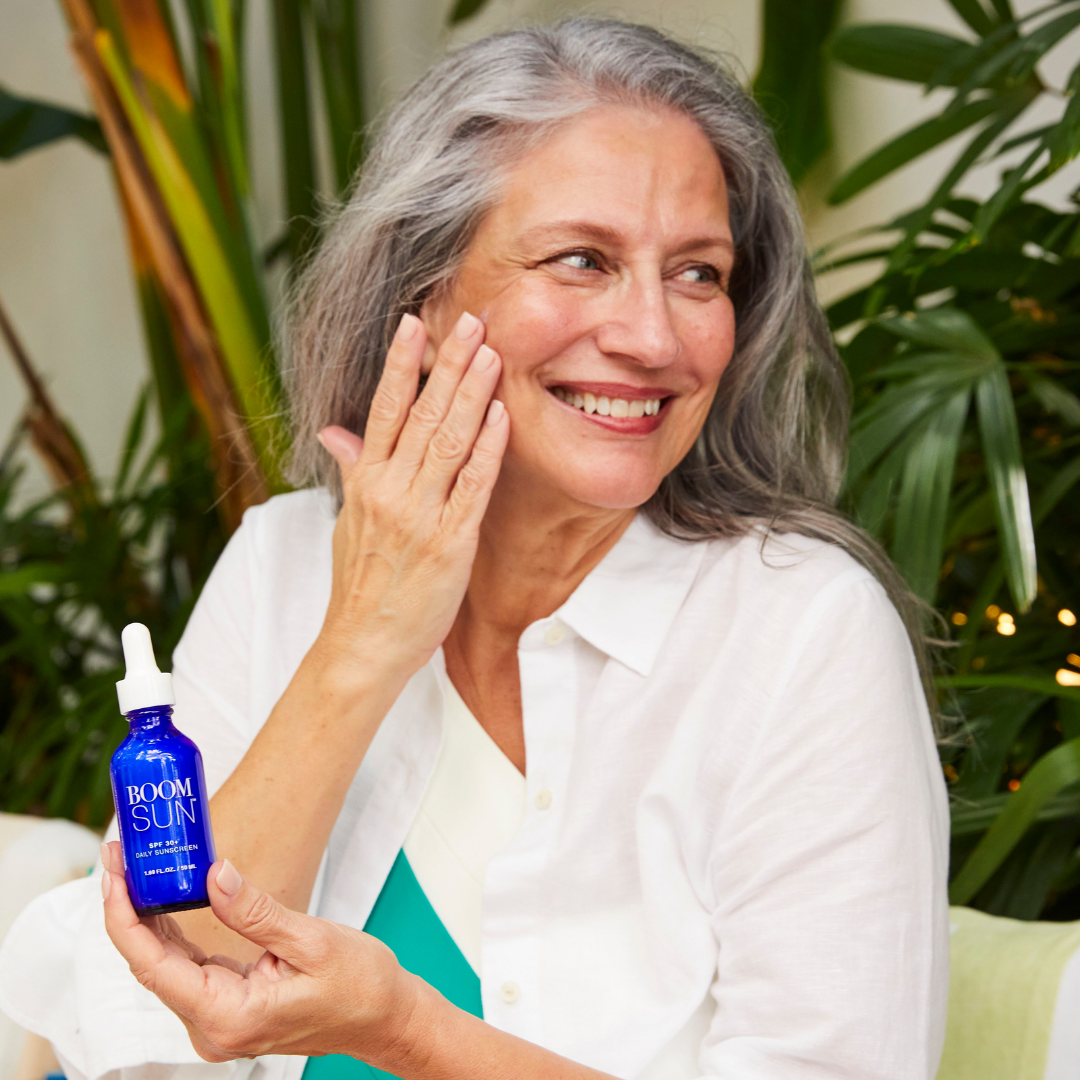 We've mixed this effective sunscreen with nourishing, natural ingredients like jojoba oil and sunflower seed oil to make it easy to apply and moisturizing for your skin. 

Unlike some other physical sunscreens, Boom Sun is lightweight, airy and won't leave a white cast on your skin. Boom Sun also protects against damage from high-energy visible light or HEV. 
Also known as blue light, HEV is emitted by the sun—and by many of the electronics we're surrounded by every day, including phones, tablets, televisions and LED lights. 
This kind of light has been shown to cause damage to the deeper layers of our skin. 

Boom Sun prevents skin damage from HEV light, so you're safe and protected whether you're inside or outside. 
On top of all this, Boom Sun is vegan and free from soy, gluten, sulfates, parabens and phthalates. 

That means you can safely wear this gentle sunscreen every day, in every season, even if your skin is sensitive. 
Like everything we make, Boom Sun is also 100% cruelty-free.
How to use Boom Sun
To use Boom Sun, we suggest starting with clean, moisturized skin. Then pat Boom Sun onto your face, neck and décolletage and massage it into your skin at least 15 minutes before you go out in the sun. Apply any makeup you like to wear on top. 
Be sure to reapply at least every two hours and immediately after swimming or sweating. 
Protecting your skin from damaging light is so important. Boom Sun helps you do it safely and easily, while you nourish your skin. 
Tell us… Do you wear sunscreen? How do you protect your skin when you have to be out in the sun?
CHECK OUT OUR MOST POPULAR CONTENT