Edwina's Boom for Busy Working Moms
Edwina's Boom for
Busy Working Moms
Edwina Riddle is a teacher and mom of five kids.
This busy 55-year-old says, "I don't have a lot of time for a long routine in the morning. That's another reason I love the Boom products."
In just a few minutes, with four cosmetics, Edwina is able to create a natural-looking glow that carries her through the day. 
Find out how she does it, below. 
1. "The perfect foundation."
Edwina starts with Boomstick Glo®, our all-natural Boomstick moisturizer. 
"It goes on really easy, it's very light and it gives a natural glow and also the perfect foundation for the next two products," Edwina says.
Made with extra virgin olive oil, honey and beeswax, Boomstick Glo helps lock in moisture. As she points out, this moisture creates a base for your cosmetics. 
Edwina applies Boomstick Glo all over her face. You can also use it on your hands, knees, elbows, feet and anywhere else you have dry skin. 
This moisturizing Boomstick fits easily in a pocket, purse or bag for quick touch-ups on the go.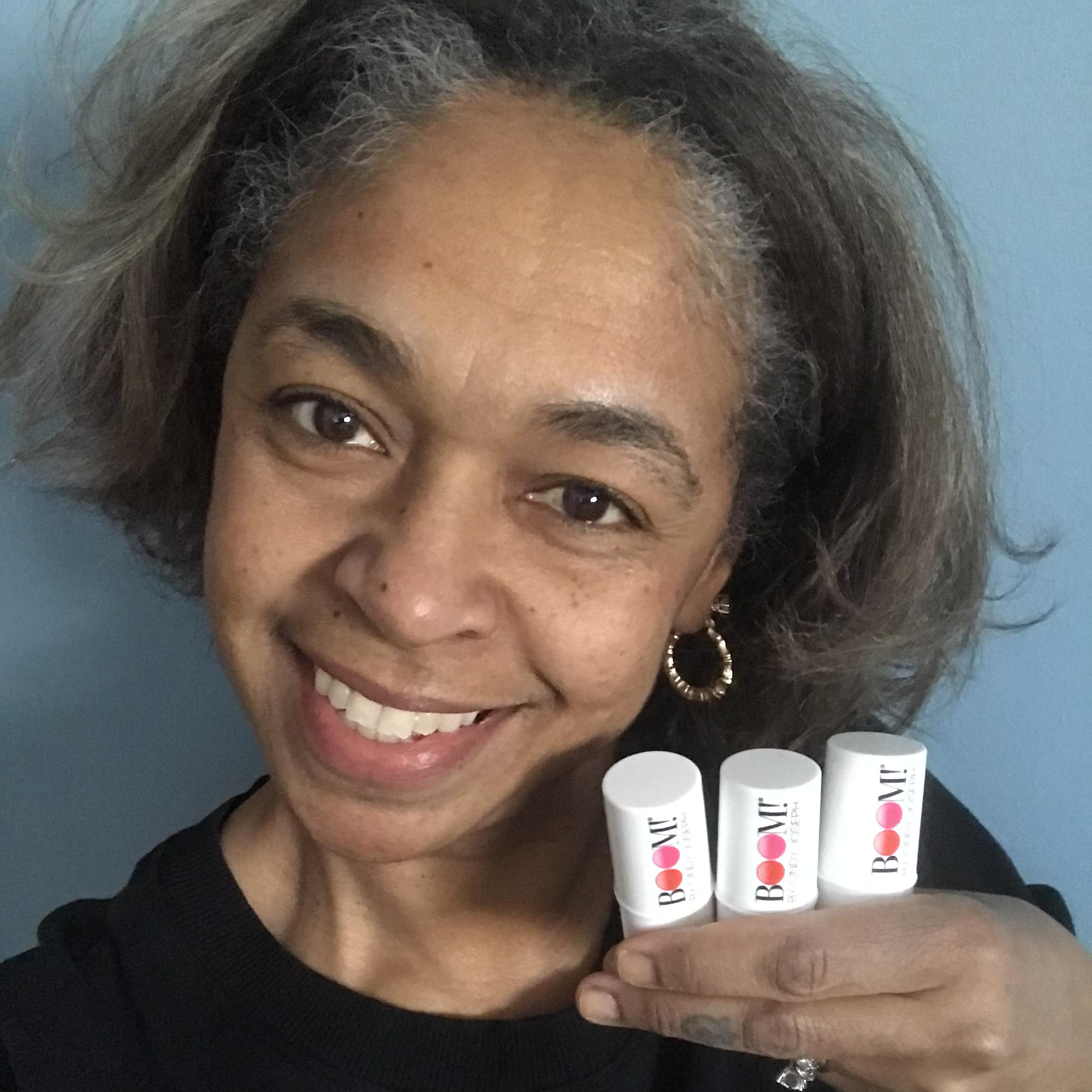 2. Edwina's favorite Boomstick.
"Now I am ready for my next step, which is the Boomstick Color, which is my most favorite of the three. It gives a rosy glow," Edwina says next. 
Boomstick Color® is our multitasking Boomstick.
Made with sheer pigments, Boomstick Color blends to match any skin tone and adds a warm, sun-kissed glow. 
Edwina applies it to her cheeks, nose, brow bone and neck, then blends. 
Edwina also adds this rich, berry cosmetic to her lips.
"I always like to go back with the Color stick because it is such a natural, sheer color," she says.  
3. "A natural glow."
"The final step of the Trio is the Boomstick Glimmer®," Edwina says. 
Edwina uses this sheer, creamy cosmetic to highlight the skin under her cheekbones, eyes and neck.
You can also dab this pearlescent cosmetic on your brow bones, eyelids and décolletage. 
"The thing I like about Boomstick Glimmer is that it's not really glittery but it gives a natural glow," she adds.
4. "Lightweight but very effective."
Last but not least, Edwina adds, "one coat of the very lightweight but very effective Boom Bright™ for lashes."
Boom Bright's gentle, water-based formula is safe for sensitive eyes. The ergonomic wand makes it easy to coat each and every lash with the buildable formula. 
"And so that is it," Edwina says. "I fluff my hair up and I am ready to go."
We love Edwina's quick and beautiful look. 
Tell us… How long does it take you to put on your makeup? 
CHECK OUT OUR MOST POPULAR CONTENT