Eco-friendly Packaging: We're Making a Change

Yes, we love the Earth. We believe in taking care of this beautiful planet, and all the creatures who call this gorgeous Earth home—including us. 

That's why we are always striving for sustainability in everything we do here at BOOM!
For example, you may have heard we never test our products on animals. We also only use recyclable jars and bottles for Boom products. We even go out of our way to partner with companies (and even beekeepers!) that share our environmental ideals.

But we can always do better.

Very recently, we made a change here at BOOM! to do just that. We introduced all-new Earth-friendly packaging for our Boom products. 
Today, we want to explain why we're so excited about this new packaging (and why you may be too when you hear what we're doing).
How amazing women like you inspired this change

Up until recently, we shipped small Boom orders in plastic bubble wrapped mailers, and we shipped large orders in standard boxes, with shredded paper inside to prevent your Boom products from being damaged in transit.

This means Boom orders came with either a plastic wrapper or shredded paper that would be thrown away and likely end up in a landfill somewhere.

We knew there had to be a better way.
Our Boom customers thought so too.

These amazing women asked us to make this change. They inspired and challenged us to keep searching until we found a cost-effective and eco-friendly way to ship your orders. 

We are proud to announce: we now have that solution for you.

Small orders now come in biodegradable, recyclable envelopes.

Now, when you order a small Boom item—like a Boomstick—you'll receive your order in an all-new biodegradable and recyclable padded envelope. 

Like all our new shipping materials, these new envelopes are especially designed to create what's called a "closed-loop system."
That means the "end-life" of this new shipping material will either biodegrade and return back to the earth, or you can recycle it to create new paper for the future.

Either way, it doesn't end up in a landfill somewhere. (Although, if it did, it would eventually biodegrade anyway.)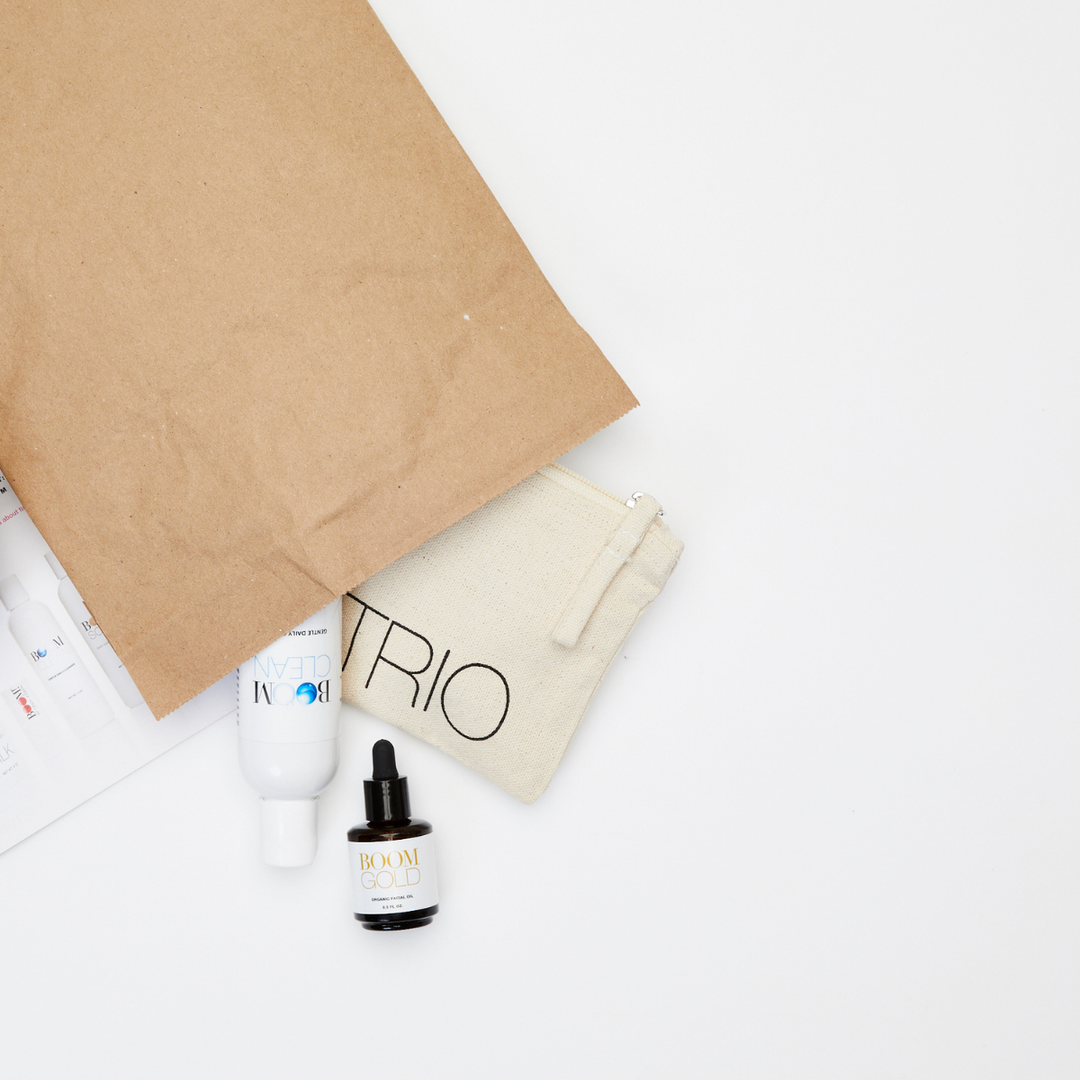 These new envelopes are made from 100% recycled content and stuffed with recovered shredded newspaper. The beauty of using recycled materials to create these envelopes is they use far less energy and natural resources to create them than virgin shipping materials. 

Land and water resources are precious. Making this shipping change is one small thing we can do to help preserve the Earth's resources long-term.

Also, this is just exciting: When you receive a padded Boom envelope, you can either recycle it or you can compost it, and your envelope will biograde back to the Earth!

Big orders now come with biodegradable Greenwrap.

You may be thinking: Okay, that's great, but what about an order that doesn't fit in an envelope?

We have a solution for that too. Now, if you place a large Boom order—like say, a Boom Bag—your order will now come in a white cardboard box. You can either reuse this box, or recycle it.

Instead of using shredded paper to protect your Boom products, we are now using a much more Earth-friendly substance called Greenwrap.  

We love Greenwrap because it cushions all your Boom orders during transit without using any plastic whatsoever. It's also biodegradable, compostable and recyclable.

Greenwrap is even Sustainable Forestry Initiative (SFI) certified. This certification ensures that any trees which were used to create Greenwrap were grown and harvested in ecological and ethical ways.

This is one of many changes we're making this year to promote sustainability at BOOM! We'll have more details soon.


In the meantime, what do you think of all these Earth-friendly changes at BOOM!? We'd love to hear from you!
CHECK OUT OUR MOST POPULAR CONTENT