Does Boom Work for Oily Skin? Margaret says: YES!

Do you have oily skin? 
You're not alone: Margaret Evans does, too. 
This 56-year-old Boom Ambassador is an avid birder who loves to connect with nature on her long daily walks. Margaret also finds joy through singing with her choir and a close relationship with her college-age daughter.
Margaret is passionate about Boom's pro-age message. She says, "I love that I've found a group of women who believe that growing old is a good thing, something to embrace, something to love. Our culture doesn't tell us that."
Though our pro-age philosophy is what drew Margaret in, she soon fell in love with the Boomstick Trio. But she admits she was a little skeptical about Boom skin care at first. 
"I wasn't entirely sure that the Boom skin-care line would have anything for someone like me," she says. "Unlike a lot of older women, I do not struggle with dry skin—I struggle with oily skin. But let me tell you, I've been pleasantly surprised."
In this video, Margaret tells you about the Boom skin-care products she's found that pamper her and her skin.
Step 1: Wash with Boom Clean.
Margaret's skin-care routine begins with cleansing.
"I love to start my day with Boom Clean," she says. "It is this marvelous daily wash. It smells like grapefruit and it feels wonderful on my skin. It's very gentle."
Boom Clean is made without soaps, artificial perfumes or dyes. It also contains two different skin-conditioning agents so it won't dry or irritate your skin.
Step 2: Exfoliate every day.
The next step in Margaret's routine is Boom Scrub, our gentle daily exfoliant. This is now one of Margaret's favorite products.
Margaret says, "Boom Scrub is literally the best exfoliant I have ever tried—and I have tried a lot of exfoliants. 
"With my oily skin, I have to exfoliate every day. And Boom Scrub is gentle enough to use every day."
The exfoliating agent in Boom Scrub is oat kernel flour. The gentle formula removes dead, dry skin to reveal the fresh, soft skin underneath—without scratches or abrasions.
As Margaret points out, Boom Scrub is "not just an exfoliant, it's a deep-pore cleanser, too. You apply it to your face, and the minute it goes on, your face starts to tingle. It's a luxuriant, subtle tingle that just feels incredible."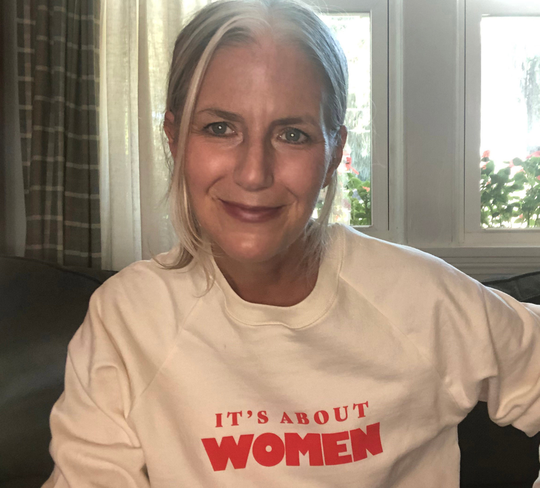 To use Boom Scrub, simply apply it as a mask for five minutes, then rinse. "It leaves no residue, and you will be astounded by how soft and smooth your skin feels," Margaret says.
Step 3: Moisturize.
The last step in Margaret's skin care routine is moisturizing. For this, Margaret was surprised to discover how much she enjoys Boom Nectar.
She says, "I was afraid to try this because it's full of essential oils and I have oily skin—I was afraid I would break out. But some of the essential oils in Boom Nectar are actually geared towards healing acne and discoloration, even scarring. It's made for all skin types including oily skin."
Boom Nectar contains 16 all-natural ingredients, including jojoba oil and witch hazel, which are known for their acne-soothing properties. Natural astringents rosehip oil and organic rose hydrosol dissolve oil, cleanse the skin and tighten pores.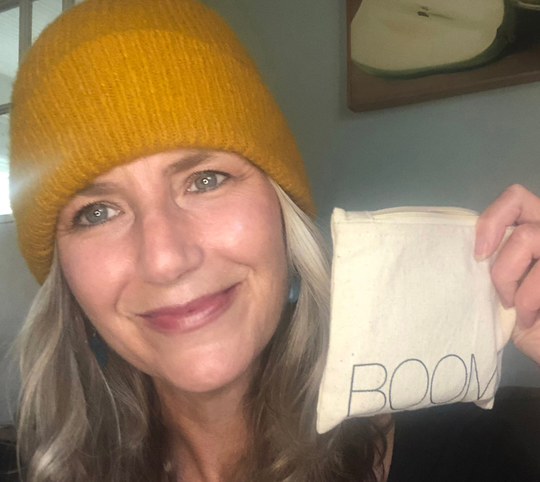 It's also packed with vitamins, antioxidants and fatty acids, which moisturize the skin without clogging the pores. 
"Boom Nectar feels incredible. It's almost like magic," Margaret says. "I've only been using it a very short time and I can already tell a difference in my skin. I feel like it's making me glow."
Margaret also mentions Boom Cotton, our shine-control moisturizer. She likes to use it as a hand lotion. 
Taking care of her skin is important to Margaret. She says, "The older I get, the more I want to just pamper my skin and treat my skin. I almost care more about feeling good than I do about looking good. But BOOM! is all about making you feel good and look good."
We hope Margaret's tips will help you feel and look good too. 
What do you think of Margaret's skin-care routine? If you have oily skin, which Boom products work best for you?
CHECK OUT OUR MOST POPULAR CONTENT