Deborah's Quick and Easy
Two-step Skincare Routine
Deborah's Quick and Easy
Two-step Skincare Routine
67-year-old Deborah Christensen doesn't fuss with her skincare. 
Instead, this former Zumba instructor from Canada keeps it quick and simple. 
Though Deborah's routine is only two steps, she's giving her skin everything it needs to feel soft and look beautiful. 

Watch below as Deborah describes the Boom favorites in her quick, two-step cleansing and moisturizing routine.

1. Start with clean skin.
Deborah begins her skincare routine with Boom Clean® for clean, fresh skin. She says that Boom Clean has a light, "lovely fragrance."
The subtle scent of Boom Clean comes from organic grapefruit peel oil, not synthetic fragrance. This daily cleanser is made without dyes, SLS, soap, parabens or phthalates. 
What Boom Clean does contain are safe, nontoxic ingredients that gently remove makeup, dirt and other impurities. It's also formulated with three different kinds of skin conditioners to leave your skin soft and refreshed—never dry.
To use Boom Clean, just apply a dime-size amount to wet skin and gently massage. Then rinse with warm water. 
You can use Boom Clean on your face, neck or anywhere else on your body for clean, soft skin.
2. "It is pure gold."
After cleansing her skin, Deborah applies one of our all-natural liquid moisturizers—either Boom Nectar® or Boom Gold™ .
Boom Nectar is our robust moisturizing serum. Made with 16 all-natural ingredients, this rich serum provides hydration and nourishment that support your skin's vital functions.

In this instance, Deborah chooses to apply Boom Gold, our lightweight facial oil.
Boom Gold contains nine all-natural organic ingredients, including olive oil and kukui nut oil. These ingredients were hand-selected to provide your skin with everything it needs to look and feel its best. 

Many of the ingredients in Boom Gold have been used for thousands of years to hydrate, soften and protect delicate skin.
Deborah says, "Boom Gold is my favorite product. It's a beautiful blend. It nourishes your skin. It spreads beautifully and soaks in."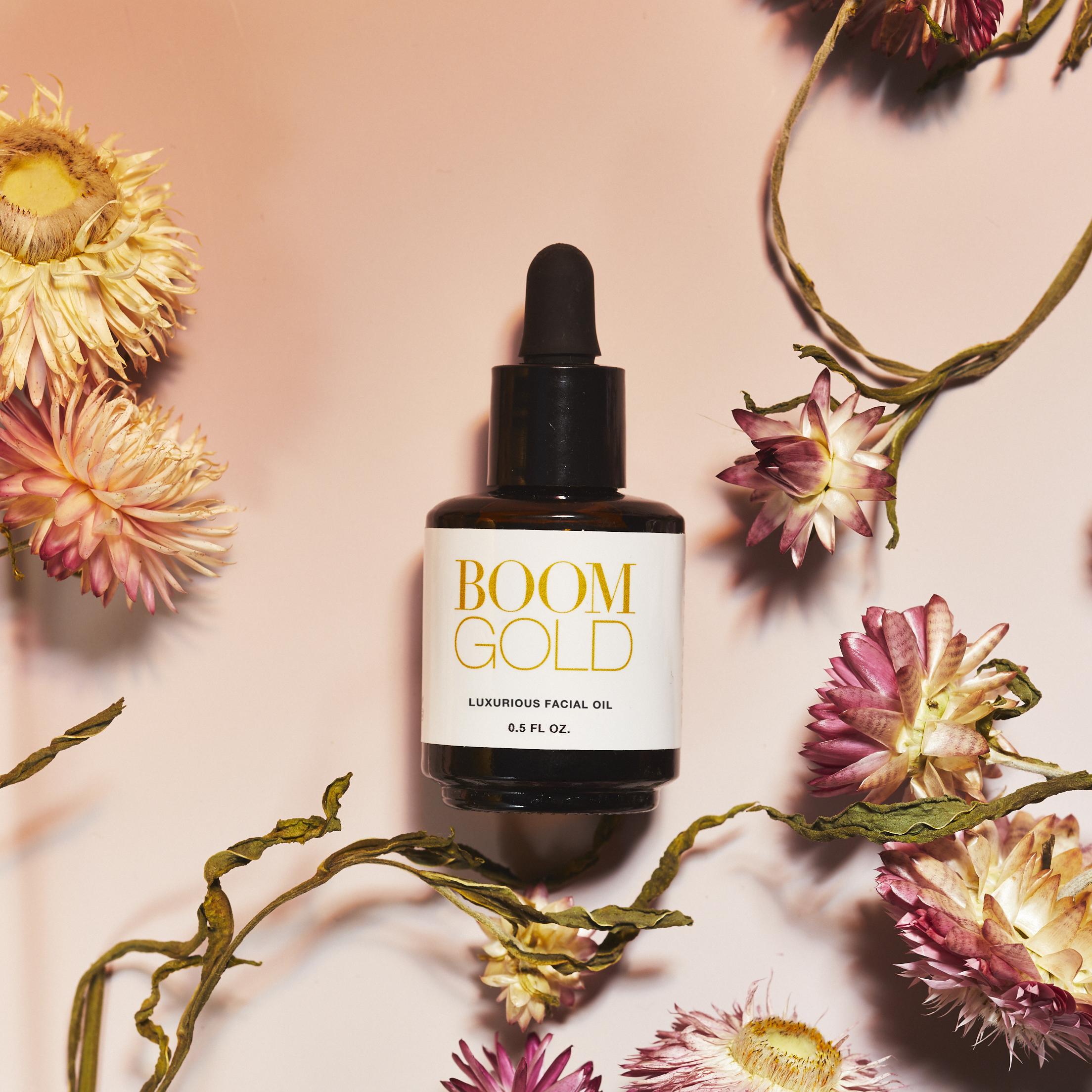 Boom Gold's lightweight formula absorbs quickly without leaving an oily or greasy residue. 
In fact, Boom Gold makes a great base for makeup. As Deborah points out, "It's very, very silky. It does give a bit of a sheen."
To use Boom Gold, simply apply a few drops to your fingertips and dab it on, as Deborah does. She then uses her ring finger to lightly smooth Boom Gold into her skin. 
She says, "Probably one of the best investments I've ever made in a product is this little tiny bottle of Boom Gold—and it is pure gold."
What do you think of Deborah's quick and easy skincare routine? Have you tried Boom Gold? If so, what did you think?
CHECK OUT OUR MOST POPULAR CONTENT