Cynthia Sitcov's Breezy Makeup
Cynthia Sitcov's
Breezy Makeup
Slow-fashion enthusiast and influencer Cynthia Sitcov was never someone who enjoyed spending a lot of time and effort on her makeup. 
She prefers makeup that's a breeze to apply.
Now, this 65-year-old Boom Ambassador can look finished and fabulous with just a few minutes and four products.

Watch her video to see how she creates a simple, influencer-worthy look with Boomstick Trio® and Boom Bright™.

"Fabulous color"
Cynthia begins with Boomstick Color®, our multitasking cosmetic stick. 
"This is just a fabulous, fabulous color," she says.
Boomstick Color's sheer berry tint looks good on every woman because it allows your natural skin tone to shine through, customizing the color for you. 
As Cynthia says, "It goes on quite bright, and within a few minutes it just kind of melts into the warmth of my skin and the color tone. It ends up being exactly what I want."
She applies this to her cheeks, forehead, chin and the tops of her shoulders—"wherever the light hits," she says. 
Boomstick Color instantly creates the look of warm, sun-kissed skin. In fact, we call it the "color of happiness" because it mimics the flush a woman gets when she's laughing and having fun.
Shoulder shimmer
Next up is Boomstick Glimmer®. "I am crazy about this," Cynthia says.
Boomstick Glimmer is our pearlescent highlighter, which Cynthia describes as a champagne color. 

She uses this cosmetic on her cheeks, neck and collarbones. Sometimes she dabs it on her shoulders for extra glow.
Unlike powder makeup, Boomstick Glimmer's creamy formula won't accentuate fine lines or creases. Instead, it gives your skin a subtle touch of radiance. 
Cynthia also uses Boomstick Glimmer as an eyeshadow. "Although I don't like the term 'shadow' because what it really does is lighten things up," she says.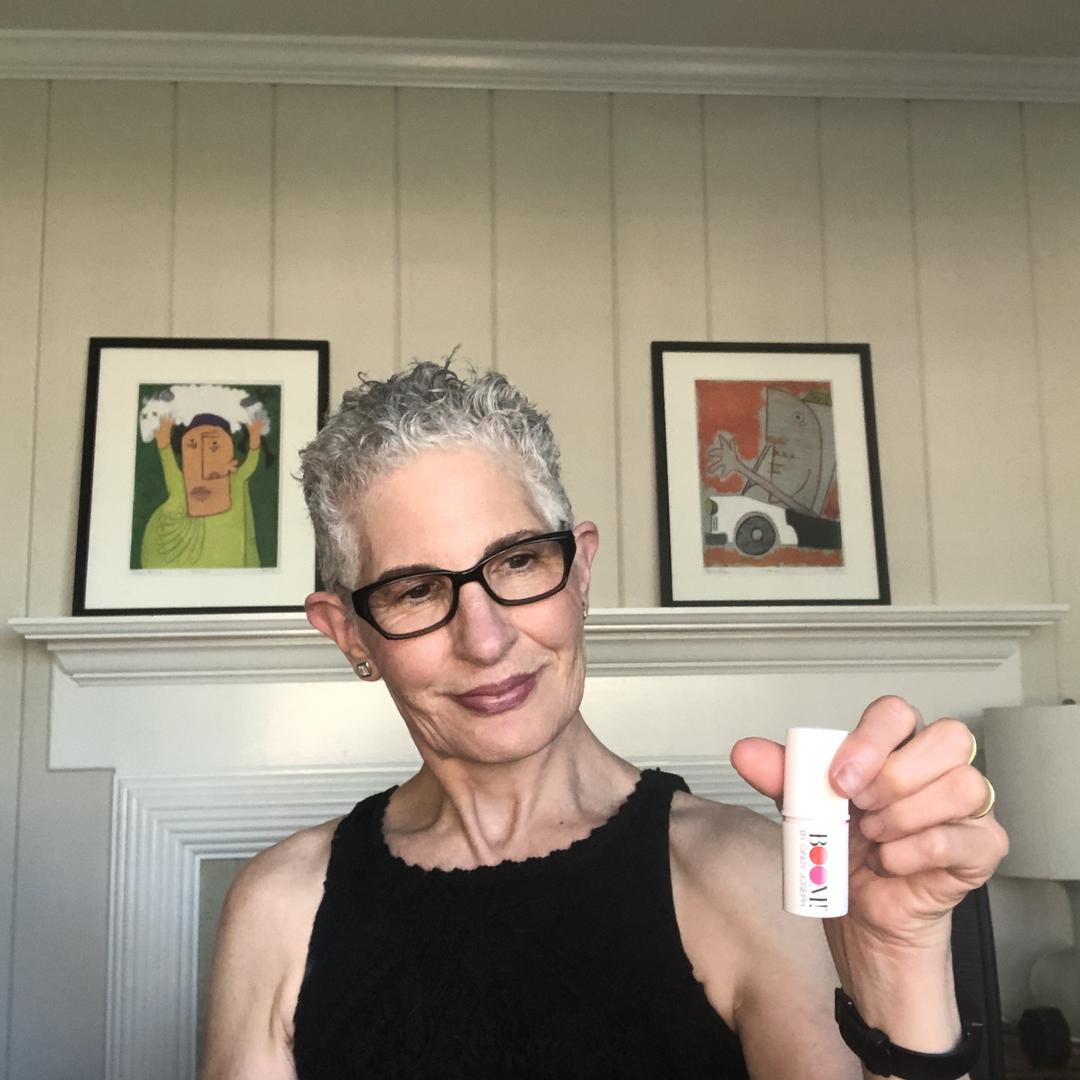 Applying Boomstick Glimmer to the eyelids as she does helps catch and reflect the light.
Moisture on the go
The third product in the Boomstick Trio is Boomstick Glo®, our all-natural moisturizer. 
Cynthia says she always carries Boomstick Glo with her for moisturizing when she needs it. 
She uses it on her elbows and upper arms. She also dabs it on drier areas of her face, like around her eyes and mouth and on her forehead.
Cynthia says, "I'm a swimmer and I'm very sensitive to dryness. I just like to have something that I can touch up with quickly and conveniently."
You can use this moisturizing Boomstick anywhere on your body to hydrate and protect your skin.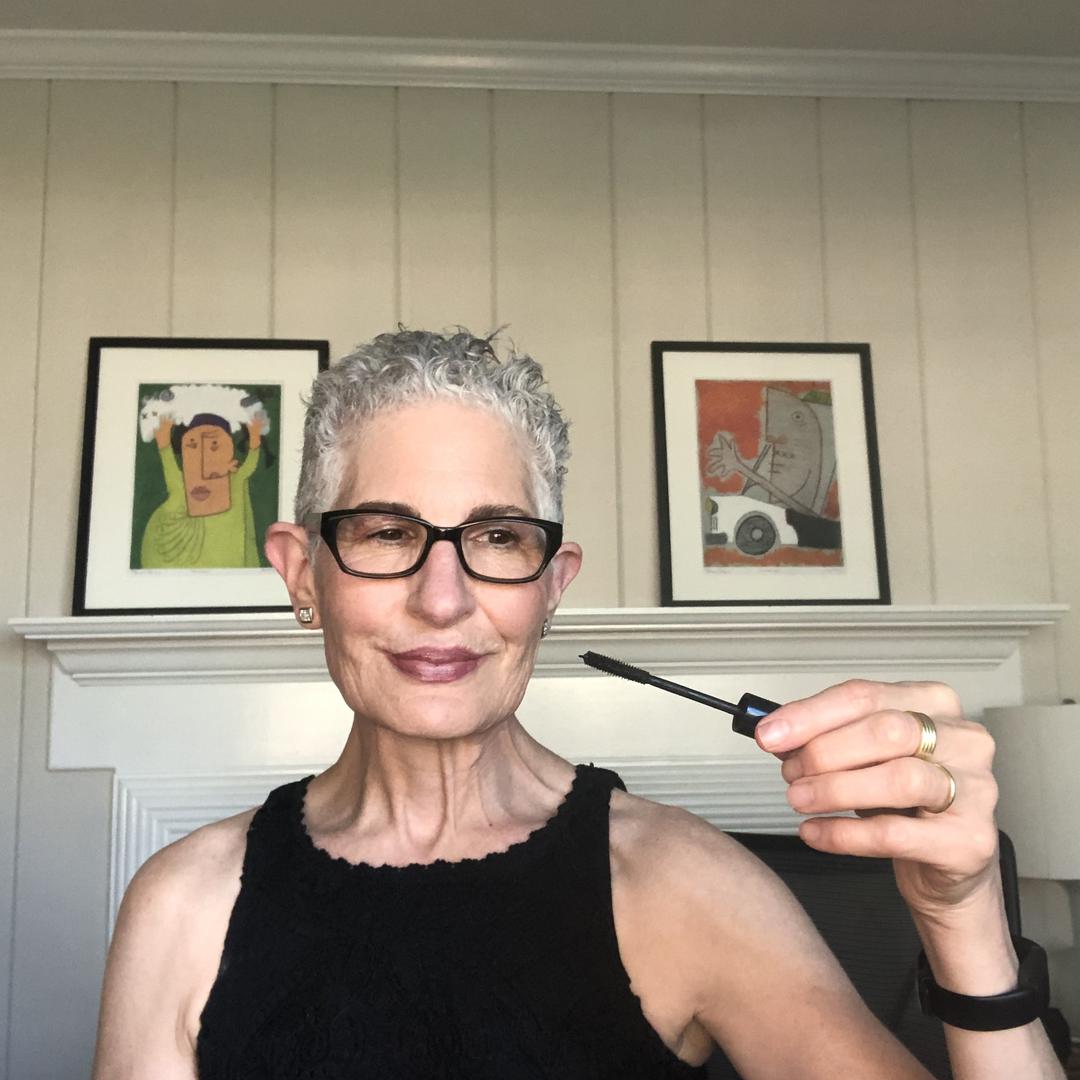 Focus on the eyes
To help bring out her eyes, Cynthia applies a layer of Boom Bright, our mascara designed for women over 50. 
Unlike other mascaras, Boom Bright helps define, lengthen and separate your lashes without harsh, drying ingredients. 
Boom Bright's clean formula contains natural emollients to leave your lashes soft and healthy. Cynthia enjoys the scent of Boom Bright, which comes from natural rose damascena oil. 
Finally, Boom Bright is water-based, rather than waterproof, so you can easily remove it with a bit of water or moisturizer. 
"It does not clump, it does not run and it is a snap to take off," Cynthia says.
A glow that's all Cynthia
Finally, Cynthia is ready for the finishing touch…her lips. 
She applies a layer of Boomstick Color to her lips. Then she dabs Boomstick Glimmer in the center. 
"I feel finished. I feel like my skin is getting nourished. And I don't think that it's too much," she says. "I just feel I've got a really nice look. I look like me, but I've got a glow. And that's how I Boom."
We just love her look. 
How about you? How do you use Boomstick Color and Boomstick Glimmer on your lips?
CHECK OUT OUR MOST POPULAR CONTENT