Carla's Versatile Makeup for Every Occasion
Carla's Versatile Makeup
for Every Occasion
Carla Blaha has been using Boom for over seven years. 
The 57-year-old says it was "love at first sight" with Boomstick Glo®, our all-natural moisturizer.
The rest of the Boomstick Trio® and Boom Bright™ were soon to follow. 
Today, Carla shows you the daily makeup routine she completes in just a couple of minutes each day. 
See how this medium, performer and author Booms in the video below. 
1. Love at first sight for Boomstick Glo.
Carla begins her routine with Boomstick Glo.
"When I started," she says, "I started with one product, which was Boomstick Glo, and it was love at first sight."
This all-natural moisturizer fits easily in a pocket, purse or bag for quick moisture touch-ups anytime you need them. 
Carla explains that she can't typically use the same product for very long because she breaks out or it stops working. 
Boomstick Glo is different. "It has been a staple in my handbag for all these years," she says.
She applies it to her cheekbones, laugh lines, forehead, neck and lips and gently massages it in. 
2. The multifaceted Boomstick Color.
If Carla were staying in, she'd already be done with her routine. 
"But," she says, "if I want to go out and not look like I just fell out of bed, I put on the Boomstick Color®."
This multitasking cosmetic is a blendable and buildable lipstick, blush, bronzer and contour in a sheer berry color.
Carla says, "Watch how multifaceted this is," as she applies this creamy cosmetic to her cheekbones, temples, neck and lips for a dash of sun-kissed warmth. If she's going out for a special occasion, she adds more—simple as that.
3. The stand out: Boomstick Glimmer.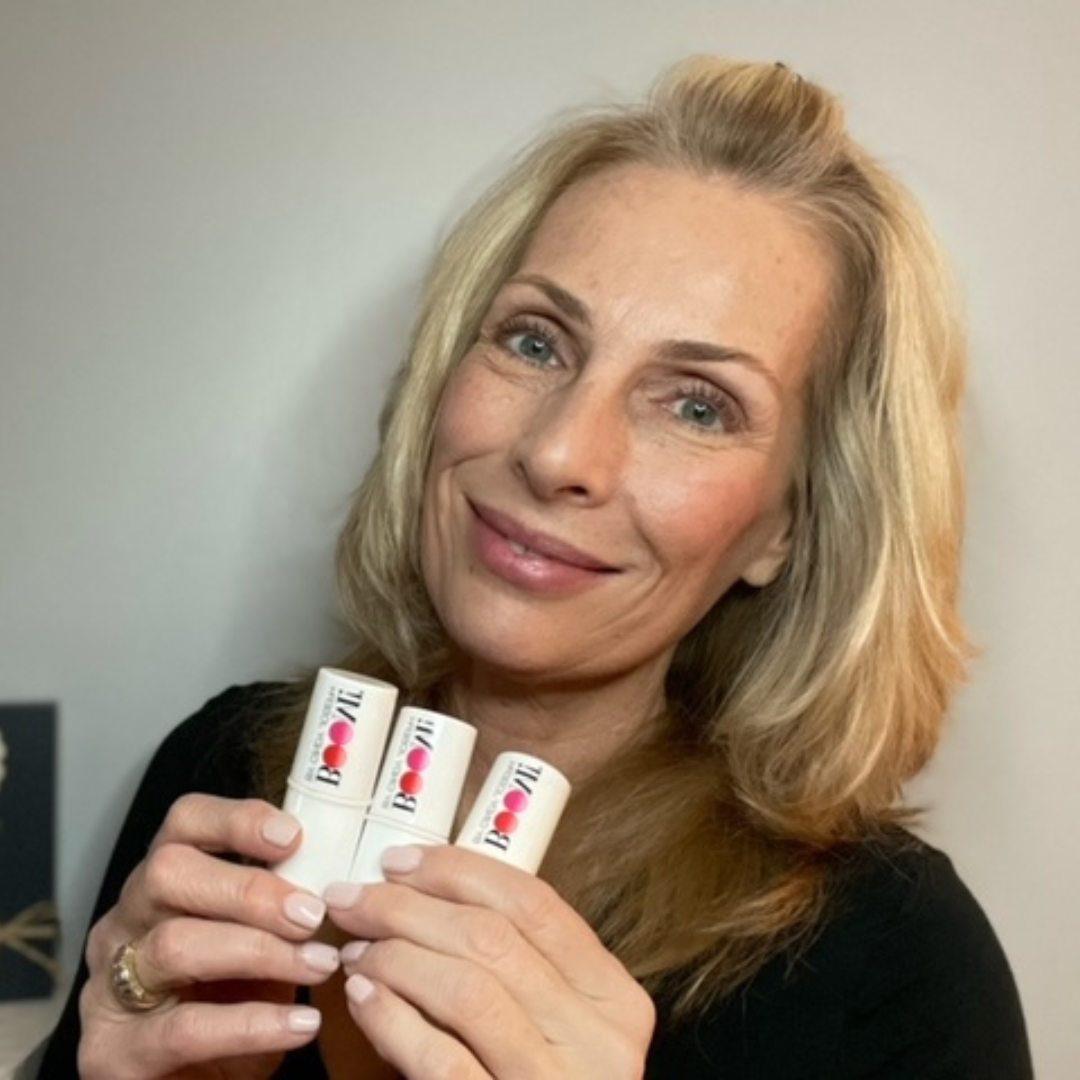 Carla's not quite done. Next, she applies Boomstick Glimmer® to her cheekbones, brow bones, forehead, nose and neck. 
"If you go outside," she says, "it really stands out when the light hits it."
This creamy highlighter can also be used as an eyeshadow, body luster or to highlight your lips by adding subtle radiance and delicate shimmer to your skin.
4. Boom Bright is made for you.
Carla applies Boom Bright, our gentle, water-based mascara, last.
"I don't have the lashes that I used to," she says. "I don't think many of us do. BOOM! knew that and came out with this very, very, very cool brush that is so separated that it goes right in between my eyelashes without clumping."
Carla applies one layer for daytime and adds another for an evening out. 
With that last, simple step, she is done. "Shake up the hair," she says, "and I'm ready to Boom."
What do you think of Carla's routine? Does anyone else only apply moisturizer when staying in? 
CHECK OUT OUR MOST POPULAR CONTENT